Education ministry to revise guidelines to reflect lessons learned during pandemic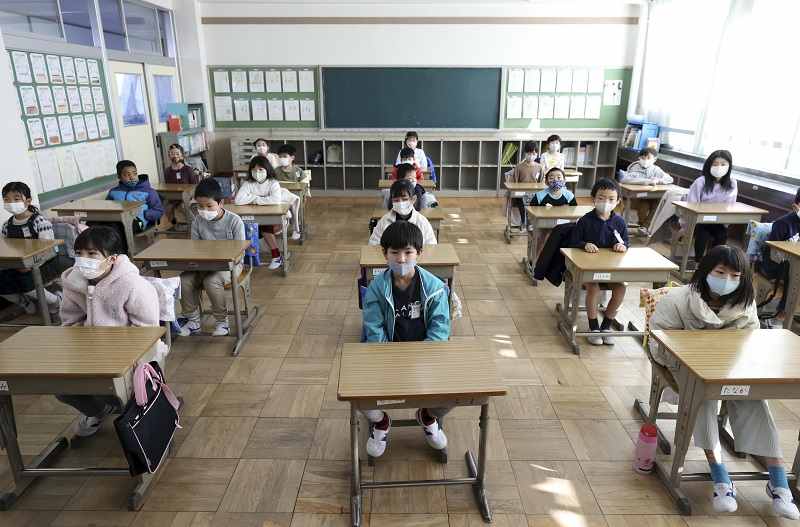 12:00 JST, March 26, 2021
As students gear up for the start of another school year in April, the Education, Culture, Sports, Science and Technology Ministry plans to ask local governments and other organizations to prepare elementary and junior high schools for the risk of infectious diseases and fully equip classrooms for distance learning.
Classroom and hallway dividers will disappear, and high-capacity communication networks will become standard. The ministry intends to roll out the project on a preliminary basis in select municipalities starting in the new school year.
The ministry has compiled a set of guidelines for the construction of new schools and the renovation of existing schools, and has presented these guidelines to local governments and school corporations. In response to the spread of the novel coronavirus, the ministry decided to revise their current guidelines for the upcoming year to include measures against infectious diseases and the use of technology.
The elimination of partitions between classrooms and hallways aims to mitigate the 3Cs: closed spaces, crowded places and close-contact settings. Although the ministry has previously stipulated that there be at least one meter between seats in classrooms as a social-distancing measure, the average elementary and junior high school classroom is 64 square meters, which does not leave enough floorspace to satisfy this standard. The modified guidelines propose expanding classrooms by removing walls and placing sofas and tables in the corridors to create open classroom spaces. Other measures to combat infectious diseases will include Westernizing toilets and installing more hand-washing facilities.
The ministry will also suggest installing high-capacity communication networks and large monitors to better facilitate distance learning.
For schools in depopulated areas, the new guidelines will also include proposals to encourage community engagement, such as opening the school libraries to local residents.
In its pilot stage, the project will consist of four to five elementary and junior high schools nationwide. The ministry will review issues uncovered by the pilot projects at a panel of experts and reflect their findings in guidelines to be compiled in the upcoming school year, with hopes of starting construction and renovation of schools in line with these new guidelines as early as fiscal 2022. The ministry will also consider providing financial support to local governments to defray the significant expense entailed by the actual construction and renovation of schools.
Guidelines for the construction and renovation of facilities for elementary and junior high schools were first compiled in 1992. To date, the guidelines have been revised eight times to address such issues as measures against tsunami in the wake of the Great East Japan Earthquake.
Add TheJapanNews to your Google News feed.