Former ministers admit dining with NTT execs as graft scandal expands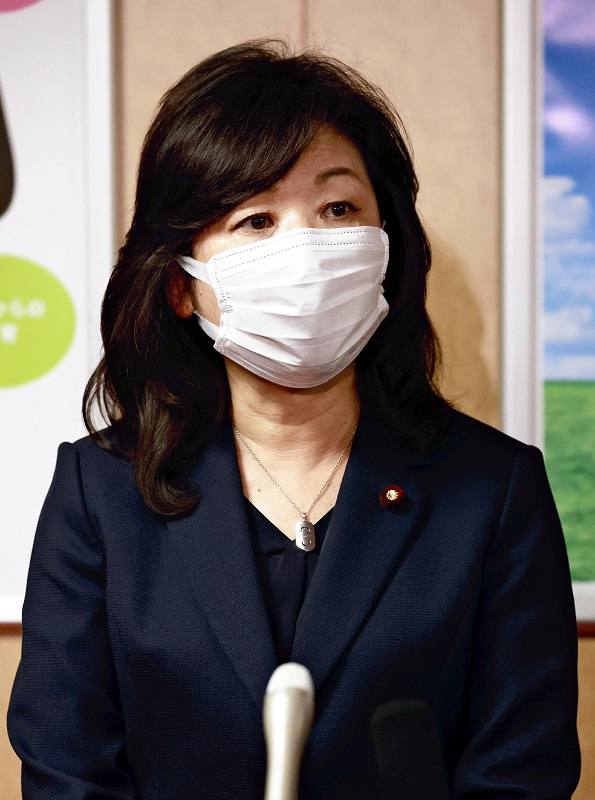 17:48 JST, March 12, 2021
Former communications ministers Seiko Noda and Sanae Takaichi admitted they had dined with NTT Corp. officials during their terms at the ministry, following the publication online of an expose by weekly magazine Shukan Bunshun.
However, Noda, who is now Liberal Democratic Party Executive Acting Secretary General, and Takaichi, who is an LDP House of Representatives member, rejected claims that it had amounted to hospitality.
Noda told reporters Thursday at LDP headquarters that she had dined with former NTT DoCoMo Inc. President Keiji Tachikawa in 2017 and then NTT West Corp. President Kazutoshi Murao in 2018, among other NTT officials.
"They were private meetings that were separate from my government duties and had nothing to do with the ministry," Noda said.
She said she had given about ¥26,000 back to NTT to cover the cost of one of the dinners.
Takaichi told The Yomiuri Shimbun that she had dined with NTT President Jun Sawada and NTT Senior Executive Vice President Akira Shimada and other NTT executives in December 2019 and September 2020. In each case, Takaichi paid ¥10,000, the predetermined meal fee, and gave gifts worth ¥16,500.
Takaichi said she had already paid NTT the difference to cover the actual cost of the meal and also paid for the meals for her security detail and driver, among others.
"I did not receive any requests for permits," Takaichi said. "As we split the cost of the dinners, I don't think it amounts to hospitality."
Deputy Chief Cabinet Secretary Manabu Sakai and Minoru Terada, a lower house member of the LDP, also admitted that they had dined with NTT officials while they were senior vice ministers of the communications ministry. But they denied there had been any attempt to lobby the ministry.
At a board of directors meeting of the House of Representatives Budget Committee on Thursday, opposition parties demanded that Noda and Takaichi be summoned for unsworn testimony.
At a meeting of the House of Councillors Budget Committee on Thursday, opposition parties asked Internal Affairs and Communications Minister Ryota Takeda if he had accepted hospitality from NTT.
Takeda said, "I will refrain from responding to questions on individual cases. However, I have never agreed to attend a dinner or meeting that would raise public suspicion," declining to clarify whether he had accepted hospitality from NTT officials.
Takeda had also refused to say whether he had accepted hospitality from NTT officials during deliberations on the previous day. However, he said the actions of past and present ministers, vice ministers and parliamentary secretaries would be included in a "thorough investigation" by a third-party committee.
Chief directors of ruling and opposition parties of the lower house budget committee held a meeting Thursday and agreed to summon Sawada to the Diet on Tuesday for unsworn testimony.
Regarding the Shukan Bunshun expose, NTT said in a statement Thursday that the company regularly holds dinners with various people to exchange opinions, but it refrains from answering questions about dinners with specific Diet members.
Ministerial code of conduct
The ministerial code of conduct approved by the Cabinet in 2001 stipulates rules of conduct for ministers, vice ministers, and parliamentary secretaries. The code prohibits such officials from accepting hospitality, gifts or favors, and engaging in conduct that would raise any suspicion of impropriety.
However, the code does not ban the officials from dining with industry figures and it does not include specific criteria regarding the sharing of dinner fees or how to distinguish between dining and hospitality. Also, there are no punitive provisions.
Add TheJapanNews to your Google News feed.