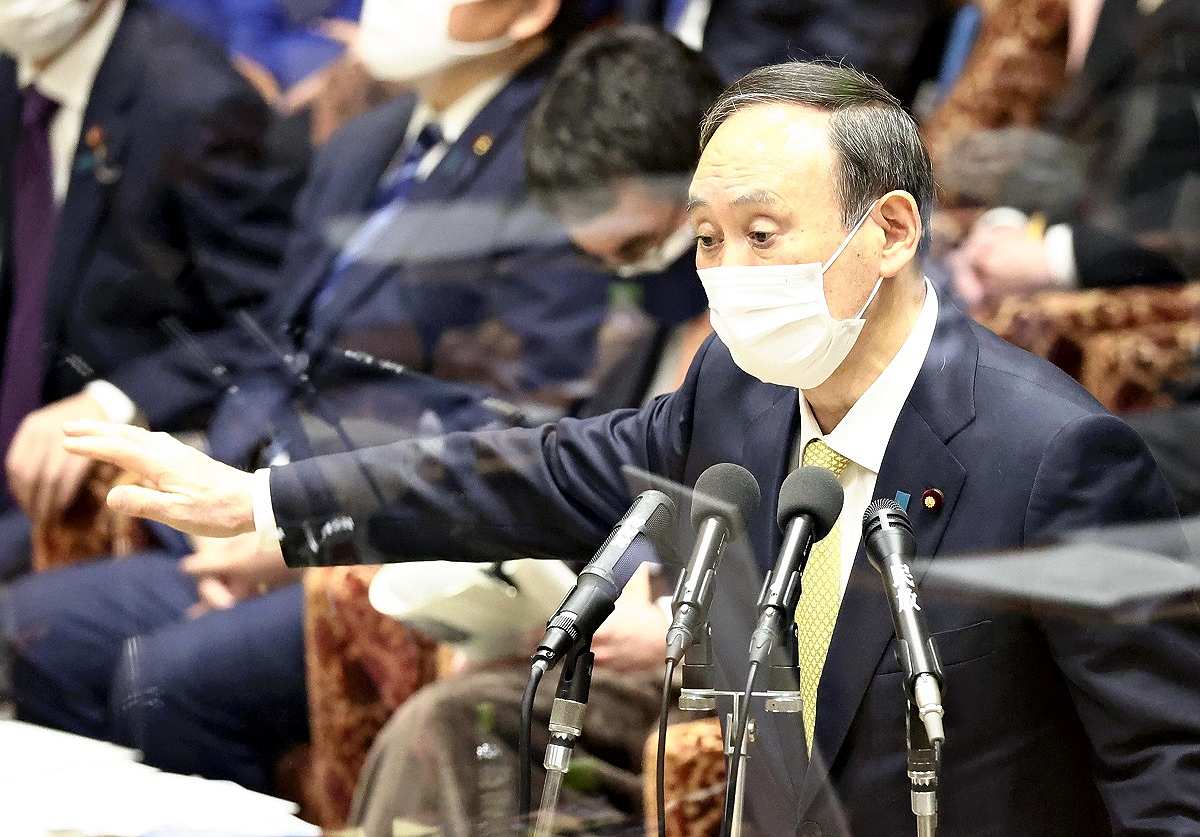 17:24 JST, February 5, 2021
Despite vowing his unwavering resolve to end the pandemic, when Prime Minister Yoshihide Suga appeared at Thursday's House of Representatives Budget Committee meeting, he found himself embroiled in a series of problems unrelated to the coronavirus, including a wining-and-dining scandal involving his son and a verbal gaffe by the president of the Tokyo Organizing Committee of the Olympic and Paralympic Games.
Driven into a corner
"He's about 40 years old already, and I rarely see him. [My son and I] are completely different people," Suga argued in response to questions from Constitutional Democratic Party of Japan lawmaker Takahiro Kuroiwa over an allegation that Suga's son had illegally entertained Internal Affairs and Communications Ministry officials.
When Kuroiwa went on to say that the prime minister's response was "too far from the public's norm," Suga fought back, saying, "You're criticizing me as if I'm lying."
Tokyo-based Tohoku Shinsha Film Corp., where Suga's eldest son works, engages in businesses including satellite broadcasting. The communications ministry has the authority to issue satellite television broadcasting licenses, making his son a person with interests in affairs related to the duties of government officials. A code of ethics based on the National Public Service Ethics Law bans officials from being entertained by interested parties.
The son served as general manager of the company's media division and a secretary when Suga was the internal affairs minister.
Asked about his relationship with the company, Suga said, "The president [of Tohoku Shinsha] hails from Akita Prefecture, and it is true that he supported me." Suga also hails from the prefecture.
Opposition parties suspect that the communications ministry "tried to be nice to Suga's son," and would further grill Suga over the scandal.
The ministry is investigating four of its senior officials who were entertained by the company, and the government will impose punishment if the act violated the law.
Tohoku Shinsha released a statement Thursday that the company would take appropriate action based on an in-house investigations of the facts.
The government is trying to settle the matter as soon as possible as it is a matter between the eldest son as an individual and the communications ministry, with a Suga aide insisting, "The ministry has to be accountable."
Even so, a senior ruling party official said, "The scandal inevitably tarnished the prime minister's image."
Jeers over Mori
A gaffe by Tokyo Games organizing committee President Yoshiro Mori also became an unexpected source of criticism.
CDPJ leader Yukio Edano called for Mori's resignation for his remark that may be perceived as insulting to women. The prime minister was jeered by the opposition camp for "being unaware of the content of Mori's remark."
When CDPJ lawmaker Makiko Kikuta, who followed Edano in questioning the prime minister at the meeting, read out Mori's remark, the prime minister eventually admitted, "It's an unforgivable remark."
Opposition parties called on Suga to exercise his leadership and press Mori to resign, but the prime minister declined to comment on Mori's fate.
While some officials within the government are concerned that Mori's remark is having a negative influence on the Tokyo Games, those around Suga believe that "The organizing committee will be in disarray if Mori resigns now," one of his aides was quoted as saying.
A source from the organizing committee said, "We have explained to entities concerned that Mori apologized and retracted his remark."
Whether the Tokyo Games would be held as scheduled will have a major impact on the handling of the Suga administration.
Suga said, "We will make adjustments so that we can ensure a sufficient medical system for the event without causing a hindrance to regional medical care."
Add TheJapanNews to your Google News feed.