Exclusive: China Installs Survey Buoy in Japan's EEZ near Senkaku Islands (Update 1)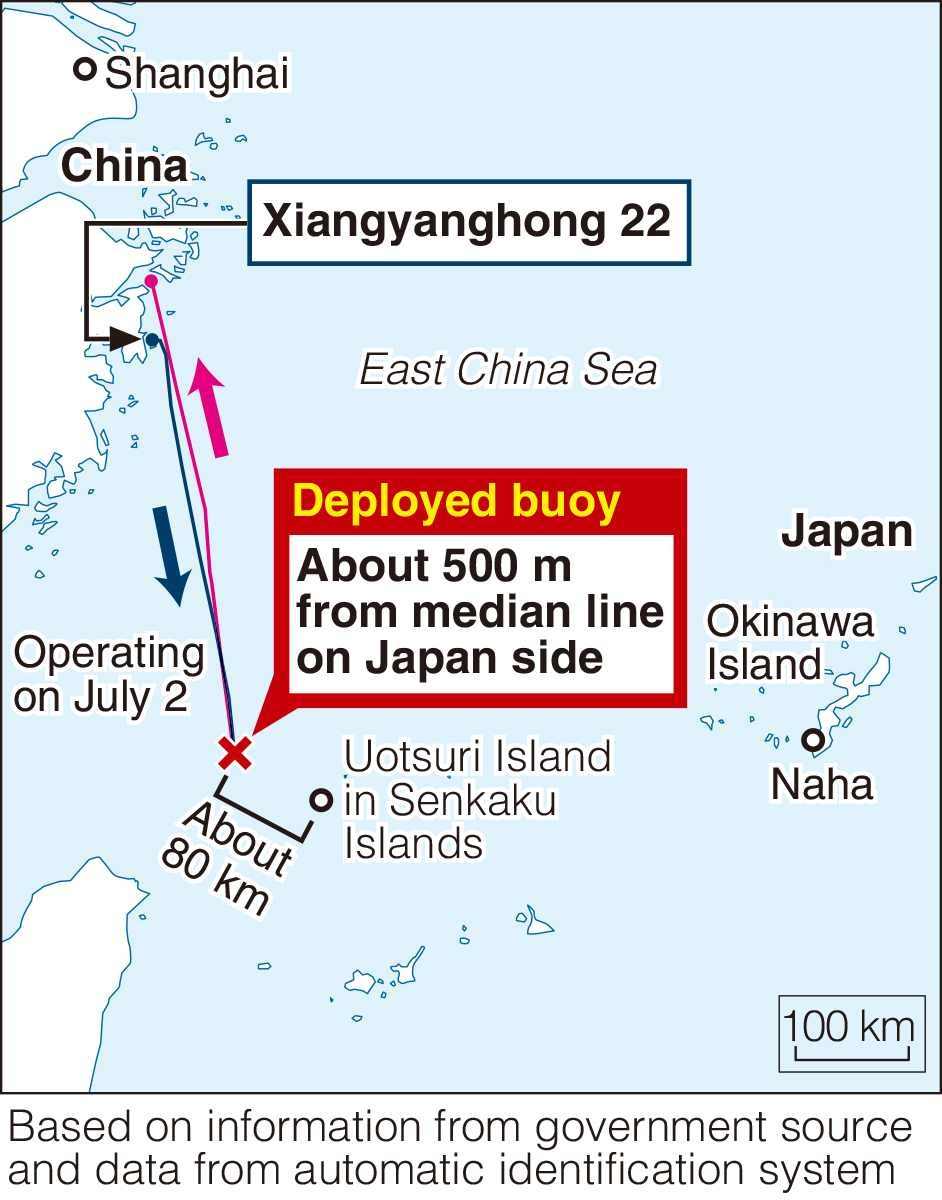 17:40 JST, September 18, 2023
The Japanese government has protested to China after confirming that it deployed another oceanographic buoy in Japan's exclusive economic zone near the Senkaku Islands, Okinawa Prefecture, The Yomiuri Shimbun has learned.
China is believed to be using such buoys to collect data, including wave heights and currents, for the operation of its coast guard vessels amid its efforts to effectively control the waters around the Senkaku Islands. Last year, Chinese coast guard ships sailed in the contiguous zone of the islands, which extends 22 kilometers past Japan's territorial waters, for a record high of 336 days.
According to a government source, a Japan Coast Guard patrol boat found a yellow buoy on July 11 in the waters about 80 kilometers northwest of the Senkakus' Uotsuri Island. The buoy was 500 meters to the Japanese side from the median line between the two countries' exclusive economic zones.
The floating object had Chinese writing on it, indicating that it was a buoy for oceanographic observation. It is believed to be anchored to the seafloor with weights.
The U.N. Convention on the Law of the Sea stipulates that marine surveys cannot be conducted within another country's EEZ without the authorization of that nation. China, however, has previously set up buoys around the Senkakus, and Japan has protested.
In 2018, a buoy with Chinese characters saying "People's Republic of China State Oceanic Administration" was found in Japan's EEZ, and another similar buoy was found in 2016. In one case, the JCG recovered a drifting buoy and handed it over to the Chinese side after scrutinizing the equipment attached to it.
The Yomiuri Shimbun analyzed images taken by the European Space Agency's Sentinel-2 Earth observation satellite and confirmed that an object about 10 meters in diameter, which appears to be a buoy, has been visible in the waters since early July.
An expert said that the collected data is transmitted from the buoys to relevant authorities using artificial satellites.
"The acquired information on sea conditions, including the roughness of the waters, is believed to be used when they dispatch coast guard vessels," said Atsushi Toyama, a former JCG senior official who was one of those responsible for guarding the area.
The Yomiuri Shimbun analyzed automatic identification system data and confirmed that the Chinese vessel Xiangyanghong 22 was operating on July 2 in the waters where the yellow buoy was found. Xiangyanghong 22 is said to be able to carry and set up large buoys with a diameter of 10 meters, and according to Chinese authorities, it was commissioned in 2019 as China's first large vessel for work on buoys.
"Judging from the movement of Xiangyanghong 22, the object in the satellite image is likely a buoy set up by China," Toyama said.
Add TheJapanNews to your Google News feed.