2 Old GSDF High Mobility Vehicles Brought Back to Japan Cause Concern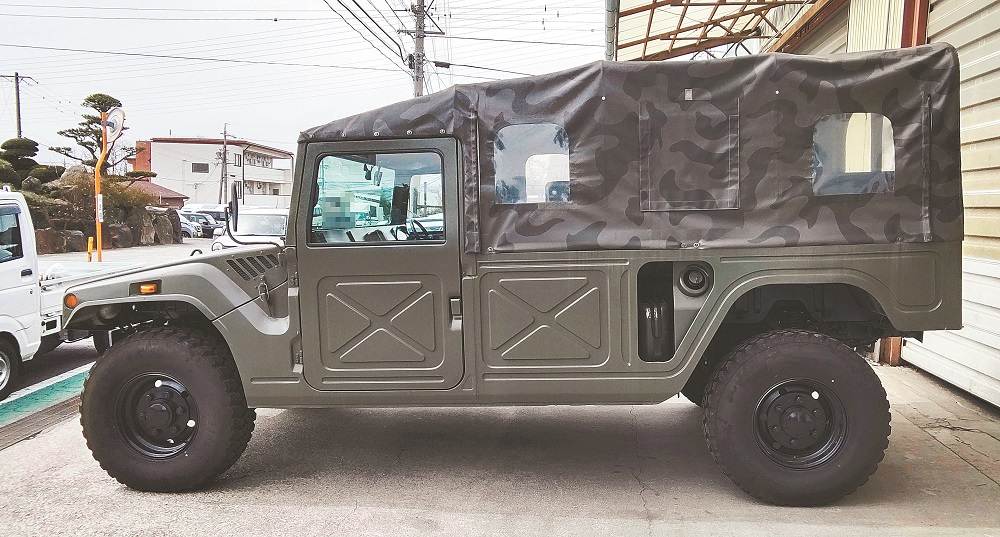 17:55 JST, September 17, 2023
Two retired Ground Self-Defense Force high mobility vehicles have been found in Japan after they were reportedly disassembled and exported, The Yomiuri Shimbun has learned.
The vehicles are believed to have been reassembled overseas before being brought back to Japan. The discovery is a cause for concern as it could pose such security risks as unlawfully entering Self-Defense Force camps.
GSDF high mobility vehicles are sold after they reach the end of their service life of 14 years. To prevent the vehicles from being used for malicious purposes, GSDF rules state that buyers must dismantle or destroy so they cannot be reassembled.
In February and March, The Yomiuri Shimbun confirmed the two vehicles in Tochigi and Nagano prefectures. The exterior and features of the vehicles were identical to high mobility vehicles currently used by the GSDF, apart from them bearing civilian license plates.
At the request of The Yomiuri Shimbun, the Road Transport Bureau disclosed information on the two vehicles, including custom clearance certificates that were issued when the vehicles were brought back into the country.
In February, it was confirmed that one of the two vehicles was put on sale at a used-car dealership in Tochigi Prefecture for about ¥15 million. The customs clearance certificate shows that it was imported in March 2016 by a used-car company in the Tokai region. According to the owner of the company, the vehicle was purchased at an auction in the Philippines.
The vehicle was registered at the Kanto District Transport Bureau's Tochigi transport branch office and was issued a license plate in April 2019. The Tochigi office said the plate was issued as the vehicle met safety standards.
The other vehicle was found to have been put on sale in March for about ¥36 million by the owner of an automobile-related company in Nagano Prefecture. The customs clearance certificate shows that the vehicle was imported in October 2015.
The owner said he purchased the vehicle from a members-only auction in Japan five or six years ago. The vehicle was registered at the Hokuriku-Shinetsu District Transport Bureau's Nagano transport branch office in May 2020.
The Acquisition, Technology & Logistics Agency said that although the two vehicles look similar to GSDF high mobility vehicles, it is difficult to determine whether they are identical to those sold by the SDF.
"It will pose a major security issue if reimported vehicles could be mistaken for actual SDF vehicles," said Kazuhisa Ogawa, a military analyst and specially appointed professor at the University of Shizuoka. "Given that the vehicles in question passed through customs inspections and were issued license plates, pertinent laws, which are not bogged down by bureaucratic sectionalism, should be revised or introduced to prevent similar occurrences."
Add TheJapanNews to your Google News feed.