U.S. Leads Trio of Nations Seeking to Enhance Defense Against DPRK Missiles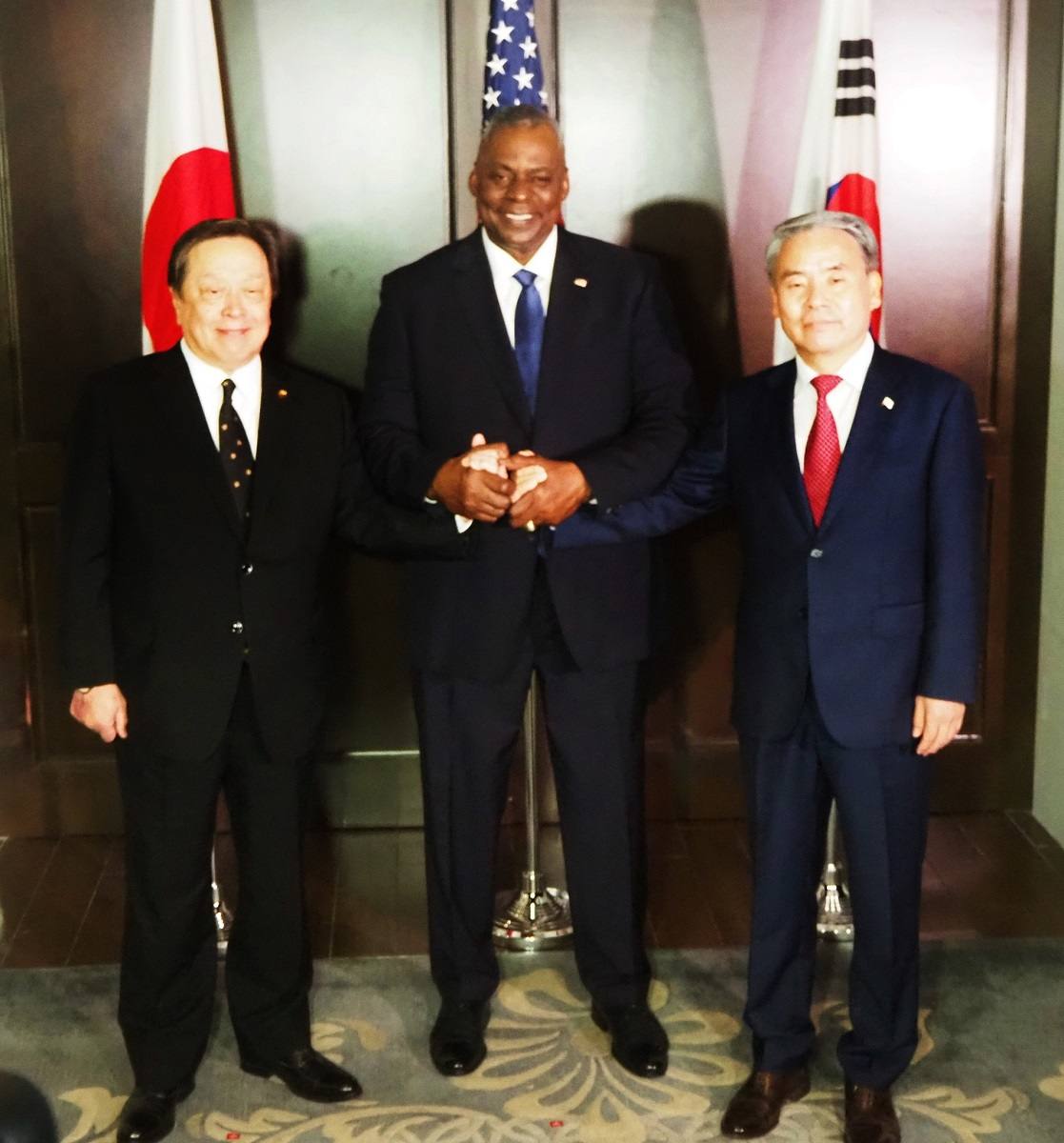 16:23 JST, June 4, 2023
SINGAPORE — The recent agreement among the defense chiefs of Japan, the United States and South Korea over the immediate sharing of information on North Korean missiles reflects their strong sense of urgency regarding North Korea's improving nuclear and missile capabilities.
Defense Minister Yasukazu Hamada and his counterparts from the United States and South Korea agreed in Singapore on Saturday to start operating a framework to share information on North Korean missiles by the end of this year. The three countries will work together this way to tighten their "encirclement" of North Korea.
Advantageous for Japan, S. Korea
Hamada, U.S. Secretary of Defense Lloyd Austin and South Korean National Defense Minister Lee Jong-Sup gathered at a Singapore hotel on Saturday morning for a photo session ahead of their meeting.
When Lee extended his hand to Hamada, saying, "Shake hands," Austin, who was standing between the two ministers, took their hands.
The key point on the meeting's agenda was a framework to enable the three countries to promptly share information on North Korean missiles via the United States. The scene — in which three defense chiefs played up their cooperation, with Austin acting as a go-between for the Japanese and South Korean ministers — symbolized their agreement to launch the framework by the end of this year.
The pact is expected to provide numerous advantages to both Japan and South Korea.
North Korea's missiles are believed to be able to reach Japan as soon as 10 minutes after a launch. However, during the first two to three minutes, they remain invisible to Self-Defense Forces Aegis destroyers and ground-based radar due to their remote distance from North Korea.
In contrast, South Korea is right next to North Korea, which enables South Korean forces to start detecting and tracking North Korean missiles immediately after launch. South Korea can therefore more promptly grasp their number, velocity and course.
If the SDF can immediately obtain such information, it will be able to start preparations to intercept missiles with Aegis destroyers' Standard Missile-3 (SM-3) interceptors. It is also expected to enhance the efficiency of the J-Alert nationwide early warning system, helping issue prompt warnings to the public.
The envisaged system would be advantageous for South Korea as well, because it will be able to obtain more information if a missile falls in areas where it cannot track. In addition, if ballistic missiles are launched from submarines, the system is expected to help South Korea obtain information from the SDF, which has strong capabilities on submarines reconnaissance.
"We'll do our best to realize the framework as early as possible," Hamada told reporters after the meeting. A source close to the South Korean government also expressed a desire to start the system soon, saying, "We shouldn't spare efforts to join forces against North Korea."
U.S. takes the lead
The envisaged framework to share information on North Korean missiles among the three countries is led by the United States, which is pushing for "integrated deterrence," under which the United States and its allies integrate their forces to counter North Korea and China.
A Japanese government official said that South Korean President Yoon Suk Yeol's visit to Japan in March also served as a tailwind for the agreement, with Prime Minister Fumio Kishida and Yoon agreeing to normalize the soured relations between their nations. This prompted defense authorities in the two countries to take a step in a new direction.
"We got sympathy on a variety of subjects, and our talks proved fruitful," Lee said after the meeting. "The atmosphere was pretty good."
How much to be shared?
Future discussions will focus on how precise information Japan and South Korea will share among them. As the SDF also uses domestically produced ground-based radar, sharing information related to this radar will risk leaking Japanese radar's capabilities. The same can be said for the South Korean side.
The three defense chiefs also agreed on a plan to start initial operations of the framework within a few months.
"If you try to do everything from the beginning, it will take a long time to make preparations," said a Defense Ministry senior official who also attended the meeting. "In light of North Korea's advancing missile technology, we intend to start from what we can do."
Add TheJapanNews to your Google News feed.