Engine Trouble Likely Led to Japan's Okinawa Helicopter Crash in April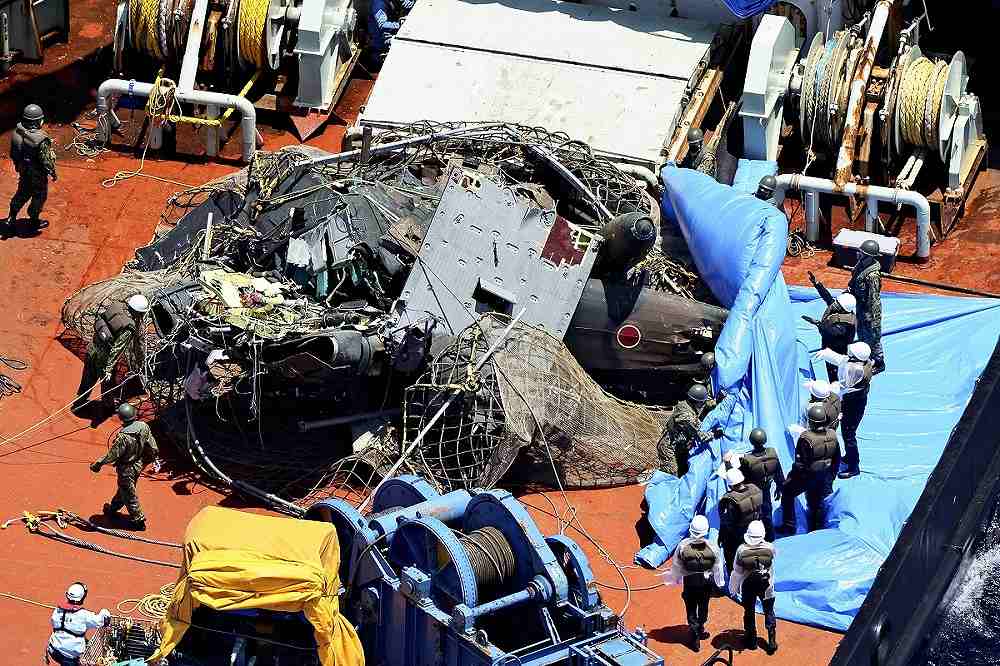 15:23 JST, May 24, 2023
The Ground Self-Defense Force helicopter that crashed in April off Miyako Island, Okinawa Prefecture, seems to have experienced a sudden drop in engine power, according to sources.
On the flight data recorder were abnormal noises from the engine and the sound of an alarm about some trouble with the aircraft, according to the sources. It also recorded the pilot and copilot talking to each other to maintain altitude as the engine power dropped.
Besides the pilot and copilot, there were eight other GSDF personnel aboard the UH-60JA multipurpose helicopter, including Lt. Gen. Yuichi Sakamoto, who led the GSDF 8th Division.
In the recording, when told about the engine failure and that the cockpit would handle it, one of the personnel replied in the affirmative.
The aircraft is believed to have crashed into the sea shortly thereafter. The audio was cut off after someone is heard saying, "Ah—."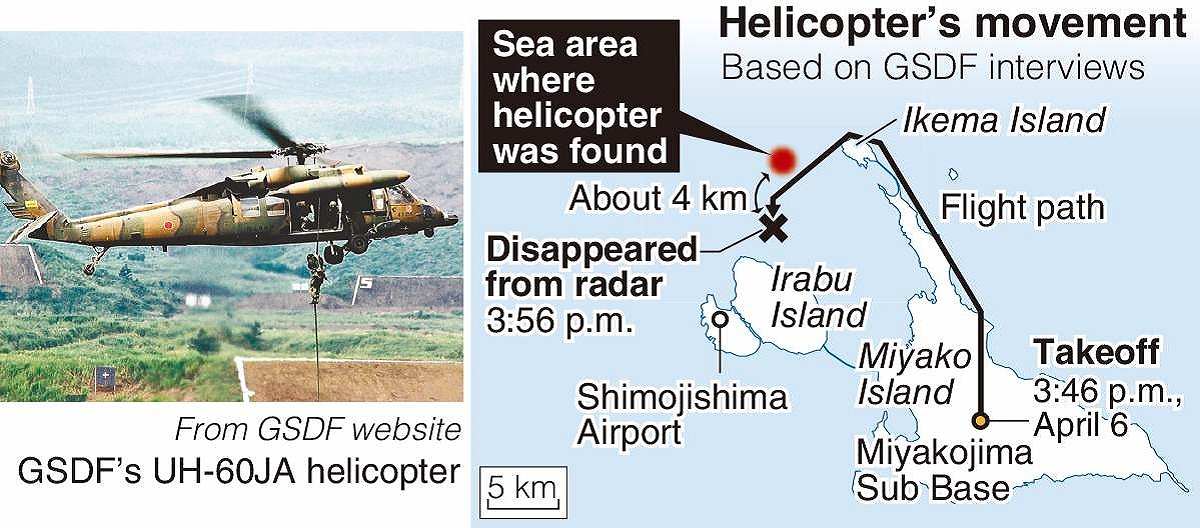 The GSDF's UH-60JA helicopter took off from Miyakojima Sub Base at 3:46 p.m. on April 6 to check the topography of the island. It communicated with the control tower of the nearby Shimojishima Airport at 3:54 p.m. Two minutes later, the aircraft disappeared from the base's radar.
According to government sources, the helicopter flew along the east coast of the island at an altitude of about 300 meters after takeoff. After passing Ikema Island, the aircraft turned southwest. The aircraft gradually lowered its altitude from this point to about 150 meters just before the accident.
The loss of engine power occurred after the last communication with the airport control tower at 3:54 p.m. There is no confirmation that the helicopter said it was in an emergency, which is declared over the radio. The pilots seem to have been preoccupied with getting the helicopter under control.
The GSDF will analyze the flight data recorder, which records aspects such as altitude, speed and engine power, and investigate the aircraft parts recovered from the seabed to determine the cause of the engine trouble.
The identities of six bodies recovered have been confirmed. The Self-Defense Forces continue to search for the remaining four missing personnel.
Add TheJapanNews to your Google News feed.