Japan Faces Difficult Decisions in Evacuating Its Citizens from Sudan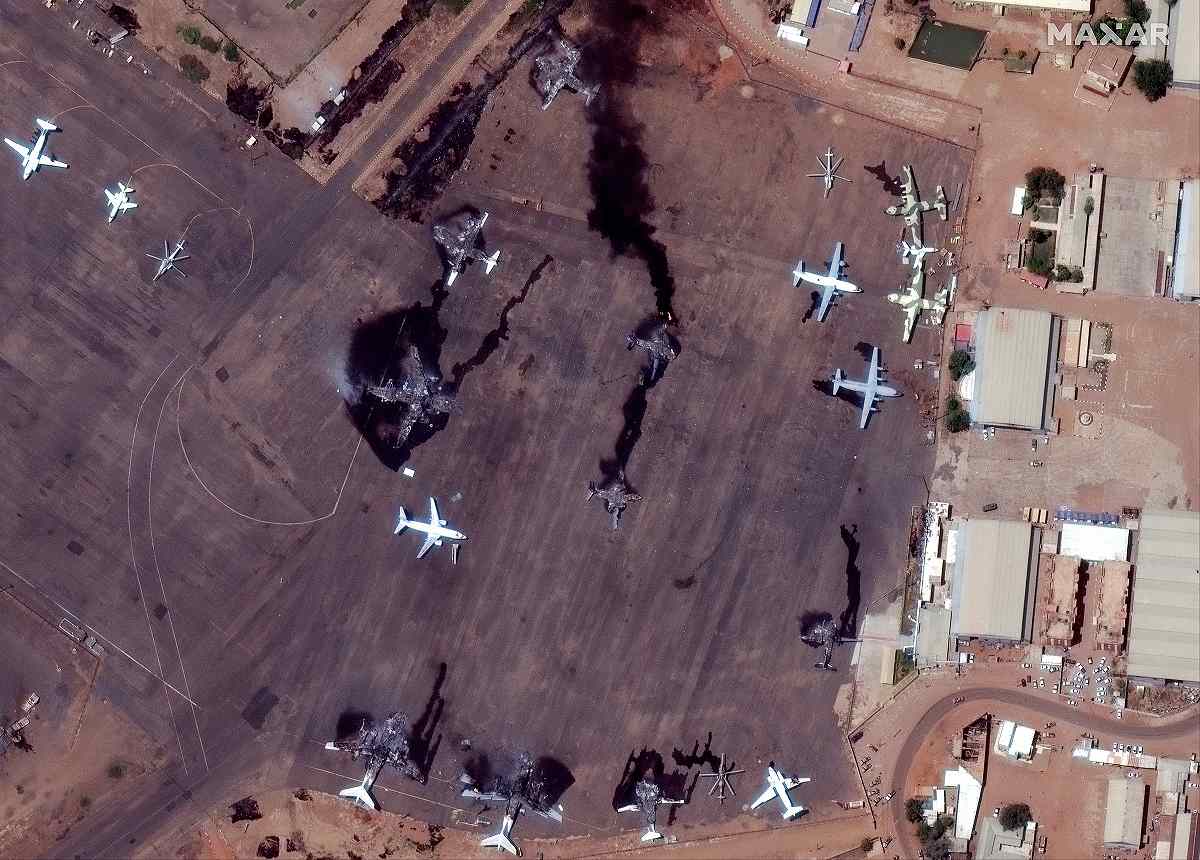 20:00 JST, April 21, 2023
The government's plan to evacuate Japanese nationals from Sudan swung into full gear Friday as an Air Self-Defense Force plane was dispatched to the nearby nation of Djibouti. However, if the fierce conflict in Sudan does not come to an end, sending ASDF aircraft into this northeast African nation and transporting Japanese to airports there by road will not be easy. For the time being, dealing with this situation likely will require some difficult decisions to be made.
At a press conference Thursday, Chief Cabinet Secretary Hirokazu Matsuno explained a plan to quickly move ahead with the dispatch of C-130 and C-2 transport aircraft.
"Preparations are being made for the ASDF aircraft to leave for Djibouti," Matsuno said. "As soon as these preparations are complete, they will quickly depart."
"These aircraft simply must depart as soon as possible, so they can quickly respond to any change in the situation" in Sudan, a government official told The Yomiuri Shimbun.
The government swiftly leapt into action because it was desperate to avoid a repeat of the initial delay in evacuating Japanese nationals from Afghanistan in August 2021. When the Islamist Taliban seized control of all Afghanistan, the conditions that needed to be met for SDF aircraft to be dispatched under the Self-Defense Forces Law — such as ensuring that security is being maintained in the area concerned — became major hurdles to the rescue operation. Dispatching SDF aircraft to Afghanistan eventually took about one week longer than the United States and European nations took to send their planes.
Stung by the lessons from this operation, the government revised the SDF Law in April 2022. The requirement that aircraft would be dispatched provided they could "safely conduct transport operations" was changed to could "take measures to avoid risks that could be expected." Consequently, planes could be dispatched to a situation in which it could be determined that even if a degree of risk was expected, it fell within a range that could be managed.
Despite this, having SDF planes fly into Sudan will be difficult under the current conditions in which airports are among the combat zones. "A temporary ceasefire will probably be necessary for Japanese planes to enter Sudan," a senior Foreign Ministry official said. "Even if a ceasefire is declared, it will be difficult to decide whether safety there really is guaranteed while the forces fighting each other have yet to be brought under control."
Land routes an option
Yoshihide Yoshida, chief of staff of the Joint Staff, said the situation in Sudan was challenging.
"The security situation on the ground is extremely severe and fluid," Yoshida, the top uniformed officer of the SDF, said at a press conference Thursday. "We don't know what sort of mission this will become, so consideration is even being given to an operation involving transportation by land."
In addition to transporting Japanese nationals in Sudan to airports there, another option might require evacuating them by land routes to Djibouti or other nearby countries if there is no prospect of using the airports.
However, transporting these evacuees by land would require the Sudan side's consent. Traveling by road would involve an even greater risk of coming under attack than evacuating by air, so it will be essential to carefully ascertain the military situation.
SDF's only overseas facility
The SDF's facility in Djibouti will be vital for enabling the Japanese government to swiftly respond to the constantly changing situation in Sudan.
In 2011, the Defense Ministry established the SDF's sole overseas facility on land adjoining Djibouti's international airport. About 180 Ground Self-Defense Force and Maritime Self-Defense Force personnel are stationed at the facility and conduct counterpiracy operations in Gulf of Aden and other duties.
If a situation develops in which it is possible to evacuate Japanese out of Sudan before the SDF's transport unit is prepared to conduct such an operation, the SDF counterpiracy unit based at the facility could be called into action.
In the National Security Strategy that was revised in December, the government specifically mentioned that the Djibouti facility "will also be utilized for the protection of Japanese nationals." This was a recognition of the situation in Africa and the Middle East — regions that are home to many politically unstable nations. The government also is considering increasing the number of personnel stationed at the facility.
The protection of Japanese nationals whose lives are in danger could be considered the government's most important duty. The government will continue to work closely with other nations to collect information and make diplomatic efforts such as calling for a ceasefire in Sudan, while also preparing to carry out an evacuation plan that makes maximum use of already implemented operational improvements.
Add TheJapanNews to your Google News feed.