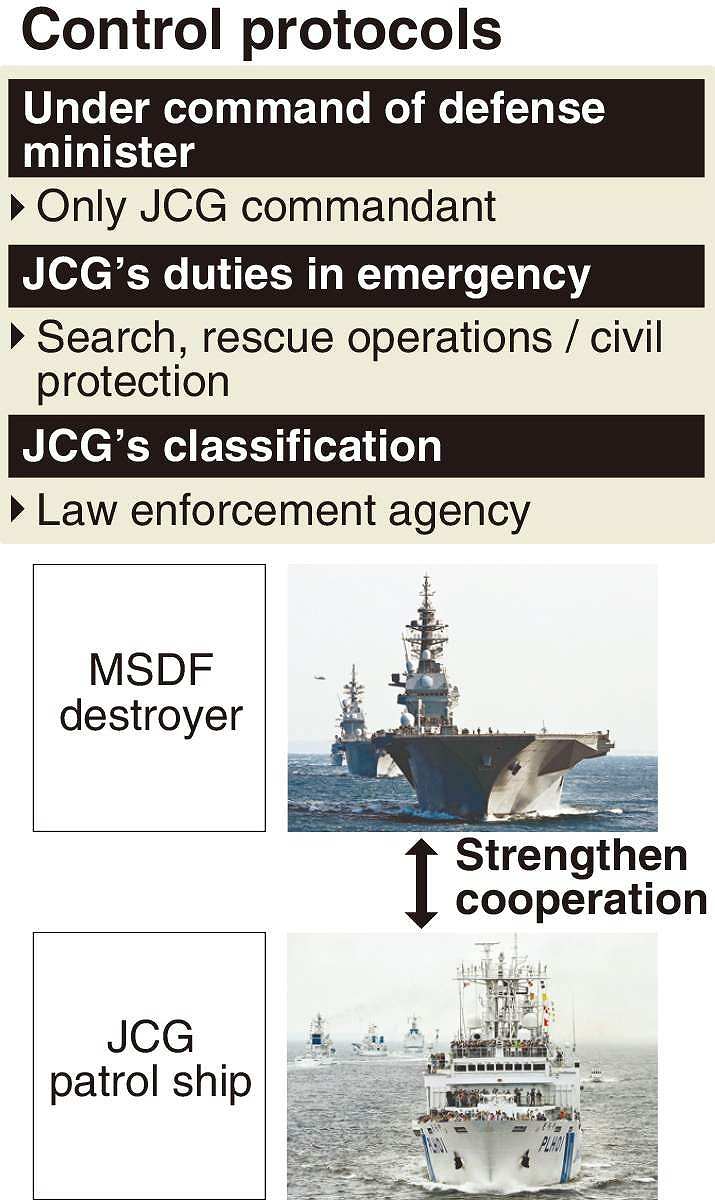 6:00 JST, April 11, 2023
In the event of an emergency, the defense minister will direct the head of the Japan Coast Guard as the JCG handles search and rescue activities and ensures the safety of civilians, several government sources have said.
This arrangement comes as part of an outline of control protocols that specify the procedures under which the JCG would come under the defense minister's command in the event of an emergency. The government plans to hasten the formulation of these protocols at the National Security Council.
The protocols will be the first operational guidelines for the Maritime Self-Defense Force and the JCG to work together in the event of an armed attack and other scenarios. The government has been working on the protocols in the belief that cooperation between the two must be strengthened given the increasingly severe security environment in Japan, such as from the heightened possibility of China invading Taiwan.
The protocols will clarify that, in the event of a military action by another country, such as a missile launch, the MSDF will focus on defensive measures, while the JCG will be responsible for logistical support, such as evacuating residents and ensuring the safety of civilian vessels.
The defense minister will not command the JCG itself, but will direct the coast guard's head officer. The aim is to ensure that information held by the Self-Defense Forces is shared quickly and seamlessly through the JCG commandant while respecting the JCG's independence, and to leave the actual operation of patrol vessels to the commandant, who is well versed in such work.
In order to maintain the principle of the Japan Coast Guard Law's Article 25, which forbids the functioning of the JCG as a military force, the protocols intend to clearly state that the JCG is a law enforcement agency separate from the military. Based on the content of the protocols, the MSDF and JCG plan to conduct their first joint drill after May to respond to armed attack situations.
Add TheJapanNews to your Google News feed.