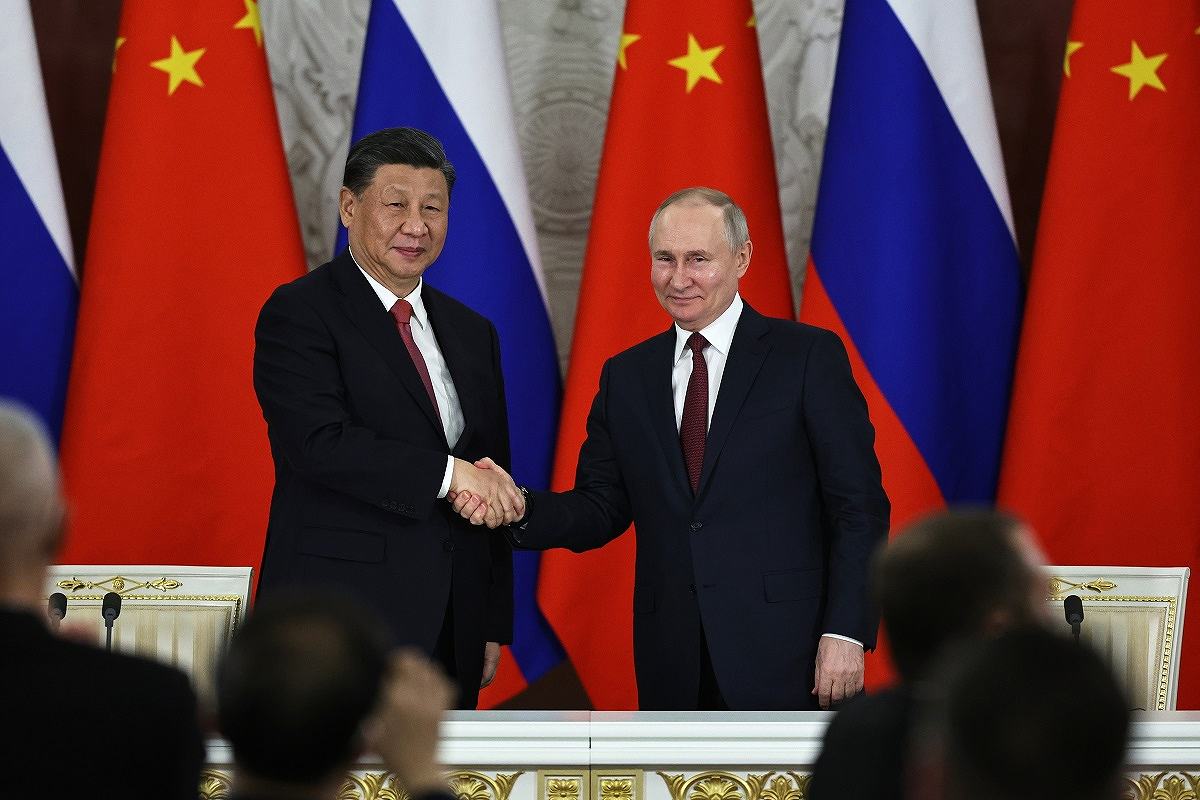 17:29 JST, March 22, 2023
SHENYANG, China — Chinese President Xi Jinping and Russian President Vladimir Putin signed joint statements on strengthening Sino-Russian relations on Tuesday, the second day of Xi's visit to Russia.
The two leaders opposed sanctions against Russia led by the United States and Europe in one of the statements, which expressed China's understanding for Russia's position on Ukraine. They did not mention military assistance from China to Russia.
Xi and Putin signed two joint statements on comprehensive partnership and economic cooperation after their meeting at the Kremlin in Moscow on Tuesday. They then held a joint press conference.
Regarding China's 12-point proposal for resolving the Ukraine crisis, Putin said, "Many of the provisions of the peace plan put forward by China are consonant with Russian approaches and can be taken as the basis for a peaceful settlement when the West and Kiev are ready for it."
"However, so far, we have not seen such readiness on their part," Putin said, justifying Russia's continued invasion.
In response, Xi said China has been maintaining "an objective and impartial position, and actively encouraged peace talks." China has been proposing direct dialogue between Russia and Ukraine, among other things, but the United States, Europe, and other Western nations have been criticizing these proposals as an endorsement of Russia's claims.
According to announcements by China and Russia, one of the joint statements called for preventing the Ukraine crisis "from getting worse or even out of control." It did not mention arms supplies to Russia by China, which the United States and Europe are concerned about.
The statement also said "the two sides oppose any unilateral sanctions unauthorized by the UN Security Council," making clear their opposition to economic sanctions imposed on Russia by the United States, Europe, Japan, and other countries.
Regarding economic cooperation, the two sides agreed to expand trade and the use of each other's currencies by 2030, and to strengthen cooperation in the energy sector, including oil and natural gas. They also confirmed that they would enhance military exchanges and cooperation.
According to Russian news agency Tass, Xi and Putin also held a meeting on Monday with only interpreters present. These talks lasted for about 4½ hours including dinner.
It is believed that China and Russia intend to counter the United States and Europe by showing off their strong relationship. According to an announcement by the Russian government, Xi officially invited Putin during their Monday meeting to visit China this year.
China is hosting an international forum on its mega-economic zone Belt And Road Initiative this year, and Xi expressed his hope that Putin would attend the forum.
Add TheJapanNews to your Google News feed.