Kishida Assures Zelenskyy of 'Unwavering Solidarity' with Ukraine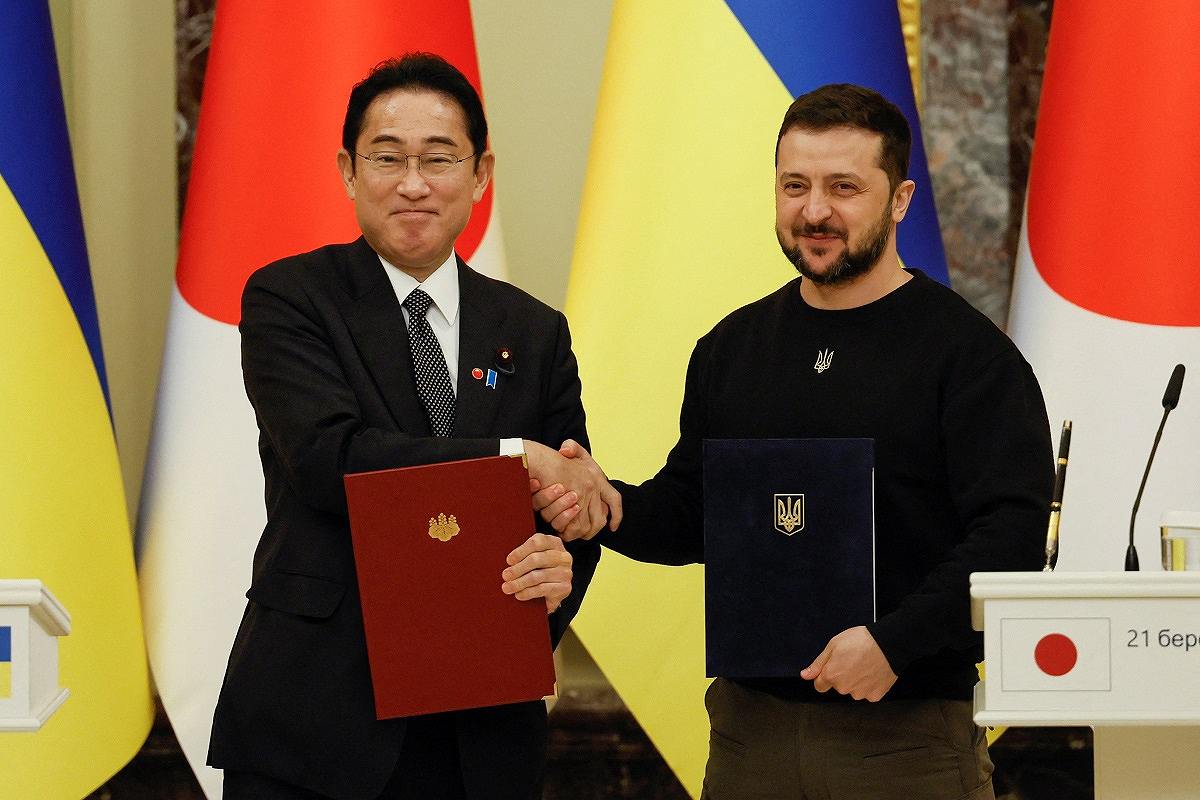 16:09 JST, March 22, 2023
KYIV — Prime Minister Fumio Kishida expressed his "unwavering solidarity" during a meeting with Ukrainian President Volodymyr Zelenskyy in Kyiv on Tuesday, and presented additional relief measures for that country.
Kishida also invited Zelenskyy to attend the Group of Seven summit of industrialized nations to be held in Hiroshima in May. The Ukrainian president will participate online.
At the bilateral summit held at Ukraine's presidential office, Kishida revealed Japan's plan to provide an additional $30 million (¥4 billion) to purchase non-lethal equipment and $470 million in assistance for the energy sector and other areas.
Non-lethal equipment would include bulletproof vests and clothing, to be provided through the North Atlantic Treaty Organization's trust fund.
Kishida and Zelenskyy agreed to upgrade the bilateral relationship to a special global partnership and also to begin working to conclude an information protection agreement.
"I had been eager to talk directly with [Zelenskyy] in Ukraine by any means and to convey our unwavering solidarity before the G7 summit in Hiroshima," Kishida said at a joint press conference following the meeting. "At the Hiroshima summit, we, as G7 members, will demonstrate our determination to defend the international order based on the rule of law."
Zelenskyy expressed appreciation for Japan's leadership in preserving the international order, referring to Japan's G7 presidency this year.
After the meeting, the two leaders issued a joint statement to strengthen the bilateral relationship that contains points of agreement. In the statement, the leaders "condemned in the strongest possible terms" Russia's aggression against Ukraine.
It said "forcible acquisition of territory or unilateral attempt to change the internationally recognized borders by force or coercion is unacceptable and cannot be justified," and called for Russia to withdraw "immediately and unconditionally" from Ukraine.
The statement also condemned Russia's threat to use nuclear weapons as "a serious and unacceptable menace to the peace and security of the international community," and said "maintaining and intensifying sanctions on Russia is indispensable to constrain Russia's war effort."
This is the first time in the postwar era that a Japanese prime minister has visited a war zone or an area where fighting was ongoing. It was Kishida's first visit to Ukraine since the Russian invasion to the country began in February last year.
Kishida left India, where he was on a diplomatic trip, on Monday evening on a private chartered plane. He arrived in Kyiv by train via Poland on Tuesday.
He will meet President Andrzej Duda in Poland and others, before returning to Japan on Thursday morning.
---
---
Add TheJapanNews to your Google News feed.