Japan, S. Korea Confirm Normalization of Military Info-Sharing Agreement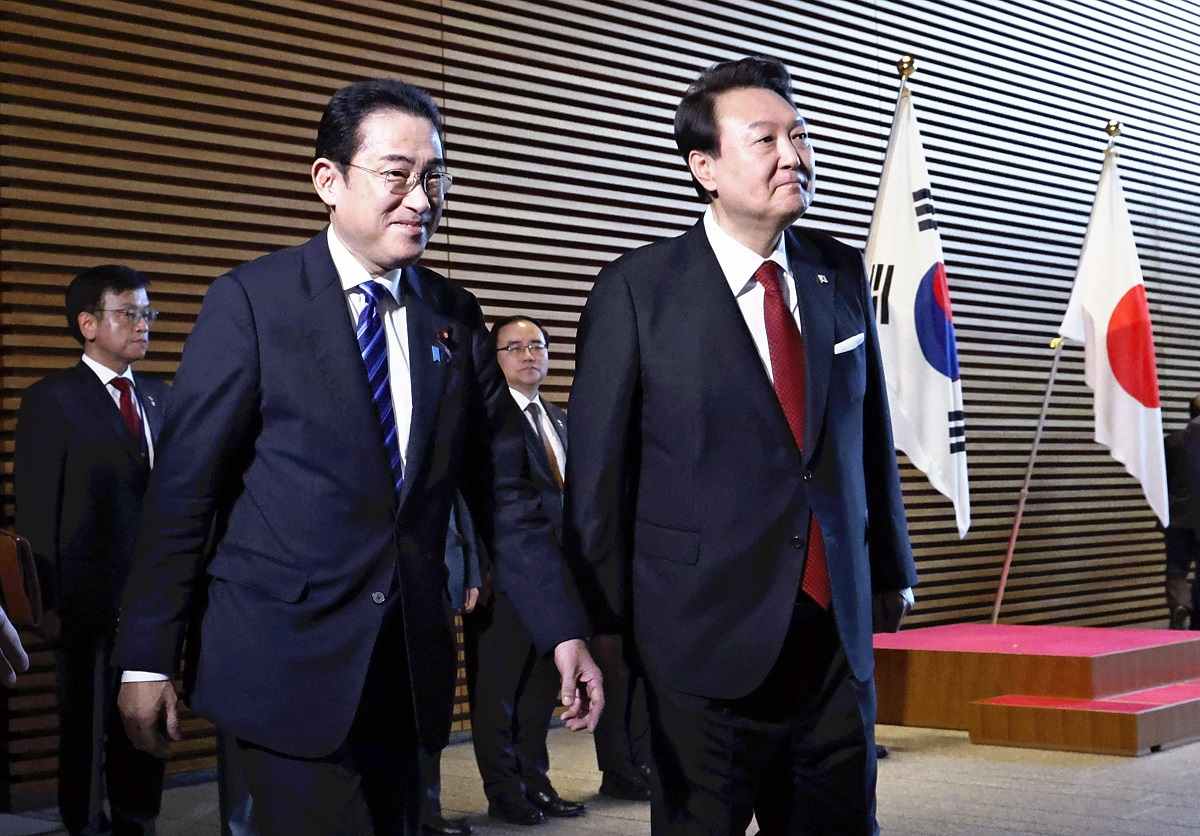 14:08 JST, March 17, 2023
WASHINGTON — South Korean President Yoon Suk Yeol on Thursday confirmed normalization of the General Security of Military Information Agreement (GSOMIA) between Seoul and Tokyo, which the previous South Korean administration declared it would be abolished.
Speaking at a joint press conference with Prime Minister Fumio Kishida on the day, Yoon touched on the need to share information regarding North Korean missile launches and flight tracking.
Washington has strongly welcomed the Japan-South Korea summit meeting and hopes warmer ties between the two Asian countries will help strengthen three-way cooperation between the U.S., Japan, and South Korea on security-related issues.
U.S. Deputy Secretary of State Wendy Sherman spoke by phone with Vice Minister for Foreign Affairs Takeo Mori on Wednesday and said Washington would continue to support moves to improve relations between Japan and South Korea.
Separately, a U.S. Defense Department spokesperson said to The Yomiuri Shimbun on Wednesday, "In the face of shared security challenges, it is critical that there are strong and close relationships between and among our three countries."
Following its spearheading of the U.S.-Japan-South Korea summit meeting in Cambodia last November, the United States has urged Tokyo and Seoul to improve relations behind the scenes, too.
Washington hopes to expand joint training and intelligence-sharing among Japan, South Korea and the U.S. to prevent provocative actions by North Korea.
In light of China's increasing hegemonic behavior, the administration of U.S. President Joe Biden also believes there is room to expand cooperation on economic security, such as by strengthening the supply chain for semiconductors and other products.
Biden, who is expected to host Yoon at the White House on April 26, will visit Japan in May for a summit meeting of the Group of Seven industrialized nations to be held in Hiroshima, where he will hold talks with Kishida.
Biden is said to be keen to discuss concrete steps for cooperation among the three countries when he meets with Kishida and Yoon.
Add TheJapanNews to your Google News feed.