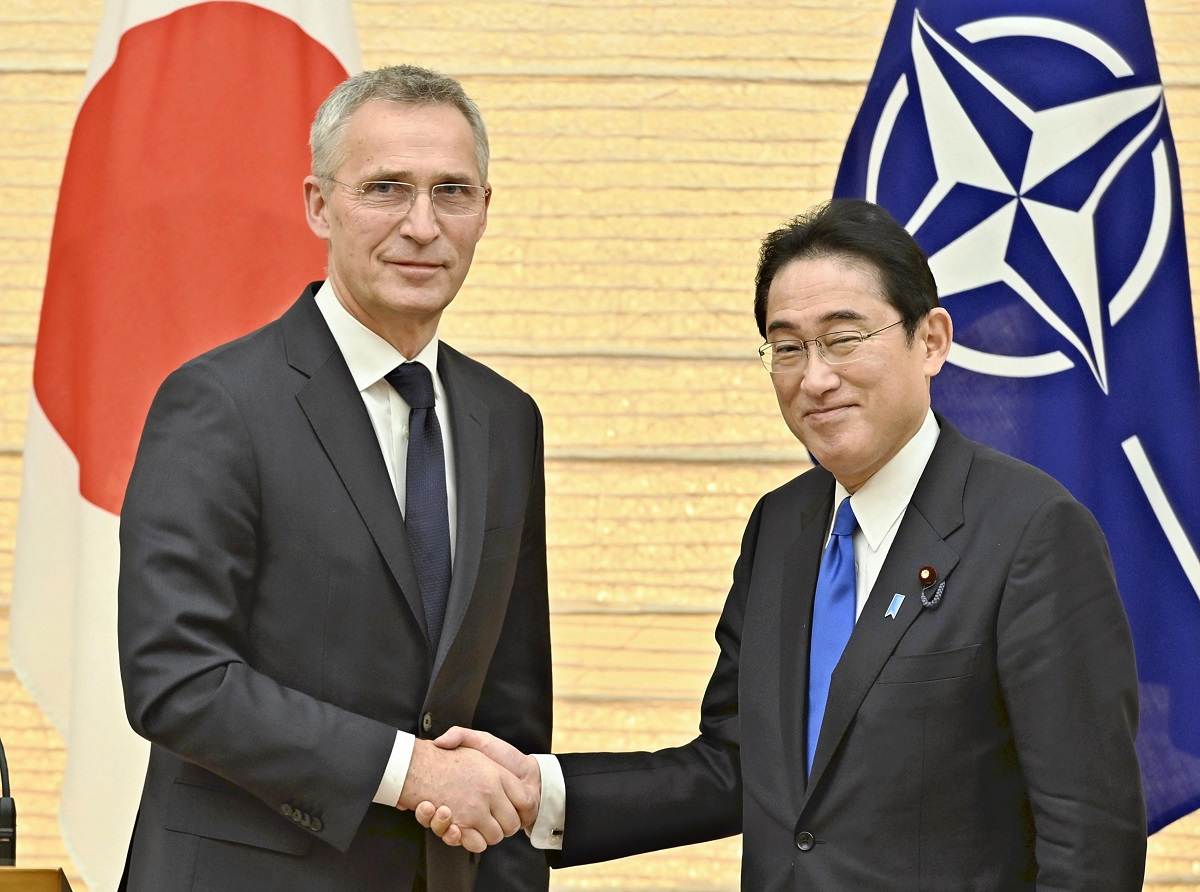 13:33 JST, February 1, 2023
Prime Minister Fumio Kishida and Jens Stoltenberg, secretary general of the North Atlantic Treaty Organization, have confirmed the strengthening of security cooperation between Japan and NATO, in a meeting at the Prime Minister's Office.
Kishida and Stoltenberg also agreed during their Tuesday meeting that the security of the Euro-Atlantic and Indo-Pacific regions are inseparable, with an eye on Russia's aggression against Ukraine and China's military buildup in the region.
Stoltenberg is visiting Japan for the first time since October 2017 and aims to strengthen ties with the prime minister, who will chair the the Group of Seven summit to be held in Hiroshima in May.
In a joint announcement after their talks, Kishida said, "We will take NATO-Japan cooperation to a higher level in order to maintain and strengthen a free and open international order. Stoltenberg responded, "We must remain united and firm. Standing together for freedom and democracy."
Their joint statement released after the meeting clearly stated that "unilateral change of the status quo by force or coercion is not acceptable anywhere in the world," and warned that "any use of nuclear weapons by Russia would meet with unequivocal international condemnation and severe consequences." It also stressed concern about military coordination between Russia and China.
Japan and NATO agreed to oppose attempts to change the status quo and intimidation in the East and South China Seas, with China's continued aggressive maritime expansion in mind. The statement noted, "we emphasize the importance of peace and stability across the Taiwan Strait."
The two sides confirmed in the statement that they would "elevate current Japan-NATO cooperation to new heights that reflect the challenges of a new era" through cooperation in areas such as cyber, space, and countering disinformation. They also confirmed they would consider regular participation by the Japanese government in the North Atlantic Council and the Chiefs of Staff meetings.
Add TheJapanNews to your Google News feed.