Japan Seeks Missile with Interchangeable Warheads for Reconnaissance, Radar Jamming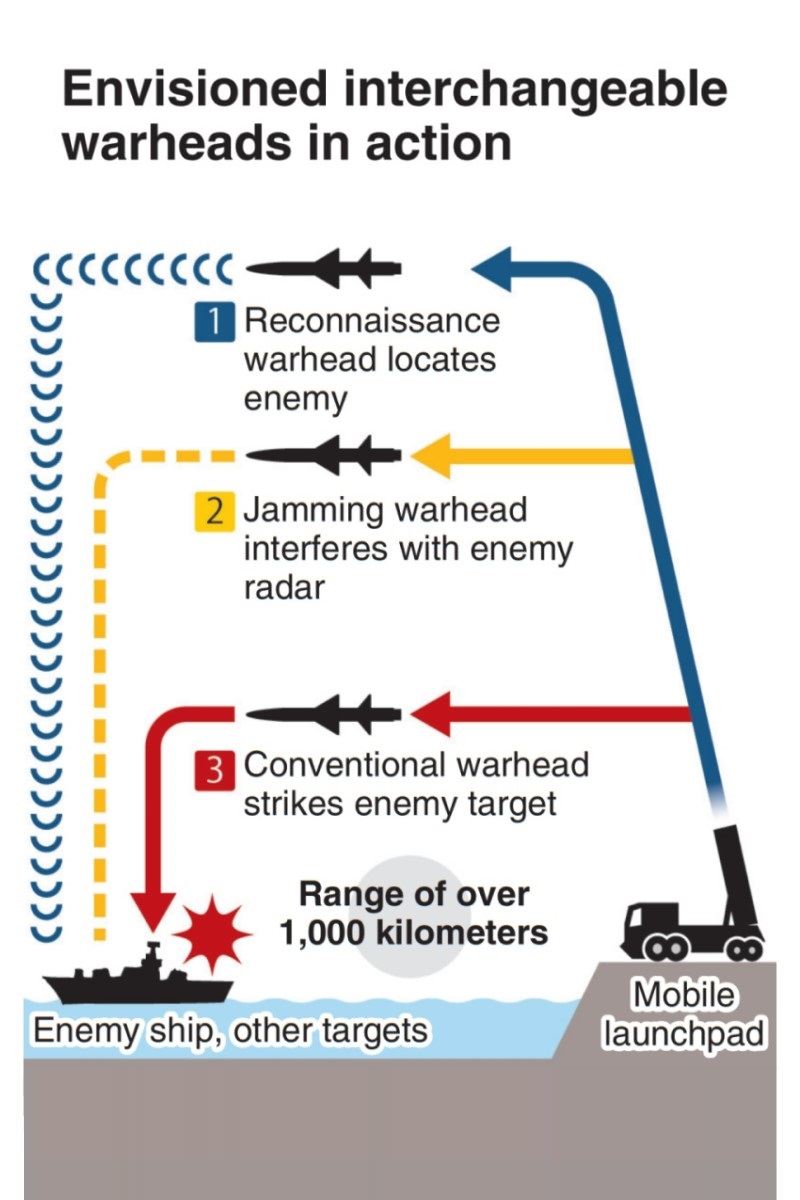 15:28 JST, January 17, 2023
A cruise missile with three interchangeable warheads for reconnaissance and radar jamming in addition to conventional use has been given the go-ahead for development, according to several government sources.
By launching missiles with these warheads at different times, the accuracy of strikes on enemy ships and other targets are expected to increase, leading to improved deterrence.
The production of a prototype will begin in the fiscal year beginning April, with the aim of putting the missiles into practical use as soon as possible.
Since 2018, the Defense Ministry has been researching the rocket engine and some other parts.
A senior defense official said that development of a cruise missile whose warheads are interchangeable depending on the use is extremely rare globally.
The missile will have a range of over 1,000 kilometers and be launched from highly mobile launchpads.
A high-performance camera will be mounted on a reconnaissance warhead to uncover the situation over a wide area. This would be launched first to determine the enemy's precise location, after which a jamming warhead that emits electromagnetic waves to impair enemy radar and other sensors would be fired. Then the conventional warhead strikes the target.
In recent years, it has become common for signals to first be electromagnetically jammed before a missile strike in order to make it easier to break through enemy air defense systems. China frequently deploys electronic warfare aircraft in the East China Sea and is seen as likely to launch an electromagnetic wave attack should a contingency occur. Japan is hoping to secure a similar capability and counter possible attacks.
The new missile is mainly intended to target enemy vessels that try to invade island areas such as the Nansei Islands, which span Kyushu and Okinawa Prefecture.
It is also expected to be deployed for strikes on enemy missile launch sites, acting as a means of executing the counterattack capability that was specified in the revision of the National Security Strategy and two other defense documents at the end of last year.
The government is developing several long-range cruise missiles in an effort to drastically strengthen its defense capabilities. The Ground Self-Defense Force's Type 12 surface-to-ship guided missile is being upgraded to extend its range to 1,000 kilometers, with its deployment scheduled for fiscal 2026. A high-speed glide missile whose irregular trajectory makes it difficult to intercept is also planned for deployment around the same time.
In preparation for a possible delay in the development of the upgraded Type 12 missile, the government also plans to purchase U.S.-made Tomahawk cruise missiles.
Once the interchangeable-warhead cruise missile is put into practical use, the government plans to combine its use with other long-range missiles.
Add TheJapanNews to your Google News feed.