Japan, U.S. Agree to Expedite Procedures for Defense Equipment Development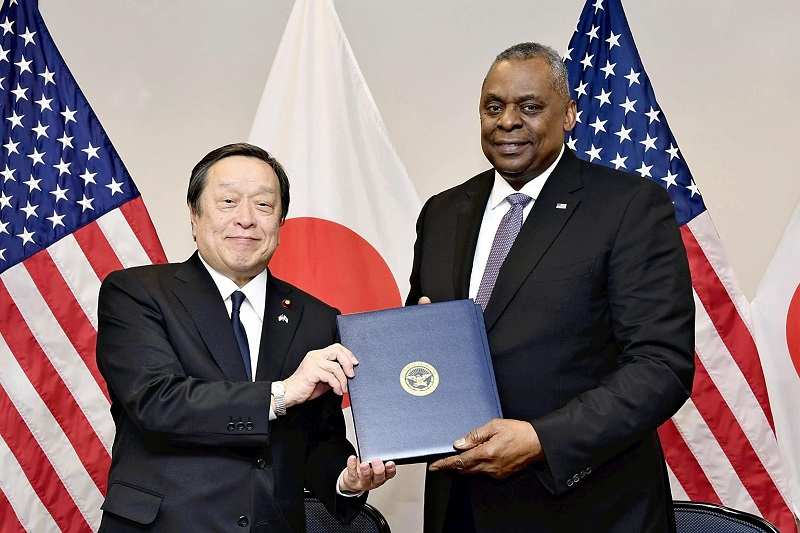 17:25 JST, January 13, 2023
WASHINGTON — Defense Minister Yasukazu Hamada and U.S. Defense Secretary Lloyd Austin agreed to expedite procedures for joint research and development of defense equipment during a meeting at the Pentagon on Thursday.
Japan and the United States will cooperate in advanced fields such as technology to counter hypersonic weapons and drone systems to secure a technical advantage over China.
Currently, when Japan and the United States conduct joint research and development, multiple memoranda must be prepared for each piece of research or trial, and it takes several months to prepare such documents in some cases. The agreement will simplify the procedures by making only a single memorandum necessary for a project.
Based on the latest accord, the Japanese and U.S. governments will accelerate discussions on joint research and development of advanced technologies, including a system to counter hypersonic weapons that fly at more than five times the speed of sound and high-power microwaves that can disable drones.
Hamada and Austin also agreed on the establishment of a framework for repairing defense equipment and procuring parts in an effort to stabilize supply chains and enhance Japanese and U.S. capabilities to sustain defense operations.
"Securing a technical advantage is especially vital for the deterrence and response capabilities of the alliance," Hamada told reporters after the meeting. "We want to accelerate cooperation with Washington."
Add TheJapanNews to your Google News feed.