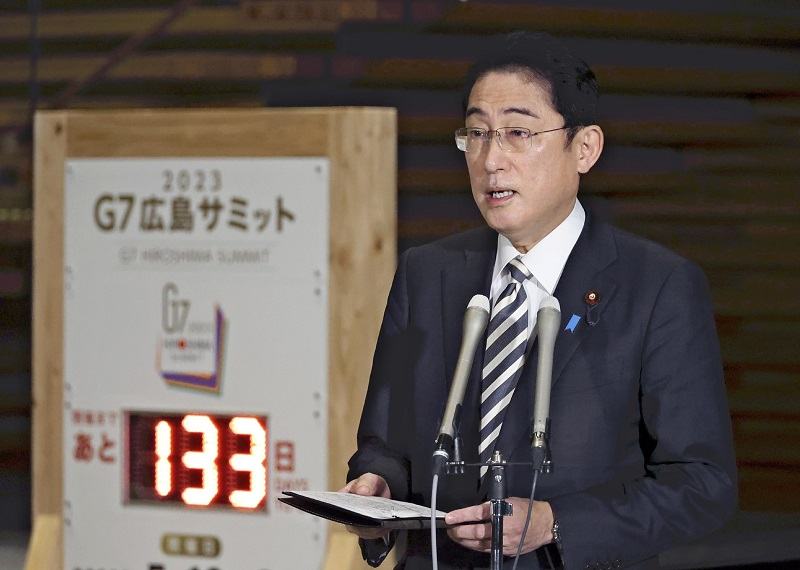 7:00 JST, January 8, 2023
Now that the international order has been shaken by Russia's aggression against Ukraine and China's military rise, how will Japan demonstrate the shared values and unity of the G7?
Japan is serving as this year's chair of the Group of Seven industrialized nations and will host a summit in Hiroshima in May.
"As this year's chair of the G7, Japan will play an active role," Prime Minister Fumio Kishida said to Ukrainian President Volodymyr Zelenskyy in a telephone conversation Friday evening. "We will strengthen our ties with Ukraine and further promote bilateral cooperation."
The talks over the phone took place at the request of the Ukrainian side, just before Kishida's scheduled visit to fellow G7 members France, Italy, the United Kingdom, Canada and the United States. Germany and the European Union are also members.
Kishida told reporters that Zelenskyy expressed his gratitude for Japan's assistance and explained the current situation in his country.
Russia's invasion of Ukraine is expected to be the most important theme at the Hiroshima summit. Should Russia's aggression, an obvious violation of international law, be overlooked, it could encourage China's hegemonic behavior in East Asia. Kishida's sense of crisis runs strong, as he has repeatedly stated openly that "any unilateral change to the status quo by force will not be tolerated wherever in the world."
When speaking with Zelenskyy, Kishida also emphasized that "Japan will do its utmost to provide assistance to protect the people of Ukraine, including help getting them through the winter."
While some fellow G7 nations continue to provide Ukraine with missiles and other arms, Japan does not as it imposes on itself limits described in the Three Principles on Transfer of Defense Equipment and Technology.
Japan has been focusing on extending humanitarian assistance, such as the provision of power generators and lighting apparatus, taking into consideration the unstable electricity supply in Ukraine, in addition to non-lethal equipment such as bulletproof vests and helmets.
The Japanese government will also soon embark on assistance to remove land mines. This is part of Japan's "visible assistance." In cooperation with Cambodia, where Japan has long assisted in removing land mines, Japan will instruct Ukrainian personnel on how to use the most advanced mine detectors. Around April, teams of experts from Japan and Cambodia will be sent to Poland, which borders Ukraine, to continue the training.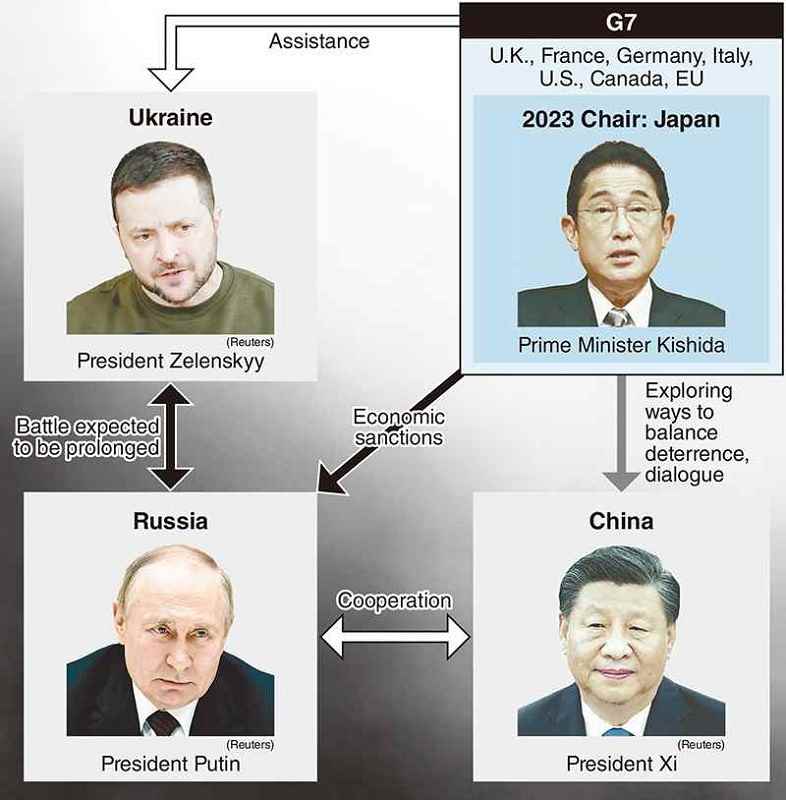 Policies toward China
As Japan is the only member of the G7 from Asia, Kishida intends to position regional security in East Asia on the summit's main agenda.
Since Russia began its aggression against Ukraine, Kishida has repeatedly stated: "The security of Europe and the Indo-Pacific are inseparable."
As a senior Foreign Ministry official has put it, the prime minister has "encouraged other G7 leaders to pay attention to Asia."
Kishida hopes to lead discussions during the G7 summit toward the realization of the free and open Indo-Pacific vision.
At Kishida's urging and with rapprochement between China and Russia, G7 members such as the United Kingdom and France are increasing their involvement in the Indo-Pacific region. Canada also announced its first Indo-Pacific strategy last November.
As Germany is among the members who have strong economic ties with China, some observers point out that it will not be easy for the G7 to align its China policies.
Japan, for its part, also plans to announce a new free and open Indo-Pacific plan by this spring. The plan, which is to be worked out from the framework of the country's official development assistance, envisages among other things the provision of equipment to the militaries of like-minded nations in the Indo-Pacific region that are being coerced by China.
Add TheJapanNews to your Google News feed.