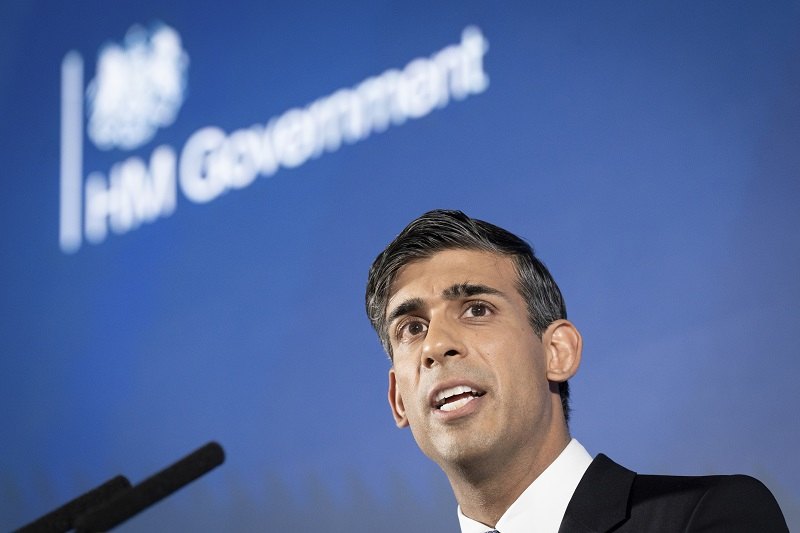 16:05 JST, January 6, 2023
Japan and Britain plan to sign a Reciprocal Access Agreement (RAA) when Prime Minister Fumio Kishida visits Britain next week, according to government sources.
The pact will set a legal framework for the activities of the Self-Defense Forces in the United Kingdom and British military personnel in Japan.
The Japanese and British governments are currently in the final stage of concluding a pact that will deepen security cooperation between the two countries, which have shared concerns over Russia's invasion of Ukraine and China's hegemonic activities.
Kishida and his British counterpart Rishi Sunak are expected to sign the pact during the Japanese prime minister's visit to Britain on Tuesday and Wednesday, according to the sources.
Currently, Australia is the only country with which Japan has concluded such an agreement.
Japan and Britain will need to make domestic legal arrangements before the pact can take effect. Once the defense pact is signed, the Japanese government intends to submit related legislation in the Diet session scheduled to convene on Jan. 23.
The defense agreement will waive requirements for immigration checks when personnel stay in each other's country for joint exercises or other purposes and simplify procedures for bringing in arms and ammunition, thus making it easier to conduct joint military training.
Unlike the Status of Forces Agreement between Japan and the United States, which is based on the assumption that U.S. forces will stay in Japan for long periods of time, the RAA will apply to both countries in an equal and reciprocal manner.
Both U.S. allies, Japan and Britain regard themselves as quasi-allies and have strengthened their defense cooperation. In 2017, the two countries concluded the Acquisition and Cross-Servicing Agreement, under which their forces can provide each other with food and fuel, among other supplies and services. In the autumn of 2021, the two countries launched negotiations to conclude an RAA and reached a broad agreement in May 2022.
Japan and Britain have also held meetings with their foreign and defense ministers in so-called two-plus-two security talks.
The two countries have conducted joint exercises involving the SDF and the British military, based on a shared view that security in Europe and the Indo-Pacific is inseparable.
In 2021, Britain's most-advanced aircraft carrier, HMS Queen Elizabeth, made its first port call in Japan. An exercise was conducted off the southwest coast of Okinawa Prefecture involving HMS Queen Elizabeth, the Maritime Self-Defense Force's destroyer Ise and the U.S. Navy's nuclear-powered aircraft carrier USS Ronald Reagan.
In December 2022, Japan, Britain and Italy called for the joint development of next-generation fighter aircraft in a summit statement.
Kishida's visit to Britain will be part of a trip that kicks off on Monday and will include stops in France, Italy, Canada and the United States.
With Japan chairing the Group of Seven in 2023, Kishida is expected to confirm the importance of unity among G7 members during the trip.
Add TheJapanNews to your Google News feed.