Chinese flattop back to East China Sea after drills off Okinawa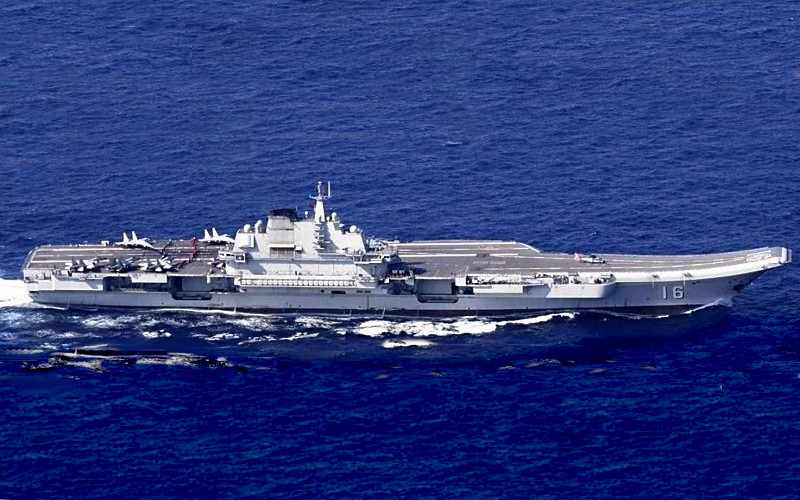 13:06 JST, January 3, 2023
TOKYO (Jiji Press) — The Chinese aircraft carrier Liaoning has returned to the East China Sea by sailing north between the main island of Okinawa Prefecture and Miyako Island after conducting drills in Pacific waters south of the prefecture last month, the Defense Ministry said Monday.
On Dec. 16, the Liaoning and other Chinese warships traveled south between the Okinawa main island and Miyako Island to reach the Pacific Ocean, according to the ministry.
Fighter jets and helicopters based on the Liaoning took off from and landed at the aircraft carrier a total of about 320 times around the islands of Okidaitojima and Kitadaitojima in Okinawa Prefecture between Dec. 17 and Saturday. The Liaoning and other ships sailed back to the East China Sea on Sunday night after apparently ending the drills.
This was the first operation by the Liaoning since May 2022, when more than 300 takeoffs and landings took place.
The latest voyage is seen to have been intended to improve the Liaoning's operational capability as it traveled a longer distance this time, according to officials of the ministry.
The series of moves by the Chinese military led to fighter jets of the Japanese Air Self-Defense Force scrambling while the Ariake destroyer of the Maritime SDF engaged in monitoring and surveillance activities.
The ministry also said that a WZ-7 unmanned reconnaissance aircraft of the Chinese military flew back and forth between the East China Sea and the Pacific Ocean on a route between the main island of Okinawa and Miyako Island on Sunday and Monday.
It is the first time that a WZ-7 has been spotted, according to the ministry.
Add TheJapanNews to your Google News feed.