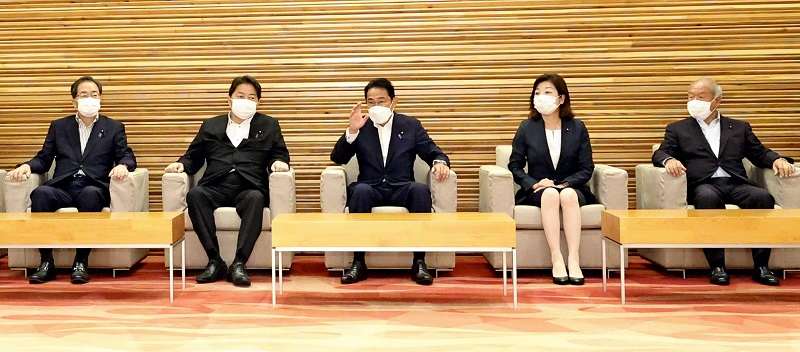 17:12 JST, July 22, 2022
The government condemned Russia's invasion of Ukraine in its 2022 defense white paper approved at a Cabinet meeting on Friday.
The white paper stated that Moscow's aggression must "never be tolerated," and warned that Russia, with its declining national power, may deepen military ties with China.
The report, which featured a section dedicated to Russia's invasion of Ukraine, also included a hypothetical invasion of Taiwan by China for the first time.
Russia's offensive in the initial phase of the Ukraine conflict was assessed as a failure in the white paper, which included an analysis of the factors that led to Russia's decision to attack, including Moscow's "optimistic estimates of Ukraine's willingness to resist and its military capabilities."
The white paper also highlighted Russia's lack of capabilities to accurately identify missile strike targets and questioned the Russian military's ability to conduct large-scale warfare.
The report stated that "medium- and long-term prospects for Russia's national strength may deteriorate and the military balance with neighboring regions may change" as a result of damage caused by a prolonged war in Ukraine.
The white paper also mentioned the possibility of Russia deepening ties with China and increasing the activities of its strategic nuclear submarines in the Far East.
The section on Taiwan has doubled in size compared to last year's edition of the white paper.
The report includes a hypothetical scenario prepared by Taipei, which expects an invasion to be divided into several phases, beginning with China gathering its military forces on the Chinese coast under the guise of drills and the spread of disinformation; followed by strikes on key facilities with missiles and cyber attacks; and finally a landing operation.
The white paper states that China "is stepping up various kinds of pressure on Taiwan."
The paper retained the description of "strong security concerns" regarding China, but in light of that country's increased activities around Japan, the latest edition also stresses that "the situation has become even more tense in recent years."
Regarding North Korea, which is advancing its nuclear and missile development programs, the paper maintained its previous wording, describing the isolated nation as a "serious and imminent threat," but added that, as with China, the situation is intensifying.
The Japanese government plans to revise three security-related documents by the end of the year, including the National Security Strategy, in order to strengthen defense capabilities in light of the severe security environment.
The white paper stressed that "the use of force by Japan after an enemy has initiated an armed attack should not be confused with a preemptive strike," regarding "counterattack capabilities," an expression the government uses to describe the ability to destroy missile launch bases and other enemy facilities for self-defense purposes.
Add TheJapanNews to your Google News feed.