Japanese prime minister cautions against countries drawing 'wrong lessons' from Ukraine invasion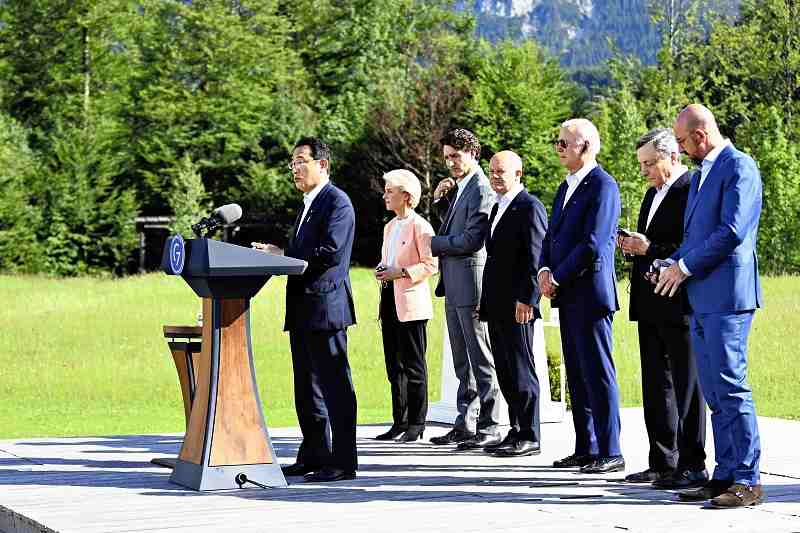 14:20 JST, June 27, 2022
MUNICH — Prime Minister Fumio Kishida on Sunday urged other Group of Seven leaders to ensure that countries did not draw the 'wrong lessons' from Russia's invasion of Ukraine.
Kishida's remarks at the G7 summit in Germany were an allusion to the current situation in East Asia, in which China is increasing its military pressure on Taiwan.
The Japanese premier emphasized that he would not tolerate Beijing's development of gas fields in the East China Sea, referring to the ongoing construction work as "a unilateral attempt to change the status quo by coercion."
He raised China-related issues during diplomatic and security discussions at the summit.
"We must strengthen the international order and reject the world becoming a place where unilateral changes to the status quo by force can occur without question, such as the invasion of Ukraine," Kishida said, while cautioning that such changes were continuing and intensifying in the Indo-Pacific."
Beijing is presently installing infrastructure in the East China Sea without agreement from Japan, and Chinese vessels have made repeated incursions into territorial waters around the Senkaku Islands in Okinawa Prefecture. "The situation in the East China Sea and the South China Sea is extremely serious," Kishida said these points.
Kishida also expressed serious concerns over North Korea, which remains committed to developing nuclear weapons and missiles. "While the international community is focused on dealing with the aggression in Ukraine, we mustn't mislead the [North Korean] regime into thinking that a window has opened for missile development," he said.
Add TheJapanNews to your Google News feed.