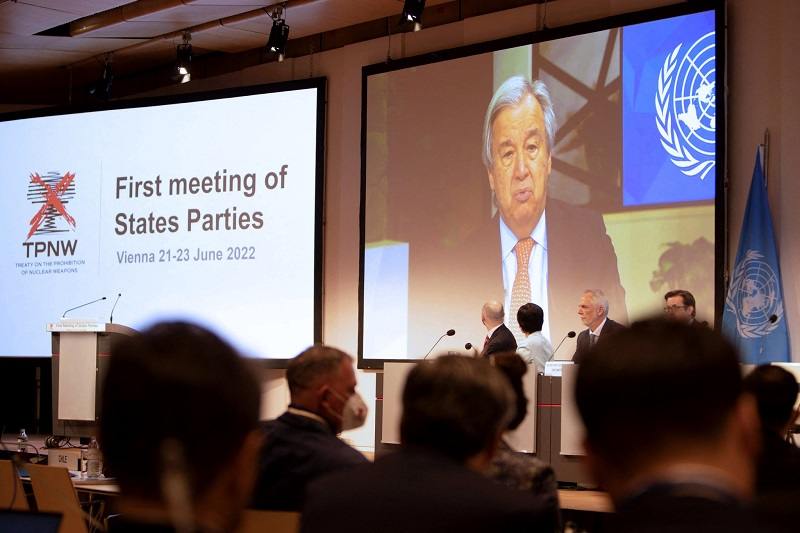 17:52 JST, June 24, 2022
VIENNA (Jiji Press) — The first meeting of parties to the Treaty on the Prohibition of Nuclear Weapons wrapped up in Vienna on Thursday with an action plan to scrap nuclear arms.
In the Vienna action plan, participants emphasized the "complementarity" of the treaty with the Nuclear Nonproliferation Treaty, in response to questions over the consistency of the two treaties. The NPT allows the possession of nuclear weapons by the United States, Britain, France, China and Russia.
The participating states also vowed to take steps to increase the number of signatories to the nuclear weapons ban treaty, which has not been signed by any nuclear powers or Japan, and set up an international trust fund to support victims of nuclear bombing and testing.
The treaty, which reflects the opinions of activists and hibakusha atomic bomb survivors, had been criticized for lacking specific measures. Following the adoption of the action plan, attention now shifts to an NPT review conference to be held in New York in August.
Participants to the three-day meeting in Vienna also adopted the Vienna declaration to confirm their resolve to eliminate nuclear weapons. "The catastrophic humanitarian consequences of nuclear weapons cannot be adequately addressed," the political declaration stressed.
The current situation in which nuclear arms are used as instruments of policy "highlights now more than ever the fallacy of nuclear deterrence doctrines," the document said, while Russia's invasion of Ukraine has led some to attach more importance to nuclear deterrence.
The signatories "are alarmed and dismayed by threats to use nuclear weapons and increasingly strident nuclear rhetoric," the declaration stated without naming Russia.
At the Vienna meeting, the government of Japan, the only country attacked with atomic bombs, was not present even as an observer, while many other nonsignatory countries including NATO member Germany participated as observers.
Meanwhile, hibakusha atomic bomb survivors and the mayors of Hiroshima and Nagasaki, the two atomic-bombed cities, took part in meeting sessions.
The next meeting of the signatories to the nuclear ban treaty will take place at the U.N. headquarters in New York between Nov. 27 and Dec. 1, 2023.
At a news conference in Japan on Friday, Deputy Chief Cabinet Secretary Seiji Kihara declined to comment on the Vienna declaration, which expressed the signatories' deep concerns about the lack of action by nuclear haves and their allies to reduce their reliance on nuclear weapons.
Add TheJapanNews to your Google News feed.