Kishi meets Wei, criticizes China-Russia bomber flights near Japan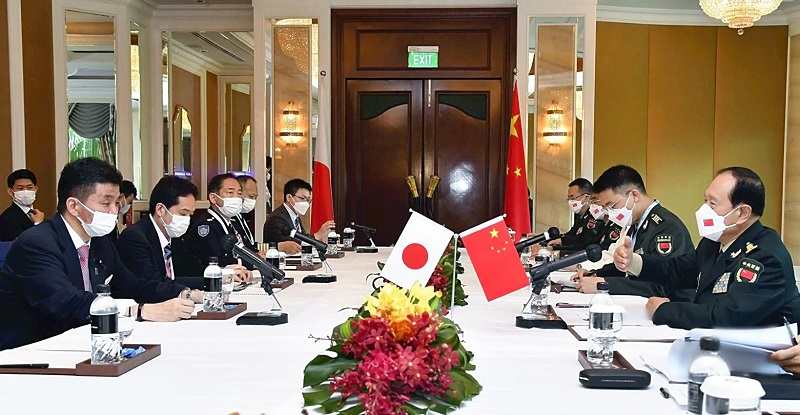 15:38 JST, June 13, 2022
SINGAPORE — Defense Minister Nobuo Kishi has strongly voiced Japan's displeasure with China over what he called a "show of force" by Beijing and Moscow for jointly flying bombers near Japan.
Kishi made the comments on the flights that continue to occur, during a meeting with Chinese Defense Minister Wei Fenghe on Sunday in Singapore on the sidelines of the Shangri-La Dialogue, an Asia security conference.
The 70-minute meeting between Kishi and Wei was the first in person between Japanese and Chinese defense ministers since December 2019.
"Many concerns exist between Japan and China, including various security issues," Kishi said to Wei at the start of their meeting.
Wei, however, said, "We want to strengthen bilateral cooperation and develop the relationship based on trust and consensus between the two governments."
Kishi also expressed strong concerns about China's activities in areas such as the East China Sea where the Senkaku Islands of Okinawa Prefecture are situated, urging Beijing to exercise restraint.
"Peace and stability in the Taiwan Strait," Kishi added, "are extremely important not only for Japan, but also for the international community."
He also called on China, a veto-wielding permanent member of the U.N. Security Council, to play a "responsible role" regarding Russia's invasion of Ukraine.
The invasion "shakes the foundation of the international order and is absolutely unacceptable," Kishi said.
On a more positive note, the two ministers agreed to accelerate coordination on opening a hotline between senior members of the Self-Defense Forces and the Chinese military in order to prevent accidental clashes near the Senkaku Islands among other locations.
The Shangri-La Dialogue, which ended Sunday, was also attended by Prime Minister Fumio Kishida.