Japan calls for 'wide-ranging' collaboration to hold China in check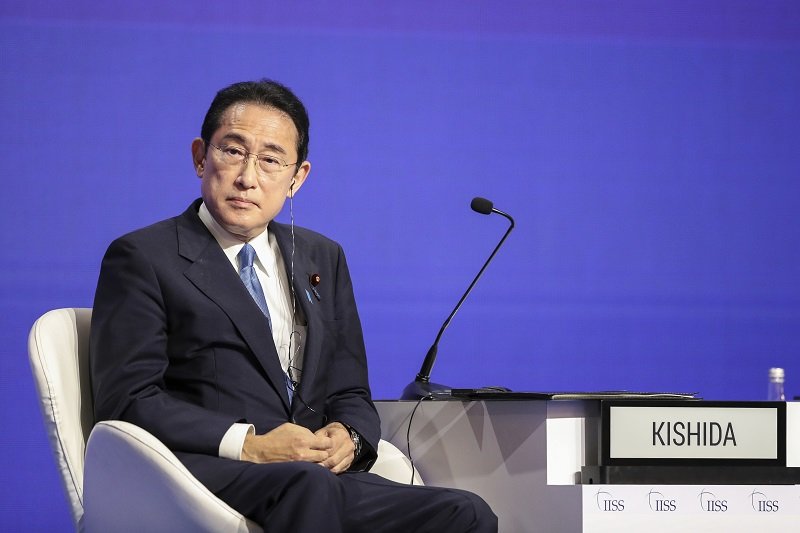 20:00 JST, June 11, 2022
SINGAPORE — At the Shangri-La Dialogue, a key Asian security meeting that opened in Singapore on Friday, Prime Minister Fumio Kishida made clear, with China in mind, Japan's stance of not accepting any unilateral attempts to "change the status quo by force."
In light of Russia's aggression against Ukraine, he showed Japan's determination to take the lead in contributing to maintaining the rules-based order in the Indo-Pacific region, calling for wide-ranging collaboration among countries, including those of the Association of Southeast Asian Nations (ASEAN).
'Strong sense of urgency'
"Will we return to a lawless world where rules are ignored and broken, where unilateral changes to the status quo by force are unchallenged and accepted, and where the strong coerce the weak militarily or economically?"
Kishida posed the questions to national defense and security officials from Asia and Europe who gathered for the meeting at a Singapore hotel on Friday night.
While referring to the situations in the East and South China Seas, where China has been intensifying its maritime advances, and the nuclear and missile development programs conducted by North Korea, Kishida declared, "I myself have a strong sense of urgency that 'Ukraine today may be East Asia tomorrow.'"
To maintain peace in the region, Kishida declared, "We will elevate a Free and Open Indo-Pacific to the next stage."
The Free and Open Indo-Pacific is an initiative that former Prime Minister Shinzo Abe advocated in 2016. It promotes values such as the rule of law, peaceful settlement of disputes and freedom of navigation.
In his speech, Kishida explained: "Sharing a common grand vision, like-minded partners are each taking action on their own initiative, not at the behest of others. This is the very concept of a Free and Open Indo-Pacific." In saying so, he stressed its difference from the approach taken by China, whose coercive tendency is conspicuous.
No allegiance test
ASEAN, which plays a significant role in the region, has strong trade and economic ties with China. ASEAN members include countries such as Cambodia and Laos, which show an overt pro-China attitude. To broaden the circle of collaboration on the Free and Open Indo-Pacific, Japan attaches importance to "enabling a broad range of countries to join in without testing them on their 'allegiance' to China," as a senior Foreign Ministry official has put it.
In his address, Kishida promised, as a specific effort to promote the Free and Open Indo-Pacific, that Japan will promote efforts to train at least 800 maritime security personnel to strengthen the maritime law enforcement capabilities of at least 20 countries over the next three years.
In the area of economic security, Kishida said Japan will support more than 100 supply chain resilience projects over the next five years.
Expectations on Japan
The administration of U.S. President Joe Biden is also attempting to reinforce its ASEAN ties. On Saturday, U.S. Secretary of Defense Lloyd Austin made a speech at the meeting and was to hold talks with his counterparts from other countries. Following the meeting, he will also visit Thailand. A high-ranking official of the U.S. Department of Defense said that these efforts are aimed at displaying once again the U.S. position of promoting a Free and Open Indo-Pacific, together with its allies and others.
During a U.S.-ASEAN special summit in May, the Biden administration announced $150 million worth of assistance measures to strengthen U.S.-ASEAN cooperation, including the dispatch of personnel and vessels from the U.S. Coast Guard. The administration also announced that an official had been nominated to serve as U.S. ambassador to ASEAN, a post that has been vacant since 2017.
Former U.S. President Donald Trump was repeatedly absent from ASEAN-related summits, which was seen by some as "taking ASEAN lightly." Meanwhile, China was deepening its initiatives in the region, including the Belt and Road scheme for creating an economic zone. The Biden administration hopes to recover from this setback.
As for the Indo-Pacific Economic Framework (IPEF), a new economic initiative launched with U.S. leadership, Japanese diplomacy has contributed greatly to seven ASEAN members deciding to join the framework, according to a diplomatic source in Washington. The United States counts highly on Japan to act as an "intermediary" between the United States and ASEAN.
Add TheJapanNews to your Google News feed.