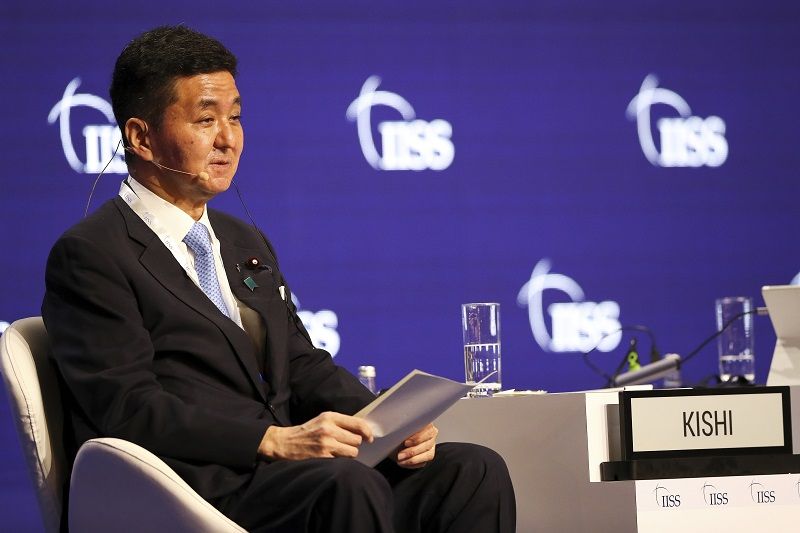 14:37 JST, June 11, 2022
SINGAPORE — Japan intends to drastically reinforce its defense capabilities, Defense Minister Nobuo Kishi said in a speech at the Asian Security Summit in Singapore on Saturday.
"There is a potential danger that something like Russia's invasion of Ukraine could happen in the Indo-Pacific region," Kishi said at the annual security forum also called the Shangri-La Dialogue.
As the "lesson" of the Russian invasion of Ukraine, he stressed that "the danger of countries possessing or developing nuclear weapons and ignoring the rules is a real one."
Noting the possible strengthening of relations between Moscow and Beijing, he stated that "joint military activities by China and Russia — both possessing powerful military forces — are a growing concern for all countries."
The defense minister also expressed a strong sense of caution over China, saying, "[China] is not abandoning the possibility of the use of force against Taiwan, and is also seen attempting to strengthen its military power extensively and rapidly, without transparency [in the military sector]."
Kishi also condemned North Korea's nuclear and missile development as "absolutely unacceptable."
He said that Japan is surrounded by "entities that ignore the rules" and is located on the front lines of defending the international order, and thus the country intends to revise its strategic documents, secure the necessary defense budget and strengthen the Japan-U.S. alliance.
These efforts to strengthen defense capabilities would "shatter the will to disregard the rules," he said.
Add TheJapanNews to your Google News feed.