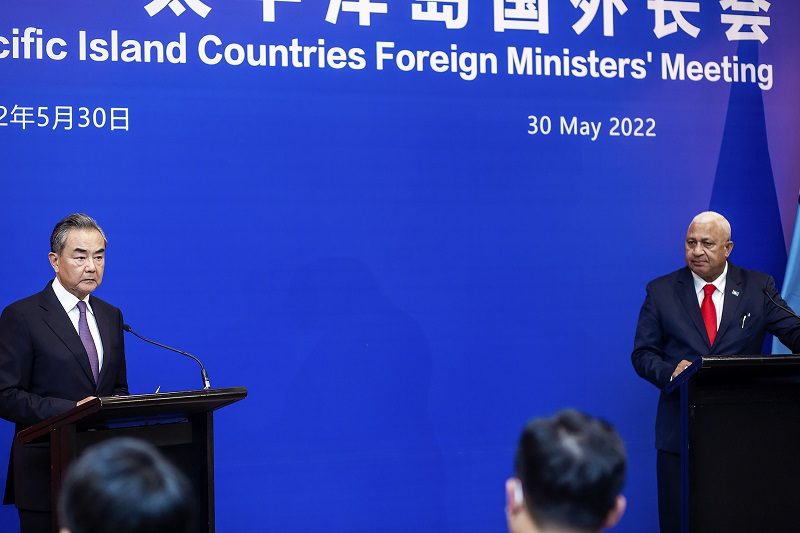 17:54 JST, May 31, 2022
BEIJING/JAKARTA — Visiting Chinese Foreign Minister Wang Yi on Monday met with his counterparts from 10 South Pacific island nations in Fiji. According to Australian media, the Chinese government presented a draft agreement that includes strengthening of security cooperation, but the parties failed to reach consensus because of opposition by at least one of the participating nations. This result indicates some concerns on the part of the island nations over China's increasing influence in their region.
South Pacific island nations are positioned along sea-lanes used by the United States, Australia and Japan and of strategic importance. According to Reuters and other media reports, China aimed to have the 10 nations sign on to the draft agreement to strengthen cooperation in a wide range of areas from security and trade to data communications. Beijing reportedly offered financial assistance in return for support of the deal.
After the meeting, Fiji's Prime Minister Voreqe "Frank" Bainimarama attended a press conference with Wang on Monday and emphasized that multilateral cooperation was essential to address global issues such as the COVID-19 pandemic. Regarding the foreign ministerial meeting, Bainimarama indicated that there was opposition to the draft agreement proposed by China.
"As always, we put consensus first among our countries throughout any discussion on new regional agreements," he said.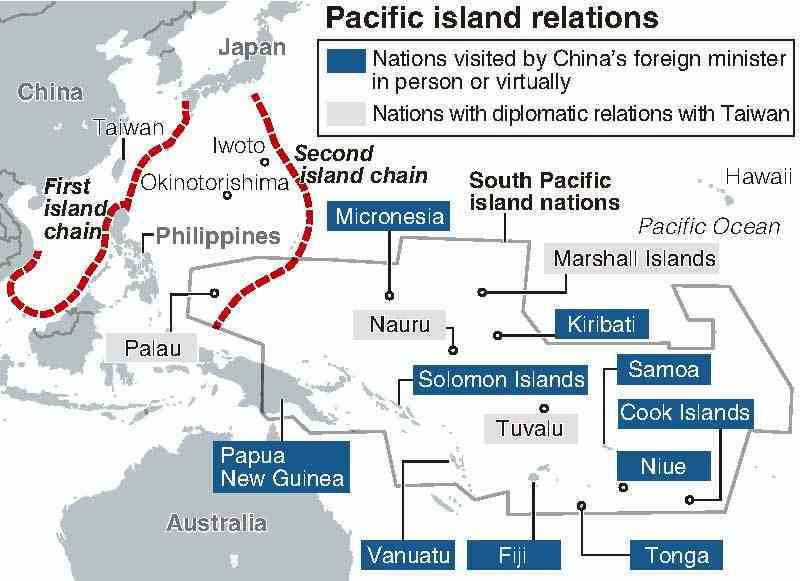 Concerning the draft agreement, Australian and other media have reported that David Panuelo, president of the Federated States of Micronesia, had sent a letter to leaders of Pacific nations saying that the draft agreement should be rejected. In the letter, the president reportedly pointed out that, if they agreed to the draft, it could intensify conflict between China and countries such as the United States and Australia, which "threatens to bring a new Cold War at best, and a world war at worst."
Island nations, which have small populations and are economically dependent on commodities, have an ulterior motive to gain financial support from Beijing, while seemingly strongly cautious about getting involved in the competition between the United States and China for hegemony in the Indo-Pacific region.
Of the 14 South Pacific island nations, China is also making approaches to the four nations that have diplomatic ties with Taiwan.
China's bridgehead versus U.S.
Beijing has been trying to increase its presence in the region because it wants to create a bridgehead for medium- and long-term security with an eye on the struggle for hegemony with Washington. If China can build fueling stations for its navy among the island nations, where Washington and Canberra have a strong presence, it will enable Chinese maritime operations beyond the so-called second island chain, a defensive line against the United States.
"Beijing aims to build bases on island nations to monitor the moves of U.S. and Australian navies and break the siege against China by involving the island nations economically," said Chinese foreign policy expert Chisako Masuo, an associate professor at Kyushu University.
Solomon Islands, which Wang chose as the first stop of his South Pacific trip, signed a security agreement with China in April. The contents of the agreement have not been disclosed, though it is believed that the deal allows the dispatch of Chinese troops to the Solomon Islands. Last year, Australian and other media reported that Kiribati planned to receive Chinese assistance to renovate aging runways.
Micronesia, the Marshall Islands and Palau signed the Compacts of Free Association with the United States, allowing U.S. forces to stay in their countries and exercise defense responsibilities. If China drives a wedge in the region, it could deal a huge blow to the United States.
On May 24, the Chinese Foreign Ministry released a document showing that the total trade volume between China and Pacific island nations it has diplomatic relations with has grown by nearly 35 times, from about ¥19.4 billion to about ¥670 billion, in a 30-year period.
Chinese President Xi Jinping's administration is highly likely to continue to secure ports and airports that can be used for military purposes by taking advantage of its economic power, including the Belt and Road Initiative, to create an enormous economic zone.
Add TheJapanNews to your Google News feed.