Kishida relishes role in Quad alliance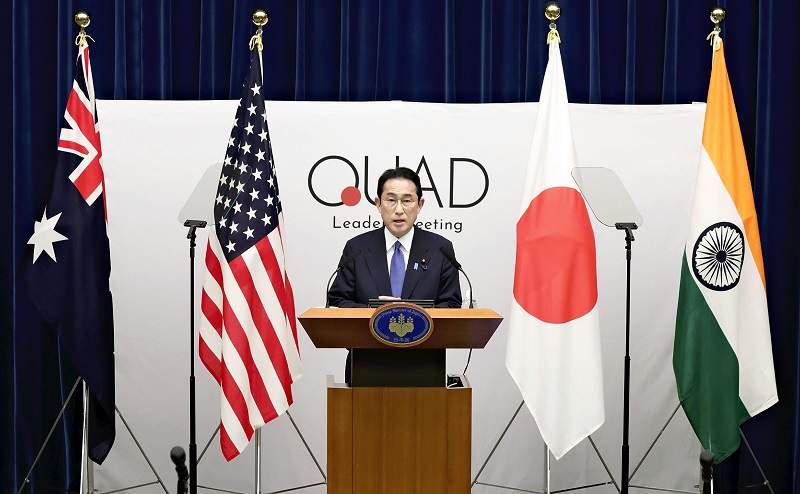 7:28 JST, May 26, 2022
Prime Minister Fumio Kishida appeared to relish his role as chair of the first Quad summit in Tokyo on Tuesday, with the Japanese premier playing host to the leaders of the other nations in the framework: Australia, India and the United States.
The Japanese government is focusing on the Quad — a strategic partnership aimed at countering Chinese hegemonic moves in the Indo-Pacific region — as a framework to complement the Japan-U.S. alliance.
Kishida held a press conference following the talks and appeared to be satisfied with the outcome.
"The leaders of the four countries came to an agreement on the recognition that any unilateral change of the status quo by force must not be tolerated," Kishida said.
The Quad members worked until the last minute to adjust the wording of the joint statement regarding the Ukraine conflict out of consideration for India, which has deep ties with Moscow.
As it was not known until just before the summit whether the Australian prime minister would attend in person because a general election was held in the country on Saturday, Foreign Ministry officials had to make preparations so that participants would be able to attend remotely.
The Quad started to take shape when Japan, the United States, Australia and India took the lead in providing assistance to victims of the 2004 Indian Ocean tsunami.
Former Prime Minister Shinzo Abe proposed the idea of formalizing a four-country framework in 2006 when he was chief cabinet secretary.
Abe wrote an article in English titled "Asia's Democratic Security Diamond" in 2012 when he was prime minister, in which he stressed the need for the four countries to strengthen their partnership for peace and maritime stability.
The first Quad meeting of foreign ministers was held in September 2019, and a summit was held in March 2021 after the inauguration of U.S. President Joe Biden, who has emphasized the importance of the Indo-Pacific region.
Quad summits are expected to be held annually on a rotating basis in each of the member countries.
"It's become an important event, along with Group of Seven and U.N. General Assembly meetings," a senior Foreign Ministry official said.