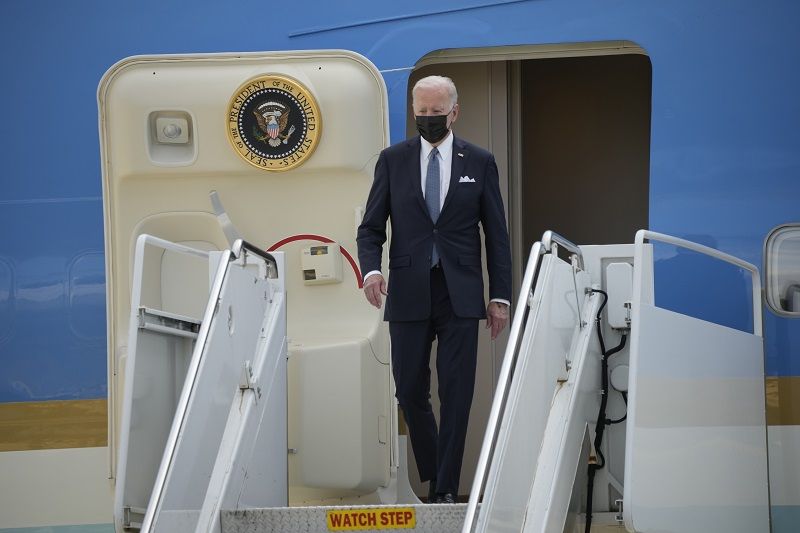 17:30 JST, May 22, 2022
U.S. President Joe Biden arrived in Japan on Sunday afternoon, amid growing security concerns in Asia.
Prime Minister Fumio Kishida is set to meet with Biden on Monday and convey his intention to increase Japan's defense spending, according to sources. Kishida aims to strengthen the deterrent power of the Japan-U.S. alliance to reflect Japan's increasingly severe security environment, the sources said.
The balance of military power between the United States and China in East Asia is tipping in Beijing's favor. In light of this, there have been calls in the United States to boost defense spending from the current figure of about 1% of the country's gross domestic product, to at least 2% — a figure targeted by members of the North Atlantic Treaty Organization.
As Komeito has expressed caution over a drastic increase in defense spending, Kishida has refrained from mentioning specific figures. Nevertheless, he intends to inform Biden of Tokyo's plans to strongly reinforce Japan's defense capabilities, according to the sources.
Upon his arrival on Air Force One, Biden — visiting Japan for the first visit since taking office — was greeted by Foreign Minister Yoshimasa Hayashi.
Abductees' families hopeful
While in Japan, Biden plans to meet with family members of Japanese nationals abducted by North Korea. The families hope that the meeting will help facilitate the abductees' early return.
Survivors of the atomic bombings of Hiroshima and Nagasaki, and the people of Okinawa Prefecture, which recently marked the 50th anniversary of its reversion to Japan, will also be paying close attention what Biden has to say.
"[Meeting with Biden] can potentially help apply pressure on North Korea," said Takuya Yokota, 53, who represents the Association of Families of Victims Kidnapped by North Korea. Yokota's older sister, Megumi, was abducted by Pyongyang at the age of 13.
Abductees' families also met with former President Donald Trump when he visited Japan in May 2019. Some family members have since died, including Megumi's father, Shigeru, and Shigeo Iizuka, whose younger sister, Yaeko Taguchi, was kidnapped at the age of 22.
"I want to stress to [Biden] that the abductees need to be returned as soon as possible," said Koichiro Iizuka, 45, Taguchi's eldest son.
Toshiyuki Mimaki, 80, head of the Hiroshima Prefectural Confederation of A-bomb Sufferers' Organizations and a survivor of the atomic bombing of Hiroshima, expressed hope that Biden's visit would advance efforts aimed at denuclearization.
"Russia has invaded Ukraine and is threatening to use nuclear weapons, and there's also growing concern about North Korea's nuclear tests and missile launches," Mimaki said. "I hope President Biden will demonstrate his leadership regarding denuclearization to help realize a world without nuclear weapons, which is often touted by Prime Minister Kishida."
Biden contributed a message to the ceremony marking the 50th anniversary of Okinawa's return to Japan on May 15, emphasizing the importance of exchanges between the prefecture and the United States. In a speech at the ceremony, U.S. Ambassador to Japan Rahm Emanuel announced a scholarship program for high school students in the prefecture to study English.
"I hope President Biden will learn about the harsh situation we face and diligently work to reduce the burden we bear in hosting the U.S. bases," said a 73-year-old former employee of the municipality of Yomitan in Okinawa Prefecture.
Add TheJapanNews to your Google News feed.