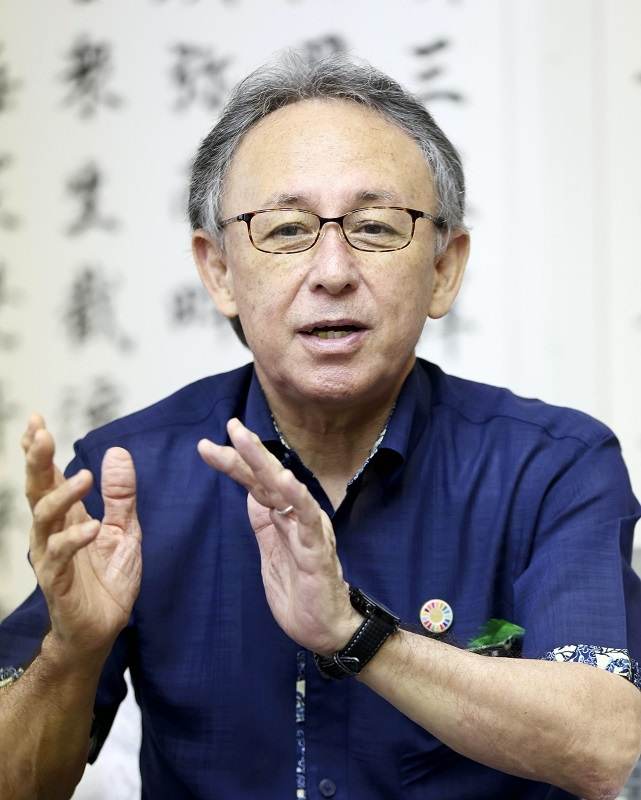 16:03 JST, May 10, 2022
NAHA (Jiji Press) — Okinawa Governor Denny Tamaki renewed his demand Monday that the central government set up a forum to discuss with local residents on the issue of relocating the U.S. Marine Corps' Futenma air base in Ginowan to the Henoko coastal district in another Okinawa city of Nago.
"I see a problem in the central government's practice of making decisions on matters of diplomacy and national security only through intergovernmental consultations," Tamaki said in an interview with the media ahead of the 50th anniversary Sunday of Okinawa's return to Japanese rule from U.S. occupation.
"If it understands that (U.S.) base problems hamper regional development, the government should sincerely listen to the opinions of municipalities and prefectures (involved)," he went on to say. "I will stick to the policy of finding a solution through dialogue with the government."
On the Okinawa situation after the 1972 reversion, Tamaki said the prefecture's tourism, and information and communications-related industries have grown thanks to the development of various forms of social infrastructure under a series of state-funded programs.
"But there is still a long way to go to create a self-sustaining economy, as per capita income in Okinawa remains the lowest among the country's 47 prefectures," he noted.
Asked how long Okinawa will need the central government's promotion measures for the prefecture, the governor pointed out that they are designed to cope with issues arising from Okinawa's unique circumstances, such as disadvantageous conditions of a number of remote islands and problems stemming from the concentration of U.S. bases.
Then he suggested that the regional promotional measures be in place until those issues are resolved.
Tamaki denied the view that the central government intends to increase the budget for Okinawa only if the Okinawa government gives the nod to the construction of the Marine base in Henoko.
"It's the central government that should resolve the base issue, and it also should promote Okinawa with ample funds," he said.
On the accelerated deployment of Self-Defense Force troops on Okinawa islands near Taiwan amid growing military threats from China, he said Japan must avoid escalation of the issue of Taiwan into a contingency or a situation in which Okinawa becomes the target of an attack.
"I know the Japan-U.S. security system is needed, but the number of deployed troops should be kept at a minimum necessary level for exclusively defensive defense," Tamaki said.
Add TheJapanNews to your Google News feed.