Japan, U.K. broadly agree on new defense pact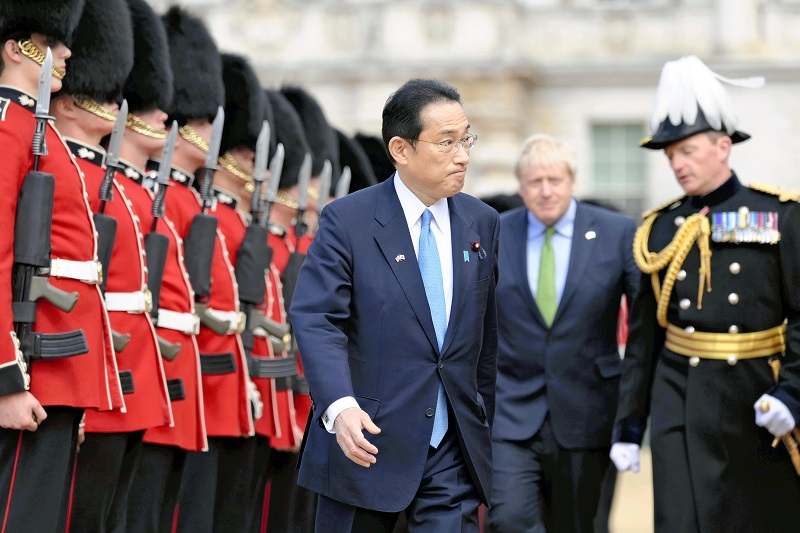 14:24 JST, May 6, 2022
LONDON — Prime Minister Fumio Kishida and his British counterpart Boris Johnson have broadly agreed on a new defense pact that will serve as a legal basis for reciprocal visits and activities of the Self-Defense Forces and the British military.
Eying threats from countries such as China and Russia, the Japanese and British governments may be aiming to strengthen bilateral defense cooperation by concluding the Reciprocal Access Agreement (RAA).
Kishida and Johnson pledged during their summit in London on Thursday to accelerate efforts to conclude the pact, which would make Britain the second country to sign an RAA with Japan, following Australia.
The two leaders affirmed that the Group of Seven nations will work in unity to impose sanctions against Russia and support Ukraine. They also shared concerns over China's attempts to unilaterally change the status quo in the East China Sea and South China Sea, and agreed to work together to address North Korea's nuclear and missile development, as well as the abduction of Japanese nationals by Pyongyang.
Johnson indicated plans to lift by the end of June import restrictions on food products from Fukushima and other prefectures that Britain imposed after the nuclear accident at a Fukushima power plant in 2011. He also said a new special envoy has been appointed to promote trade with Japan.