Japan's Defense Ministry uses multiple languages in battle for public opinion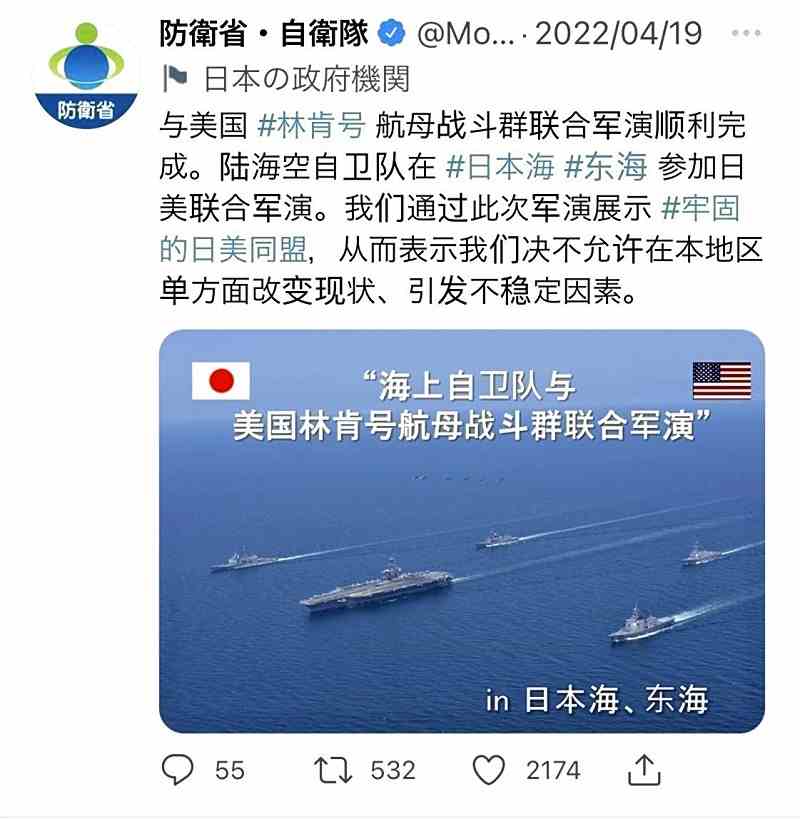 2:00 JST, May 6, 2022
To strengthen its response to "intelligence warfare," the Defense Ministry has been working to transmit messages in multiple languages, including Chinese and Korean, when posting information related to its defense cooperation and joint exercises with the United States and Europe on Twitter and other social media.
The ministry posted on its official Twitter account on April 19 about the joint exercises conducted by the Japan Self-Defense Forces and a U.S. carrier strike group in the Sea of Japan.
In addition to Japanese, posts were also put up in English, Chinese, and Korean. The English post said that through the bilateral exercises, Japan and the United States "demonstrated #JPNUSAlliance to deter unilateral attempts to change the status quo & to destabilize the regional security."
The posts in Chinese and Korean each got more than 2,000 likes.
In China, people cannot normally browse Twitter because of the authorities' restrictions, but many people are said to access websites abroad through a virtual private network, or VPN.
The Defense Ministry plans to strengthen its attempts to influence public opinion overseas by continuing the efforts it began last year to transmit its messages in multiple languages.
Combining intelligence warfare and cyberattacks is called "hybrid warfare," a practice that has drawn attention following Russia's invasion of Ukraine. China prioritizes what it calls "three warfares," a strategy employing public opinion warfare, psychological warfare, and legal warfare. At the end of 2015, it established the Strategic Support Force as part of the People's Liberation Army to unify its space, cyberspace, intelligence, and electromagnetic warfare.
Add TheJapanNews to your Google News feed.