Japan FM boards nuclear-powered carrier USS Abraham Lincoln with U.S. ambassador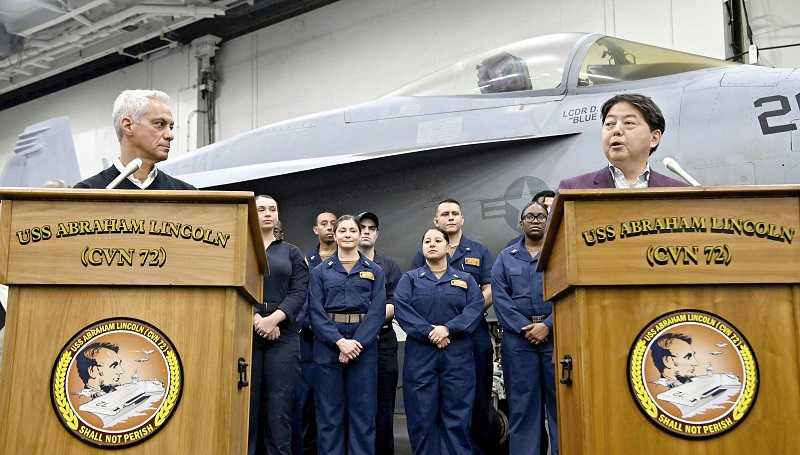 7:32 JST, April 24, 2022
For the first time in a dozen years, a Japanese foreign minister has boarded a U.S. aircraft carrier.
Foreign Minister Yoshimasa Hayashi went aboard the USS Abraham Lincoln with U.S. Ambassador Rahm Emanuel on Saturday. The nuclear-powered aircraft carrier is currently deployed in the Pacific Ocean.
In 2010, then Foreign Minister Katsuya Okada was the last top diplomat of Japan to board such a vessel.
Earlier this month, on April 12, the USS Abraham Lincoln-led carrier strike group conducted joint drills with the Self-Defense Forces in the Sea of Japan.
Hayashi exchanged views with Vice Adm. Karl Thomas, commander of the U.S. Navy's 7th Fleet, aboard the ship and encouraged the crew during his tour.
"I realized that everyone was highly aware of their duties," Hayashi said at a press conference after the tour of the U.S. aircraft carrier. "We would like to further strengthen the Japan-U.S. alliance."