Japanese Communist Party leader rushes to justify policy of using SDF in invasion of Japan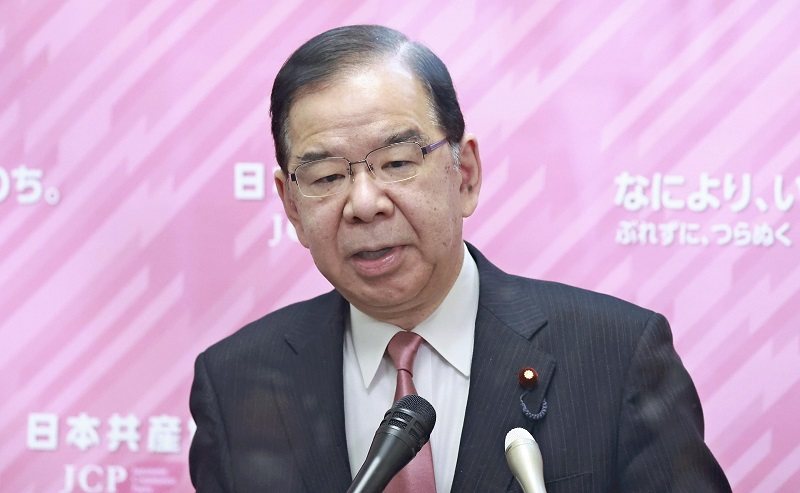 14:55 JST, April 13, 2022
In light of the situation in Ukraine, the Japanese Communist Party is trying hard to justify its policy of utilizing the Self-Defense Forces in the event of a possible invasion of Japan, which is coming under criticism for being contradictory to its party platform that sets out the eventual dissolution of the SDF.
"In the event of an imminent unjustified invasion, we will use all means, including the SDF, to protect the lives of the people and the sovereignty of Japan," JCP leader Kazuo Shii emphasized in his speech in Tokyo on Sunday. He made similar remarks at the party meeting on April 7.
Shii's remarks on Sunday came under fire as contradicting the party's platform, which calls for the dissolution of the SDF, but Shimbun Akahata, the JCP's mouthpiece, in Tuesday's issue rebutted, citing Shii's comment — "This is not something I said off the cuff."
The resolution adopted at the JCP convention in 2000 is almost consistent with Shii's remarks on Sunday. However, the party platform, which was revised in 2004, stipulates "steps should be taken toward the complete implementation of Article 9 of the Constitution (dissolution of the SDF) based on national consensus."
It seems unlikely that criticism of the contradiction of simultaneously calling for the utilization and dissolution of the SDF will abate.
"He may be anxious ahead of the House of Councillors election," a former Cabinet minister and ruling Liberal Democratic Party member said. "The escalation of the situation in Ukraine has begun to move the JCP, which has not presented a realistic security policy until recently."
Add TheJapanNews to your Google News feed.