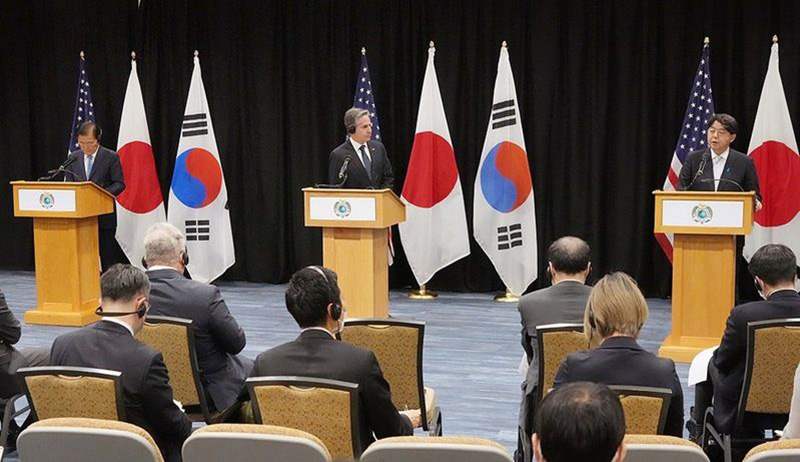 11:35 JST, February 14, 2022
TOKYO (Jiji Press) — The foreign ministers of Japan, the United States and South Korea condemned and expressed "deep concern" on Saturday over the recent series of missile launches by North Korea and agreed to strengthen three-way security cooperation to enhance deterrence.
In a joint statement issued after their two-hour meeting in Hawaii, Japanese Foreign Minister Yoshimasa Hayashi, U.S. Secretary of State Antony Blinken and South Korean Foreign Minister Chung Eui-yong also cautioned China indirectly against military pressure on Taiwan.
It was the first trilateral foreign ministers' meeting since September 2021. Hayashi, who took office last November, participated in the forum for the first time.
North Korea has raised regional tensions by suggesting the resumption of a nuclear test and a test-firing of an intercontinental ballistic missile.
The three foreign ministers called for full implementation by the international community of relevant U.N. Security Council resolutions relating to North Korea to achieve "complete denuclearization" on the Korean Peninsula
At the same time, they underscored "continued openness" to meeting North Korea "without preconditions."
Japan and South Korea have differences over history and territorial issues. But at a joint news conference, Chung said that although South Korea has clear positions on these issues, its responses to North Korean issues will not be affected.
In the joint statement, the three ministers "emphasized the importance of peace and stability in the Taiwan Strait." In an apparent reference to China, they "expressed strong opposition to any unilateral actions that seek to alter the status quo and increase tensions in the region."
The ministers emphasized their countries have "a common view of a free and open Indo-Pacific" and "shared respect for the rules-based international order."
They highlighted the importance of collaboration to address priorities including critical supply chains, strengthen cybersecurity and improve economic security.
On Russia's military buildup along its borders with Ukraine, Hayashi, Blinken and Chung "shared unwavering support for Ukraine's sovereignty and territorial integrity." They "committed to work closely together to deter further Russian escalation," the statement said.
At the joint news conference, Blinken said, "If Moscow chooses the path of aggression and further invades Ukraine, the response from the United States and our allies and partners will be swift, it will be united, it will be severe."
Blinken warned that an invasion of Ukraine by Russia could provoke the use of force by China and others.
"If we allow that to go unchallenged, if we allow it to proceed with impunity, then we open a Pandora's box…not just in Europe but around the world," he said.
Add TheJapanNews to your Google News feed.