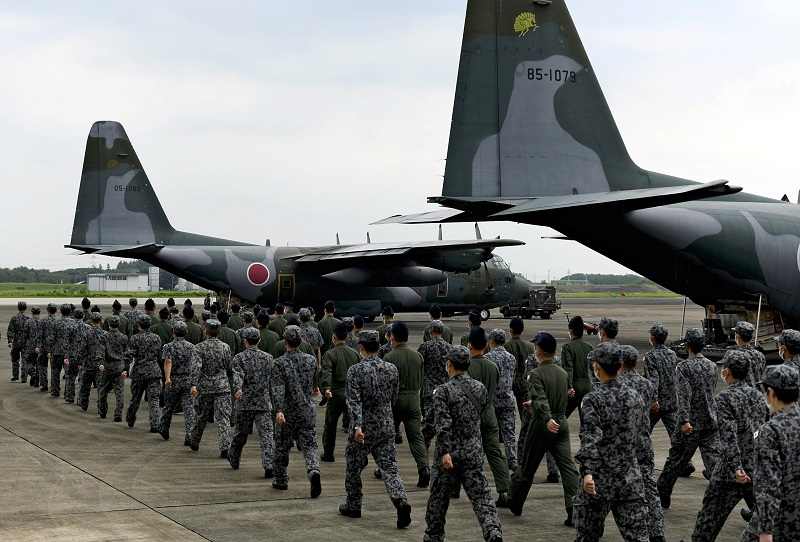 16:54 JST, September 11, 2021
The terrorist attacks on the United States on Sept. 11, 2001, forced Japan to reexamine the role of the Self-Defense Forces.
The SDF's overseas activities have expanded since then. Maritime Self-Defense Force destroyers have been deployed to the Indian Ocean to extend logistical support to the U.S.-led antiterrorism campaign, and Ground Self-Defense Force personnel have been dispatched to Iraq for reconstruction work.
At a press conference on Friday, Defense Minister Nobuo Kishi said: "Issues such as terrorism, refugees and poverty have become increasingly serious. We'd like [the SDF] to continue making contributions in the international community."
Former Prime Minister Junichiro Koizumi supported the United States in its fight against terrorism after the Sept. 11 attacks. In October 2001, the Antiterrorism Special Measures Law was passed, enabling MSDF destroyers to be deployed to the Indian Ocean to refuel vessels, including U.S. ships, for the SDF's first overseas logistical support mission.
In October 2007, the government submitted a bill to replace the special measures law, which was nearing its expiry date. However, the passage of the bill was blocked by opposition parties, which held a majority in the House of Councillors. The refueling mission had to be suspended temporarily as a result.
A new law was passed in January 2008, but the need for permanent legislation was recognized.
The Law on Special Measures for Reconstruction Assistance to Iraq was passed in July 2003, enabling the dispatch of GSDF troops to Iraq. However, the use of weapons by the troops was limited to self-defense even though there were combat zones in the country. Troops from other countries were in charge of maintaining security in the areas surrounding GSDF camps.
The International Peace Assistance Law, a permanent law regarding overseas support missions, came into force in 2016 as part of security-related legislation.
In addition, the Law Concerning Cooperation for U.N. Peacekeeping Operations was amended to ease the criteria for using weapons.
SDF troops can now use weapons during rescue missions if civilians are being attacked by armed militants. But the recent mission to evacuate Japanese nationals and others from Afghanistan has brought to light issues with the security-related legislation.
Although the legislation permits SDF personnel to use weapons to rescue Japanese nationals overseas, the government chose not to apply the law for the evacuation mission due to strict requirements such as the consent of the host country, prompting Liberal Democratic Party lawmakers and others to call for legal revisions.
Add TheJapanNews to your Google News feed.