Okinawa, 50 years after reversion / U.S. Marines train intensively with China in mind but disturbing local residents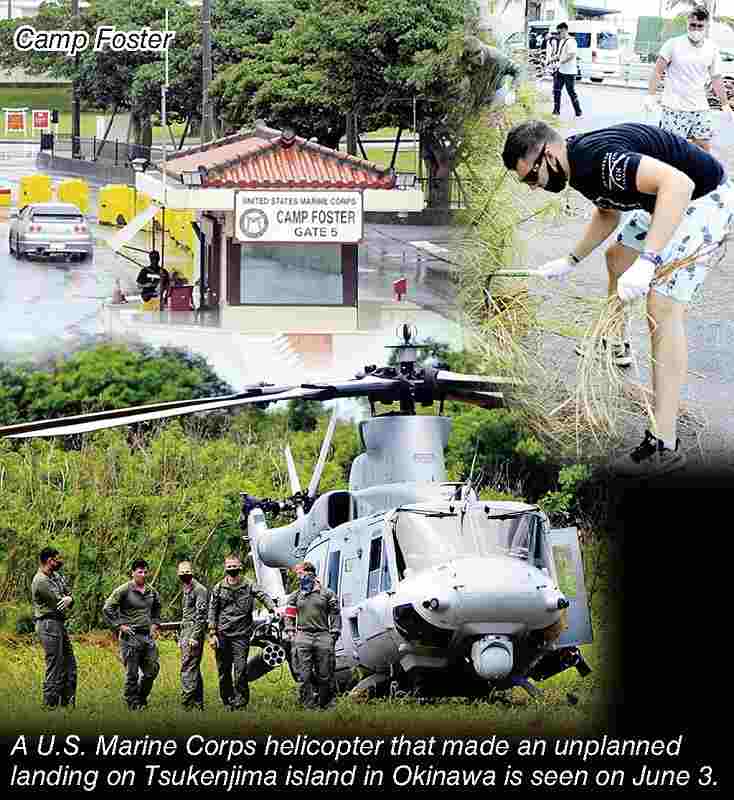 12:10 JST, July 6, 2021
This is the fifth installment of a series looking at various aspects of Okinawa today, 50 years since Tokyo and Washington agreed on its return to Japan.
Late at night on June 2, a U.S. Marine Corps UH-1 helicopter stationed at Futenma Air Station made an unplanned landing in a field on Tsukenjima island in Uruma, Okinawa Prefecture. After residents voiced concerns about the incident, Masaru Kinjo, chief of the prefectural governor's office, visited Camp Foster near the air station to lodge a protest on June 9.
There, Kinjo said U.S. Marine Corps Col. Neil Owens, director of government and external affairs for marines stationed in Okinawa, apologized for causing anxiety to the island's residents and landowners.
According to Kinjo, Owens promised firm measures to prevent accidents and reduce noise, though he emphasized the need for training to maintain a high level of responsiveness, adding that this is how the United States fulfills its obligations to defend Japan.
A Defense Ministry survey found that the number of takeoffs and landings at Marine Corps Air Station Futenma increased from 13,581 in fiscal 2017 to 18,970 last fiscal year. The number of times noise had exceeded the standard in the Ojana district of Ginowan close to the airfield also increased from 7,376 in fiscal 2017 to 9,600 in fiscal 2020.
The recent deterioration in the noise situation is the cost of intensive training exercises.
A senior Self-Defense Forces official affiliated with a base in Okinawa said, "The U.S. military is ramping up training as a way to thwart China, which has been increasing its military pressure."
The Marine Corps is undergoing organizational reform and a strategy review. In its Force Design 2030 report released in March last year, it announced a plan to create a highly responsive Marine Littoral Regiment.
In an interview, a senior U.S. Marine Corps officer in Washington said that the corps' commandant, Gen. David Berger, wanted to deploy this type of regiment to Okinawa, Guam and Hawaii and have them operational by 2027.
In recent years, U.S. Marines have begun training in expeditionary advanced base operations to quickly deploy to island areas and establish bases for anti-ship and antiaircraft missiles. This is to ensure superiority in the western Pacific, including around the Nansei Islands, the island chain between Kyushu and Taiwan, in the event of an emergency.
The presence of U.S. forces in Okinawa is becoming essential to Japan's defense and the stability of the Indo-Pacific region.
The United States, however, is also a former adversary that engaged Japan in fierce battles during World War II.
On June 23, Okinawa Memorial Day, the prefecture marked 76 years since the end of the Battle of Okinawa at the Peace Memorial Park in the Mabuni area of Itoman, site of the last major fighting in the battle. On that day in 1945, Lt. Gen. Mitsuru Ushijima, commander of the Imperial Japanese Army during the battle, committed suicide and organized fighting ended.
Even now, there are negative aspects of accidents and crimes involving U.S. military personnel. The prefectural police say they responded to 39 criminal cases in which the perpetrators were U.S. military personnel or others connected to the military. While this only accounts for 1.1% of all criminal cases in the prefecture, in the past, violent crimes have exacerbated anti-American sentiment among the public.
To maintain a stable presence, the U.S. military is trying to prevent accidents and enforce discipline, while deepening mutual understanding through exchanges with residents.
On the morning of June 3, seven young people in T-shirts and shorts appeared on a road connecting the hamlet of Toyohara in Nago to National Route 329. They were U.S. Marines from nearby Camp Schwab.
In temperatures exceeding 30 C, the marines wielded unfamiliar hand sickles to cut weeds along a sidewalk.
Camp Schwab spans Toyohara and the adjacent Henoko district, where an alternative facility for Futenma Air Station is being constructed. There is strong opposition among left-wing groups to the Henoko relocation, which has turned into a major political issue.
Still, Camp Schwab maintains good relations with local residents. Before the novel coronavirus pandemic put many joint projects on hold, marines and local residents worked together to cut the weeds.
English conversation classes given by the marines were popular. U.S. marines also participated in events in the Henoko district such as the hari, an annual traditional Okinawan boat race, and local athletic meets.
Many of the bases in Okinawa bear the names of U.S. marines who died in the Battle of Okinawa, including Schwab and Foster. Although the memories of the tragedy have not disappeared, the people of Okinawa and the U.S. military have sought new relationships with each other.
"We want to continue to maintain that readiness of those forces that are here," U.S. Marine Corps Lt. Gen. H. Stacy Clardy, the top U.S. Marine in Japan, said on June 15. "We also want to balance that against the burden that we might place on those communities in and around the bases and stations. We want to be good neighbors."
9,000 to head to Guam, Hawaii
Based on the Japan-U.S. Security Treaty, the United States stations troops in Japan to defend its ally, to preserve stability in Asia, and for national security purposes.
The United States has about 55,000 service members in Japan, though it is unclear how many of them are stationed in Okinawa. The U.S. Army, Air Force, Navy and Marine Corps all have troops in Okinawa, with the marines having a particularly large presence.
In 2012, the Japanese and U.S. governments announced plans to relocate about 9,000 marines from Okinawa to Guam, Hawaii and other places, leaving service members at the 10,000 level in Okinawa. Initially, the relocation was to happen by 2014, but a 2013 agreement stated it would begin in the early 2020s.
To increase deterrence, it is U.S. military policy to flexibly use troops dispersed among multiple bases in places such as Okinawa and Guam. This is expected to increase the importance of U.S. marines in Okinawa.
The Japan-U.S. Status of Forces Agreement covers how to deal with crimes committed by U.S. military personnel. The people of Okinawa have criticized provisions such as one that gives the U.S. side priority in jurisdiction over military personnel and others related to its armed forces. The Japanese and U.S. governments have attempted to smooth operations, such as by allowing custody of people suspected of violent crimes to be transferred before prosecution.
Add TheJapanNews to your Google News feed.