Japan-Europe security cooperation deepening as China's rise accelerates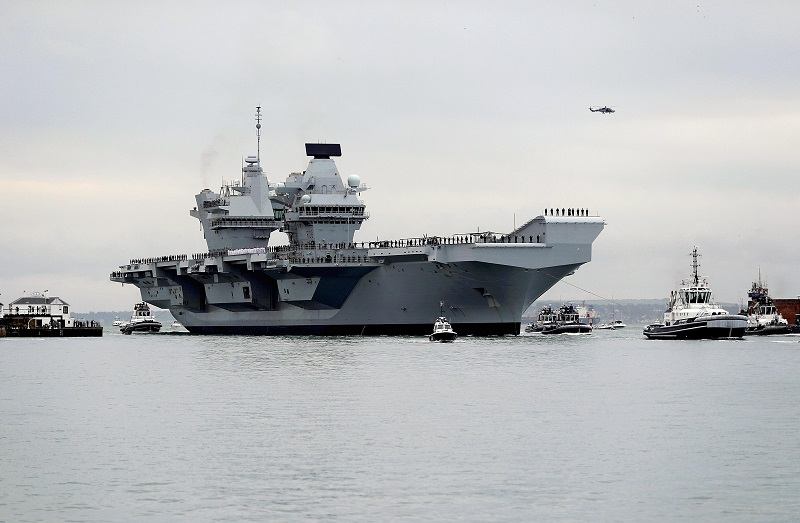 13:01 JST, May 7, 2021
The security cooperation between Japan and Europe is getting into full swing. Japan and Germany held their first so-called 2-plus-2 meeting of foreign and defense ministers on April 13. Britain, France and Germany plan to dispatch war vessels to the Indo-Pacific region this year. Mounting awareness of the threat of China appears to be behind the moves. But differences in their stance toward Beijing can be seen among them.
2-plus-2 dialogue
Germany stated that closer communications on security policies between Berlin and Tokyo are important in the 2-plus-2 teleconference, affirming its cooperation to realize the "free and open Indo-Pacific" vision advocated by Japan. Japanese Foreign Minister Nobuo Kishi emphasized the significance of the meeting, saying that "the defense cooperation between the two nations has entered a new stage."
The free and open Indo-Pacific concept was proposed by then Prime Minister Shinzo Abe in August 2016 to label the Pacific Ocean and the Indian Ocean that link Asian and African continents as peaceful waters where the rule of law is observed. The goal was to spread the rule of law and promote freedom of navigation, to achieve economic prosperity and ensure peace and stability.
Japan has held 2-plus-2 meetings with Britain and France in Europe in the past in addition to countries such as the United States. A Japanese Defense Ministry source said that the Japan-Germany 2-plus-2 session was an indication that relations between the countries have matured to the point at which they can hold fruitful discussions on defense cooperation.
Japan has promoted military cooperation with Britain and France, and the U.S. military and the Self-Defense Forces have conducted drills with them. Britain announced on April 26 plans to deploy its state-of-the-art aircraft carrier HMS Queen Elizabeth to the Indo-Pacific region to strengthen defense ties. France is likely to carry out a military drill soon with Japan and the United States, simulating a scenario in which a remote island is defended. Germany also expressed its intention to dispatch a navy frigate in the 2-plus-2 dialogue.
'Systemic rival'
The main reason for Europe's heightened interest in Asian security is China's mounting influence, such as Beijing's maritime advances becoming a threat to sea-lanes and the acquisition of European companies by Chinese firms.
European nations' involvement in Asia in terms of politics and security has become inevitable due to the growing importance of the Asian region in the global economy.
The North Atlantic Treaty Organization specifies China as a "systemic rival" in a recent report. The European Union also positioned China as a "systemic rival," while seeing the country as a strategic partner to solve global issues.
In its "Policy guidelines for the Indo-Pacific region," Germany mentioned principles for foreign policies toward Asia, including "rules-based order" and "universal human rights," keeping China in check without naming it directly. Japan is a pillar of Germany's collaboration with like-minded countries with the same values in the Indo-Pacific region.
In the 2-plus-2 dialogue, German Foreign Minister Heiko Maas said to realize a rules-based Indo-Pacific region, cooperative relations with Japan would fulfill an important role.
A Japanese Defense Ministry source said it is significant that major European nations that have an influence in international politics will dispatch war vessels to waters around Japan amid the severe security environment to maintain order.
Japan and major European nations have concluded agreements concerning transfers of defense equipment and technology and data protection pacts. Japan intends to promote cooperation with European countries in a "multi-angled, multi-layered manner," as it is described in Japan's National Defense Program Guidelines, with the Japan-U.S. alliance as the basis. The cooperation will include collaboration in information fields and joint efforts to develop defense equipment.
Different stances
However, there is a difference among major European countries in their degrees of involvement in Asian security.
Britain's army chief Mark Carleton-Smith said that the increase in Britain's presence in the region gives its allies a sense of assurance and serves as a deterrence, regarding the dispatch of a British aircraft carrier to the Indo-Pacific region.
In the Japan-Germany 2-plus-2 meeting, Tokyo expressed concern about recent moves by Beijing, including the enforcement of China's coast guard legislation, but there was no indication that Berlin was in agreement. Germany appeared to be reluctant to use language that might provoke China.
According to a German lower house lawmaker of the ruling Christian Democratic Union, a German frigate plans to call at a port in China, as well as countries such as Japan and Australia. The lawmaker said that it was regrettable that impact of the dispatch would be weakened as a result.
The ruling coalition Social Democrats demanded that the frigate make a port call at China, the lawmaker said. There is a persistent belief in Germany that to realize multilateralism that involves China, emphasis must be put on economic relations with Beijing.
Add TheJapanNews to your Google News feed.