Japan, Australia, India to further cooperate in decarbonization to counter China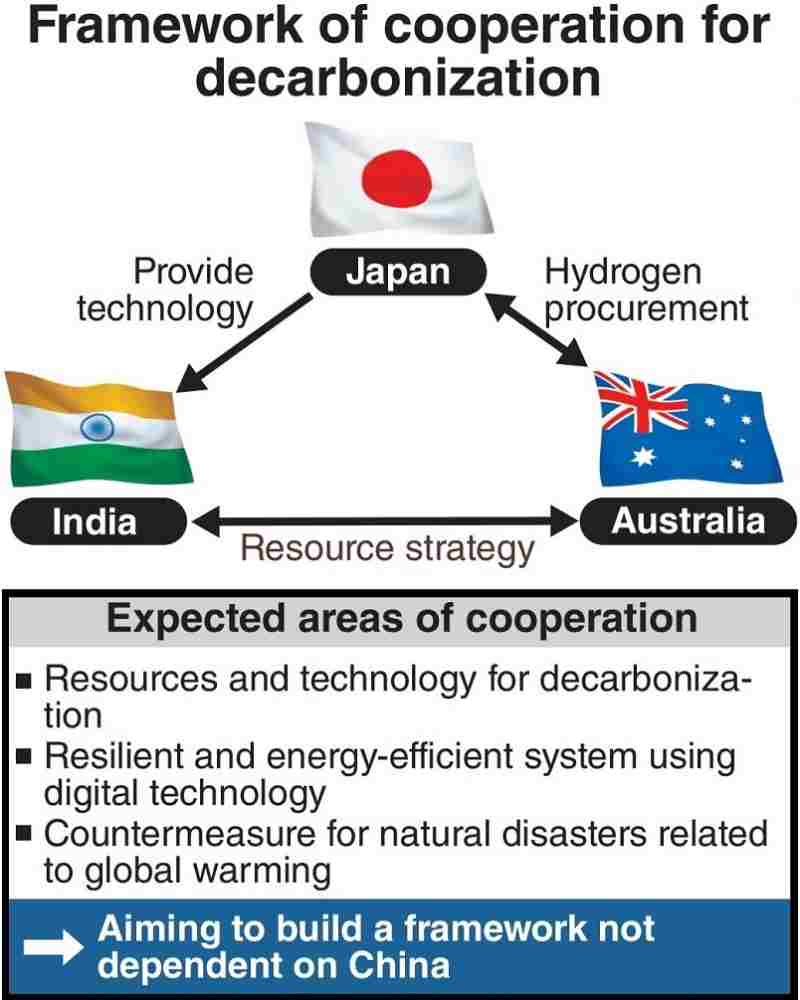 15:00 JST, April 27, 2021
The government plans to begin coordinating with Australia and India to establish a supply chain to mutually supply resources and technologies for decarbonization among each other. This framework is designed to complement each country's strengths in areas such as hydrogen and digital technology, and the governments intend to encourage Southeast Asian countries to join.
With China's growing presence in renewable energy and other next-generation technologies in mind, they will enhance their competitiveness through regional cooperation.
On Tuesday, Economy, Trade and Industry Minister Hiroshi Kajiyama and his counterparts from Australia and India will meet online to issue a joint statement that will include an initiative to establish the supply chain.
The draft statement reflects the shared understanding that the current supply chain system is vulnerable due to a variety of factors such as the coronavirus pandemic, climate change and the rapid progress of digitalization. Based on this, the three governments will discuss the need to break away from a supply chain that is dependent on particular regions, such as China, and to achieve the economic growth of the entire region.
The specific areas of cooperation in the framework are envisioned to include: development of products and technologies related to hydrogen for decarbonization; utilization of digital technologies helpful to energy conservation; and creation of a production system that is resistant to natural disasters.
Hydrogen, which is expected to become a next-generation energy source, is most likely to be produced by the electrolysis of water. Large-scale power sources are needed for mass production.
An international hydrogen supply network can be established with the help of Australia and India, which have vast amounts of land, as manufacturing bases, and with Japan developing hydrogen carrier vessels and storage facilities in those countries.
Japanese companies have expertise in technology related to power transmission and this will also be provided to India to help decarbonize the country through wider usage of renewable energy. India, with its high dependence on coal-fired power, is the world's third-largest emitter of carbon dioxide.
India had withdrawn from the negotiation for the Regional Comprehensive Economic Partnership (RCEP) agreement before it was signed last year by 15 countries, including Japan, Australia, China, and Southeast Asian countries. The cooperation among the three countries also aims to bring India into a new multilateral framework.
Suga, Modi hold phone talks
Prime Minister Yoshihide Suga held telephone talks with Indian Prime Minister Narendra Modi on Monday and agreed to further promote cooperation between the two countries in reducing greenhouse gases and developing infrastructure in India.
During their talks, which lasted about 25 minutes, the two leaders also confirmed the importance of cooperation between the two countries and among the Quad framework of Japan, the United States, Australia, and India to realize the vision of a "free and open Indo-Pacific."
In light of the surge of coronavirus cases in India, Suga expressed his hope that the situation would improve soon. Suga had planned to visit India in late April, but decided not to go due to the sharp rise of infections in both countries.
Add TheJapanNews to your Google News feed.