Volunteers help foreign families with school info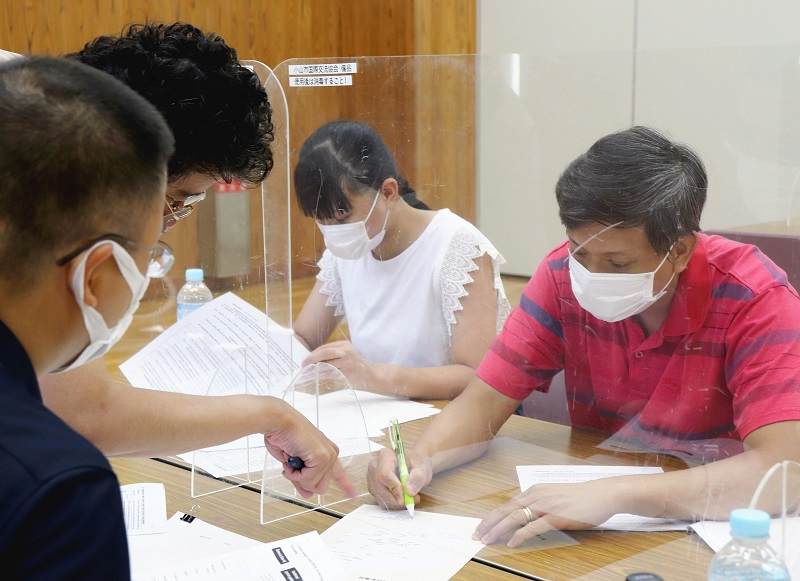 14:30 JST, September 7, 2021
OYAMA, Tochigi — A voluntary organization in Oyama, Tochigi Prefecture, offered guidance on Aug. 22 to help foreign students and their parents better understand the education system.
Although the number of foreign students studying in schools in Oyama has been on the rise in recent years, there are those who wound up enrolling into school without sufficient knowledge of it, leaving some unable to adjust and forcing them to drop out. Amid such a situation, the volunteer group in 2019 began offering yearly guidance on Japan's education system in four foreign languages, including English and Portuguese.
The organization, focusing on providing guidance on education and promoting "tabunka kyosei" (multicultural coexistence), held the third annual event this year, with a total of 14 families taking part.
According to Yoko Yashi, the organization's leader, many Brazilians and Peruvians call the city home and roughly 400 children from these families are enrolled in local elementary or junior high schools. Through her work as a local welfare group, Yashi realized that many of such children and their parents didn't understand Japanese well.
From there, she contacted Utsunomiya University's School of International Studies, which runs a similar project called the HANDS Project, and met Hideki Wakabayashi, a visiting associate professor at the School of International Studies who once worked as a teacher in the city, as well as those involved with private-sector education in the city. Through their cooperation, Yashi launched the organization.
During this year's guidance session, two families came seeking advice. Among them was Corral Ryan, hailing from the Philippines, and his daughter, a second-year junior high school student. He noted the difficulty of understanding how to enroll the child into an after-school childcare system back when his daughter was in elementary school. They were then briefed on the entrance examination systems for high schools and universities.
He said he had no confidence in his Japanese language ability, and thus was grateful that everything was explained in English.
Despite a growing number of students of various nationalities enrolling in schools, these same schools are having difficulty finding teachers capable of working with these students in their native tongues. There is also a fear that problems arising at schools with few foreign students would not come to light, leaving any possible outside assistance out of reach.
Wakabayashi, who is knowledgeable about the problems faced by foreigners on education, said: "First, the administrators of local schools must earnestly listen to the schools and come to understand the problems they are facing. From there, these administrators should try to find ways to adequately support them by seeking the cooperation of private organizations with diverse human resources, when deemed necessary."