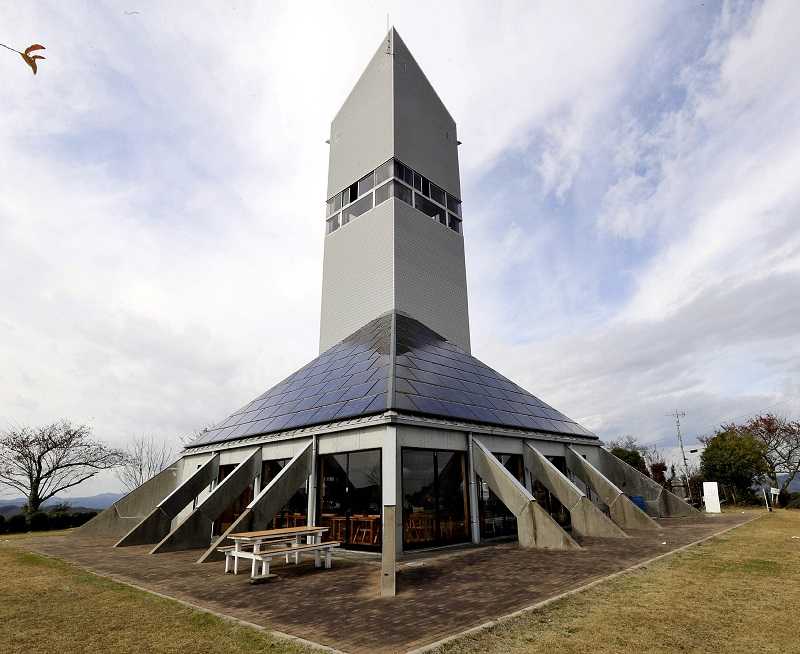 9:26 JST, May 22, 2021
JINSEKI-KOGEN, Hiroshima — Tiny flying objects dot the sky surrounding Mt. Yonami in Jinseki-Kogen, Hiroshima Prefecture, as adults and children alike write down their wishes and send them soaring from the observation deck of the Toyomatsu Paper Airplane Tower.
The 26-meter-tall tower stands atop the mountain's 663-meter summit, at the end of a narrow mountain path.
I visited this peaceful mountainous area last November.
When I entered the tower, I was handed five A5-size sheets of paper at the reception desk. I made my way into a workshop space, where a mother and her two sons, 10 and 8, were making paper airplanes. They were from Fukuyama in the prefecture.
The family learned from a staff member how to make different kinds of planes, including a stable-flying type and an easy-to-make one, and completed some planes of their own. There are also instruction books available for visitors to follow.
We walked up to the 15-meter-high observation deck and took in the 360-degree panoramic view. From this point on a clear day, even the 1,729-meter Mt. Daisen in Tottori Prefecture can be seen.
"Throw it upward, just like a real plane taking off from a runway," the staff member said.
"Ready, set, go!"
The boys shouted, "It's flying! It's flying!" as their planes cut smooth arcs into the wind.
"They flew better than I expected," the older boy said. "If I come again, I want them to fly farther."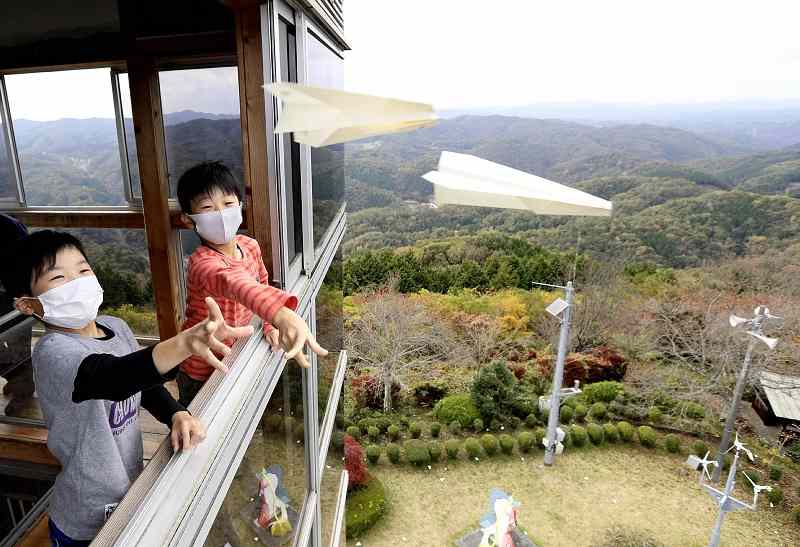 World record holder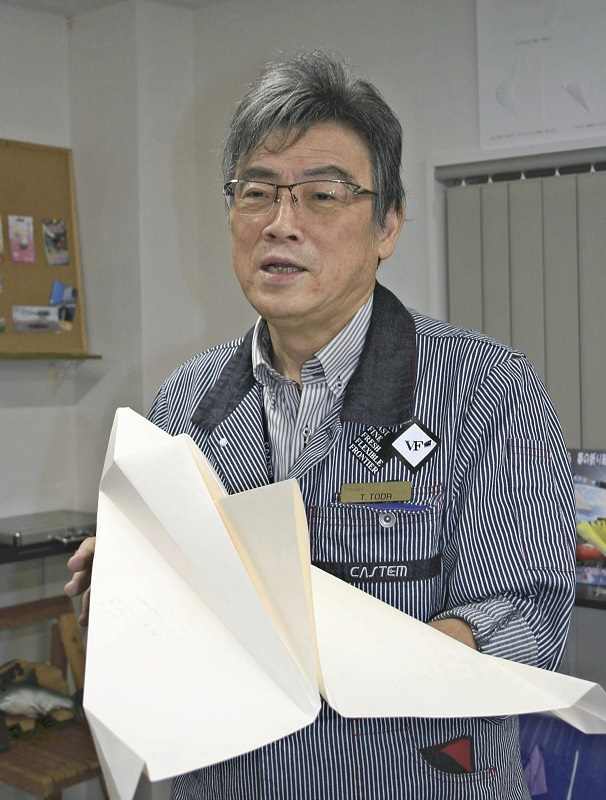 The Toyomatsu Paper Airplane Tower was built at the behest of Takuo Toda, a paper plane afficionado and chairman of the International Origami Plane Association.
Toda is the Guinness World Record holder for a paper plane's indoor flight time at 29.2 seconds. He has been fascinated with the craft since his college days and has created more than 900 original paper airplanes.
Construction of the tower was completed in 2003 by the Toyomatsu village municipality at a cost of about ¥100 million. The village has since been merged into the town of Jinseki-Kogen.
Toda, who is also a company president in Fukuyama, was looking for a place where he could freely and openly sail his paper airplanes. The village government stepped up and met his request.
Toda, now 64, emphasized that the appeal of paper planes lies in the process of using only one sheet of paper.
"It's a test to see how far you can express the shape and bring out the performance only through folding paper. No cutting, no pasting." Toda said. "It's also interesting that by making subtle adjustments, drastic improvements to how it flies can be made."
'Lovecopter'
I have realized the profound depths of paper aviation.
The tower regularly organizes competitions to test how long paper planes can fly. The longest record is an astonishing 21 minutes. A paper plane will sometimes catch an updraft on the mountainside and soar out of sight. Some have been found about four kilometers away. As the paper used at the tower is made out of sugarcane pulp, it decomposes and naturally returns to the soil.
There are many people who write their wishes or desires on the planes such as "I want to pass the exam."
Those searching for love can have a go at launching a "Lovecopter." If it flies off the premises, it is believed that the launcher will be able to fulfill their romantic wishes.
Well, I myself tried to fly a paper airplane I made, but it got caught in a headwind and quickly crashed near the tower. I began to worry about my future. Do I have a difficult life ahead?
—How to get there
(Note: The tower has been closed since May 15 due to a request from the Hiroshima prefectural government.)
About 70 minutes by car from JR Fukuyama Station or 40 minutes by car from the Tojo Interchange of Chugoku Expressway. Open on Tuesdays, Thursdays, Saturdays, Sundays and holidays, and during summer vacation. Closed December to February. Admission is ¥300 for school-age children and older.
—Extend your trip
---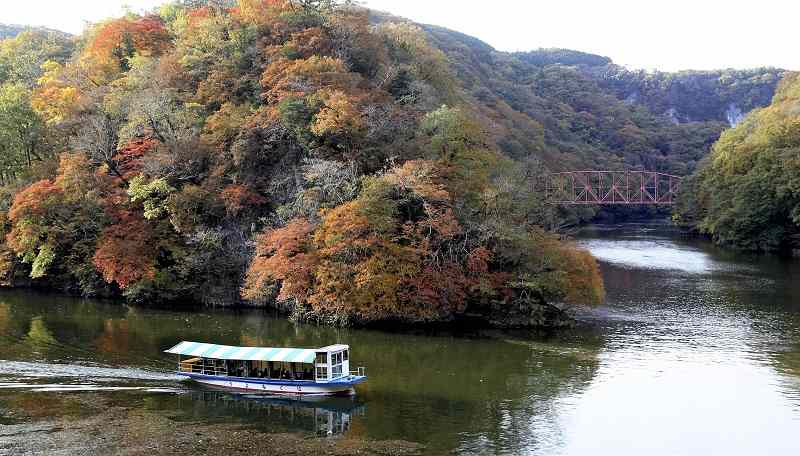 Taishakukyo Gorge
An 18-kilometer valley that straddles the two municipalities of Jinseki-Kogen and Shobara in Hiroshima Prefecture. From the promenade or a sightseeing boat, beautiful scenery in accordance with the seasons can be seen, such as colored leaves in autumn and fresh greenery in spring. The landscape is marked by cliffs and oddly shaped rocks. There are many points of interest, including a natural limestone bridge named Onbashi, Lake Shinryu and a number of limestone caves.
---
Add TheJapanNews to your Google News feed.