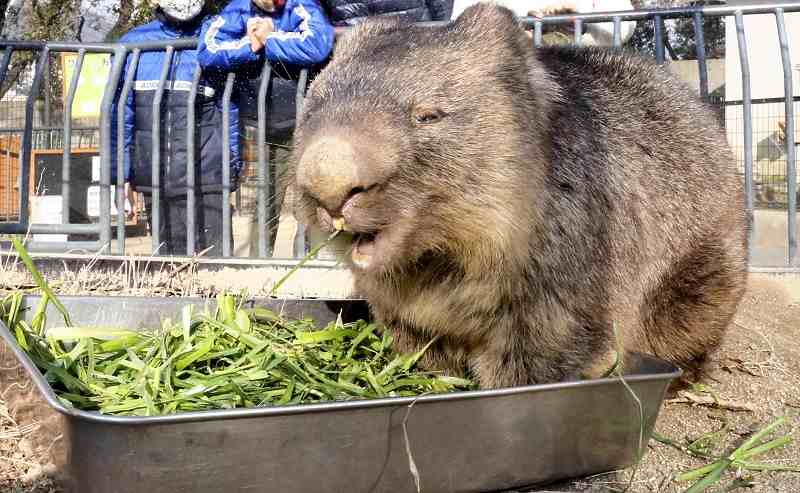 8:12 JST, April 3, 2021
IKEDA, Osaka — Visitors clamored to snap a picture of a wombat as he munched away on grass at his home at the Satsukiyama Zoo in Ikeda, Osaka Prefecture.
Once he'd finished his breakfast, the male wombat named Wine began to stroll away.
"Wine is really cute. He was super focused on eating," a 10-year-old visitor said with a smile.
Native to Australia, wombats are known for their stocky bodies and slow gait. Japan is home to six wombats, four of whom live at the Osaka zoo.
Their lovable, relaxed countenance has charmed many across the nation. The zoo posts videos showcasing their charms online, further contributing to an increase in new fans even amid the coronavirus crisis.
Oldest in Japan
Wine is 32 years old, which is over 100 in human years, making him Japan's oldest wombat and a global rarity.
Wombats, typically found in southeastern Australia and Tasmania, are marsupials like koalas and kangaroos. They weigh anywhere from 15 to 30 kilograms and despite their appearance, can run up to 40 kph at full speed.
Japan's other two wombats are housed at the Chausuyama Zoo in Nagano.
The Osaka zoo's first batch of wombats arrived back in May 1990, as a donation to commemorate the 25th anniversary of the sister city affiliation between Ikeda and Launceston in northern Tasmania. Wine was one of the three donated wombats.
"We had never looked after marsupials, so we dispatched keepers to Tennoji Zoo in Osaka for training, since the zoo had experience in marsupial breeding," said Kozo Sejima, the zoo's director.
As wombats are quite territorial, having them mate while in captivity is difficult. Fortunately, Wine and a female who came with him named Wonder were a good match. Two years later, their first daughter Satsuki was born. This was Japan's first captive wombat childbirth and only the second in the world.
In 1993, a year later, her sister Sakura was born, which was a great accomplishment for the Satsukiyama Zoo, as it was said to be the nation's smallest zoo at the time.
"This was an opportunity for us to take a leap forward from being an obscure zoo with no high-profile animals," Sejima said.
In total, another five wombats were donated to Ikeda from the Australian city in 2007 and 2017.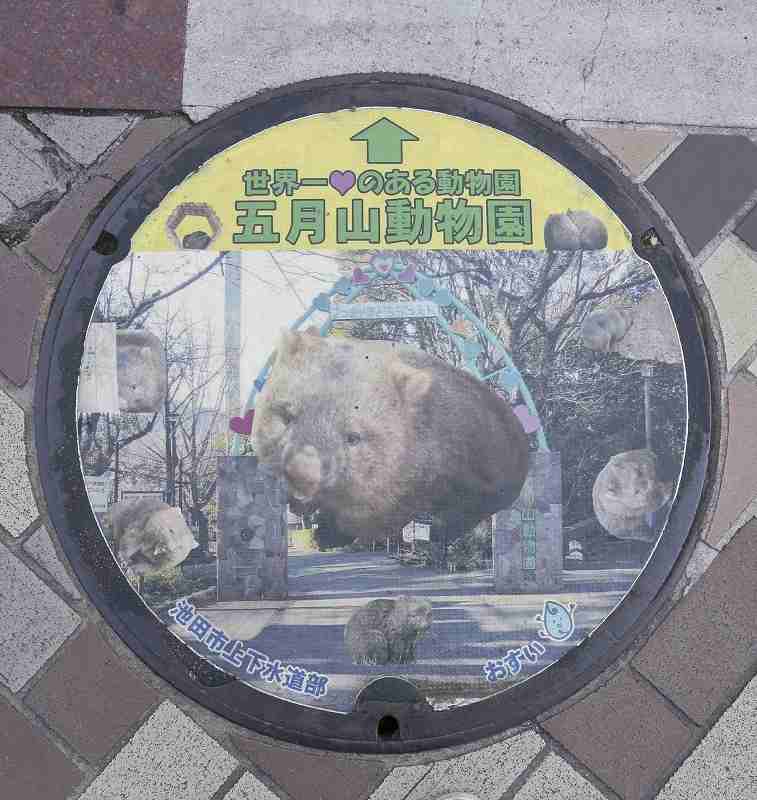 Good publicity for city
The zoo was closed for just over two months beginning early last March amid the coronavirus outbreak. Just before its closure, the zoo began livestreaming videos via YouTube, providing footage of the wombats captured by cameras installed mainly in the animal's living area.
People were still able to see the four wombats walking around and relaxing even while staying home.
Even now, viewers leave comments on photos posted on Twitter, saying things like "They are so cute," and "Happy birth month, Wine!"
In the hopes that the wombats will contribute to raising the city's profile, the Ikeda municipal government has adopted Fukumaru — a wombat dressed as Daikokuten, one of Japan's Seven Lucky Deities — as its mascot character.
Bronze statues of wombats and manhole covers bearing wombat images have been placed throughout the Sakaemachi shopping district, which connects the zoo and Hankyu Ikeda Station, as a way of attracting visitors to the zoo.
The zoo is currently working hard to encourage the mating of 5-year-old male Ko and female Yuki, taking various measures to get them accustomed to being together without becoming territorial, such as having them live in the same area or recognize each other's scents.
"If they have a baby, I'm sure it will delight many fans. I hope to be able to spread this good news from Ikeda," said Utane Hashimoto, one of the zoo's wombat keepers.
— Extend your trip!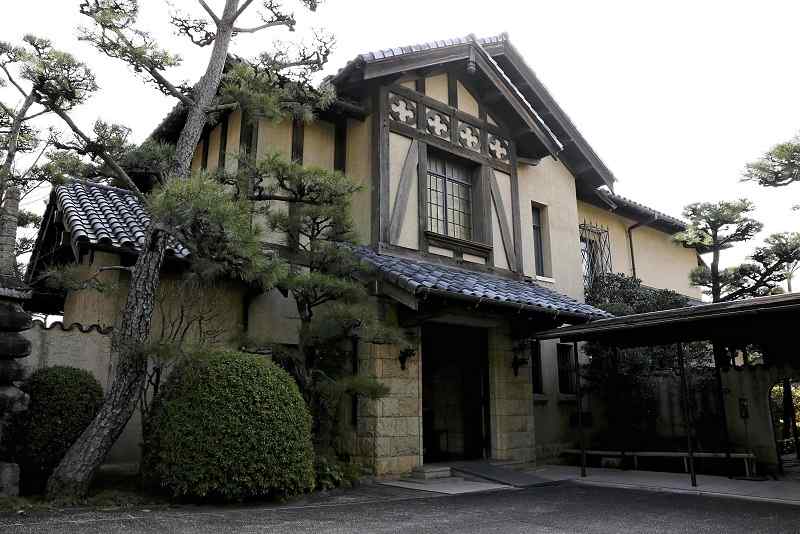 Kobayashi Ichizo Memorial Museum
The former residence of Ichizo Kobayashi, Hankyu Corp.'s founder, is open to the public as a memorial museum. The museum is registered as a national tangible cultural property and highlights the many achievements of renowned industrialist Kobayashi, such as the founding of the railway company, the Takarazuka Revue, and the Hankyu Department Store, through documents, photos and videos. Closed Mondays. Admission is ¥300 for adults and free for visitors in junior high school and younger. A French restaurant is also located in the museum.
— How to get there
---
Satsukiyama zoo
Satsukiyama Zoo is about a 15-minute walk or about a 5-minute bus ride from Ikeda Station on the Hankyu Railway Takarazuka Line. By car, it is about 10 minutes from the Kawanishi-Obana Interchange on the Hanshin Expressway. Open from 9:15 a.m. to 4:45 p.m. Closed Tuesdays, excluding the case of national holidays when it's closed the following Wednesday instead. Admission is free. About 60 animals of 13 species, including wallabies, emus, and alpacas, are kept at the zoo.
---
Add TheJapanNews to your Google News feed.