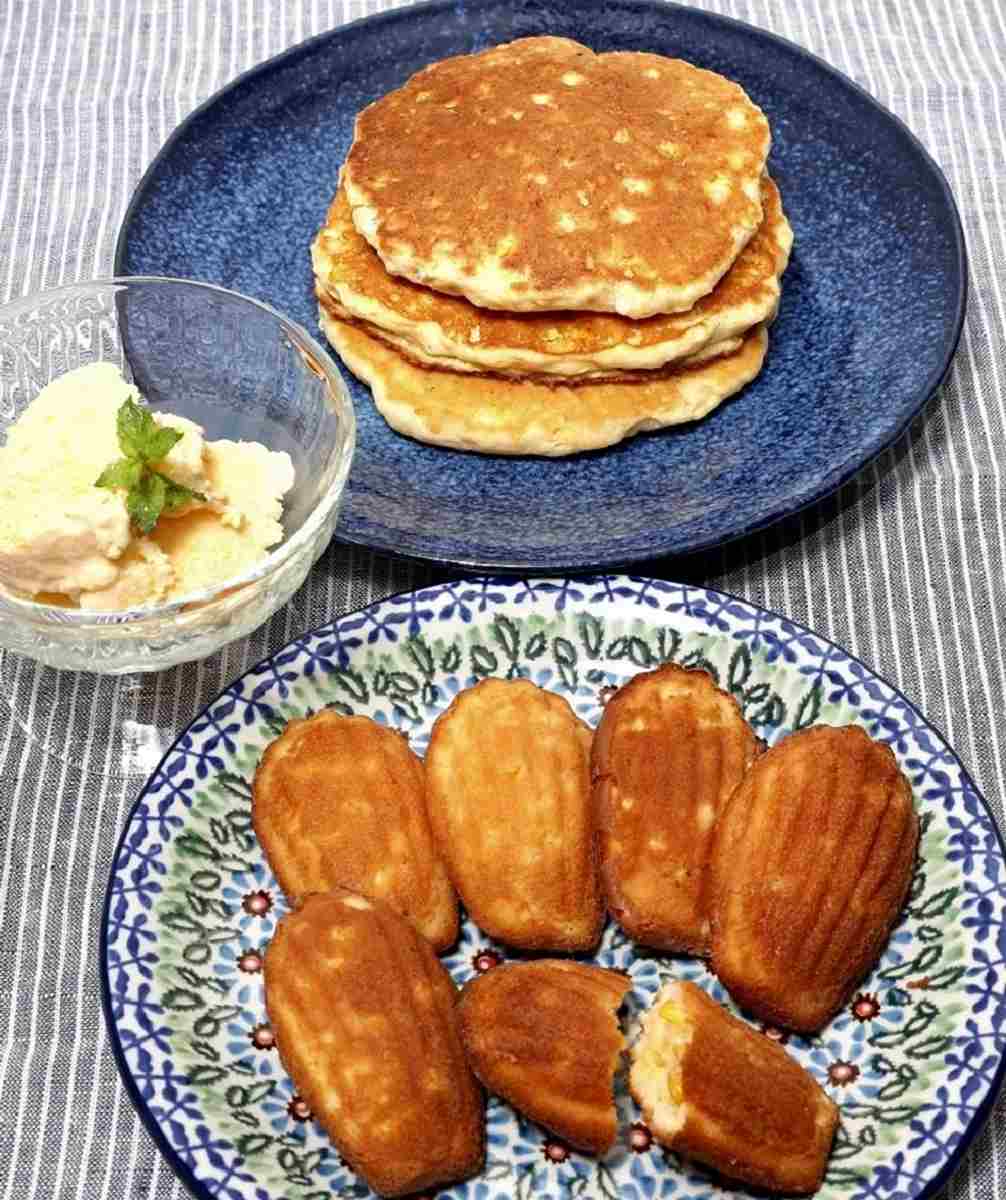 12:22 JST, September 3, 2023
Corn peaks in summer, is rich in nutrients and is said to be good for combating summer fatigue. Cooking expert Kaoru Shimamoto shares three dessert-like recipes using corn.
"Corn is usually eaten boiled or grilled, but its sweetness and grainy texture make it a perfect ingredient for sweets, too" Shimamoto said.
The first recipe is for madeleines. The corn is crisp and crunchy, with a gentle sweetness that spreads as individual kernels burst inside the mouth. The key to this recipe is for the dough to be chilled so it becomes fluffy when baked.
Madeleines
Ingredients (about 20 pieces):
1 corn cob (approx. 100 grams' worth of kernels)
2 large eggs
90 grams granulated sugar
10 grams honey
100 grams flour
2 grams baking powder
110 grams unsalted butter
Strong flour, as required



Directions:

1. Place eggs, sugar, honey and a pinch of salt in a bowl and whisk. Sift flour and baking powder into the bowl, add melted butter to saucepan. Mix until well blended. Chill in refrigerator for about an hour.

2. Brush madeleine molds with room-temperature butter (not included in the ingredients list) and chill in refrigerator. When the coated butter becomes white and hard, dust molds with flour and chill again. Shave kernels from cob using knife, add kernels to dough and mix with rubber spatula.

3. Spoon dough into molds leaving an about 20% space at the top. Preheat oven to 210 C then bake for about 10 minutes.

The second recipe is for ice cream. Preheat the corn to ensure a rich, sweet flavor.

***

Corn ice cream

Ingredients: (serves 4)

1 corn cob

3 large egg yolks

50 grams granulated sugar

250 milliliters fresh cream

Mint leaves, as desired

Directions:

1. Wet corn, cover in plastic wrap and microwave for 4 minutes at 600 watts. Leave to cool in plastic wrap to ensure kernels maintain grainy texture. Remove kernels with knife.

2. For the ice cream mixture, place yolks, sugar and a pinch of salt into bowl then whisk. Heat mixture in a saucepan. When surface edges begin to bubble, pour it into the bowl and stir.

3. Pour the mixture back into the saucepan and stir with wooden spoon over low-medium heat. When edge bubbles appear, pour into a different bowl and cool over iced water. Be careful not to overheat the mixture or it could harden.

4. Once the mixture has cooled, add the corn and whip in blender.

5. Put in freezer and stir around three times an hour until frozen. Serve in bowls and garnish with mint.

The ice cream mixture can also be used to make pancakes. The soft dough has a corn-based scent and is sweet enough to eat without adding syrup or sugars.

***

Pancakes

Ingredients: (about 7 pieces)

Half of the pre-prepared ice-cream mixture

1 corn cob

2 large egg whites

25 grams cane sugar

80 milliliters milk

175 grams light flour

8 grams baking powder

Butter, as required

Directions:

1. Use hand mixer to beat egg whites. Add cane sugar in two parts and blend. Add ice cream mixture, milk and fresh corn kernels, then sift flour and baking powder into the bowl and mix with rubber spatula.

2. Heat frying pan then place on a damp dish towel to lower temperature. Melt butter, pour in a ladleful or more of batter, and cook mixture on both sides over a very low heat — with lid on — to prevent burning.

"Kids love corn, which inspires many people to try their hand at cooking with it," Shimamoto said. "Try making these dishes with your family during the summer season."
Add TheJapanNews to your Google News feed.