Growing Prevalence of Rice Flour Makes It a Convenient Alternative for People on Wheat-Free Diets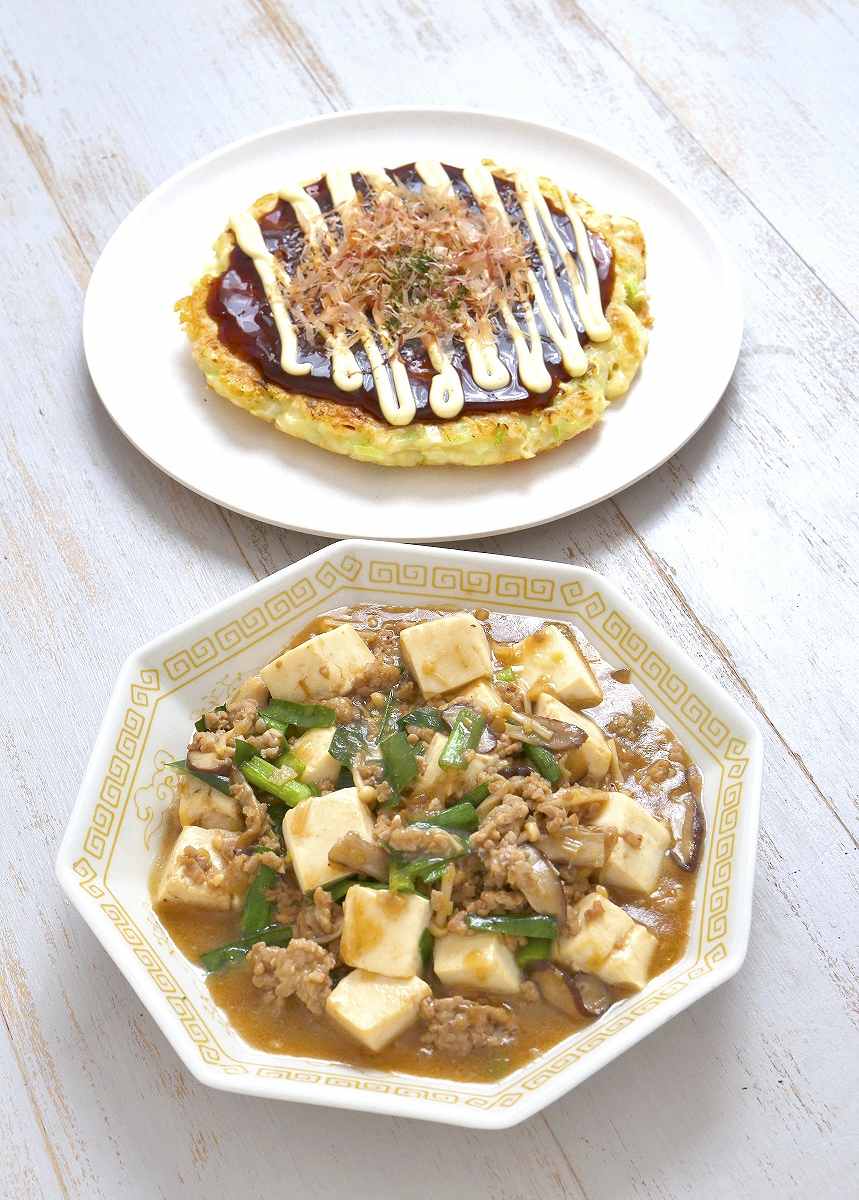 17:00 JST, August 27, 2023
Lifestyle changes have led to a decline in the amount of rice eaten in Japan, but rice flour production has reportedly been rising year after year amid improvements in flour milling technology.
Different kinds of rice flour are available, with various rice varieties and milling processes to suit different food types, such as bread or noodles.
This week's installment of Delicious features two recipes by Rie Nakamura, author of "Komeko no Oyatsu to Okazu" (Rice flour snacks and side dishes), published by Takarajimasha Inc.
"Rice flour is an ingredient that is easier to use than you would think. And it's healthy because it absorbs less oil," Nakamura said.
The first recipe is a popular Chinese dish made with tofu, ground pork and a spicy sauce. Rice flour is used to thicken the dish, and shiitake and enoki mushrooms add depth to the flavor. The recipe also uses rice oil, which contains vitamin E, a nutrient that helps prevent the hardening of arteries.
"The mild thickness is evenly distributed throughout the dish," Nakamura said. Rice flour is also suitable for making white sauce because it does not easily form lumps.
Mapo tofu with mushrooms
Ingredients (2 servings):
300 grams tofu
150 grams ground pork
3 shiitake mushrooms
30 grams enoki mushrooms
30 grams Chinese chives
1/4 green onion
1/2 ginger knob
1/2 tbsp rice oil
1 tbsp Tianmian sauce
1 tsp chicken soup stock
1 tbsp rice flour
1/2 tsp sugar
1 tbsp soy sauce
100 cc water



Directions:

1. Cut the tofu into 2-centimeter cubes, and enoki mushrooms and chives into 2-centimeter lengths. Remove the hard tip of the stalk of the shiitake and cut the mushroom into thin slices.

2. Heat the rice oil in a frying pan and add chopped green onion and ginger. When the ingredients become fragrant, add the ground pork along with the shiitake and enoki mushrooms.

3. When the pork is cooked, add tofu and Chinese chives and cook over gentle heat. Then add water, sugar, soy sauce, Tianmian sauce, and chicken soup stock and bring to a boil. Mix with a spatula to prevent the tofu from breaking apart.

4. Reduce the heat, add rice flour dissolved in 2 tablespoons of water, and cook until the mixture thickens.

The Yomiuri Shimbun


Pour rice flour dissolved in water around the edge of the pan to thicken the mapo tofu.

Next up is okonomiyaki, a savory, pancake-like dish popular in the Kansai region of Japan. The dish is typically made with wheat flour but Nakamura's recipe uses rice flour with nagaimo mountain yam to mimic the consistency of traditional okonomiyaki.

Tuna and cheese okonomiyaki

Ingredients (2 servings)

70 grams canned tuna (with oil)
1/4 cabbage (150 grams)
120 grams nagaimo mountain yam
1 egg
100 grams rice flour
80 grams pizza cheese
1/2 tbsp rice oil
2 tbsp water
Okonomiyaki sauce, mayonnaise, bonito flakes and aonori seaweed flakes, as desired



Directions:

1. Peel and grate the mountain yam. Drain oil from the canned tuna and put the fish, chopped cabbage, and yam in a bowl. Add the egg, rice flour, pizza cheese, and 2 tbsp water, and mix with a spatula.

The Yomiuri Shimbun


Use rice flour instead of wheat flour to make okonomiyaki.

2. Heat half of the rice oil in a frying pan over medium heat and pour half of the batter into the pan in a round shape.

3. When the underside of the okonomiyaki begins to brown, turn it, cover the pan, and continue heating for 5 minutes. Serve with okonomiyaki sauce, mayonnaise and a sprinkling of bonito and aonori flakes.

Nakamura started using rice flour because a family member is allergic to wheat. "Rice flour can be used in a variety of dishes. Try it in your everyday cooking," she said.
Add TheJapanNews to your Google News feed.