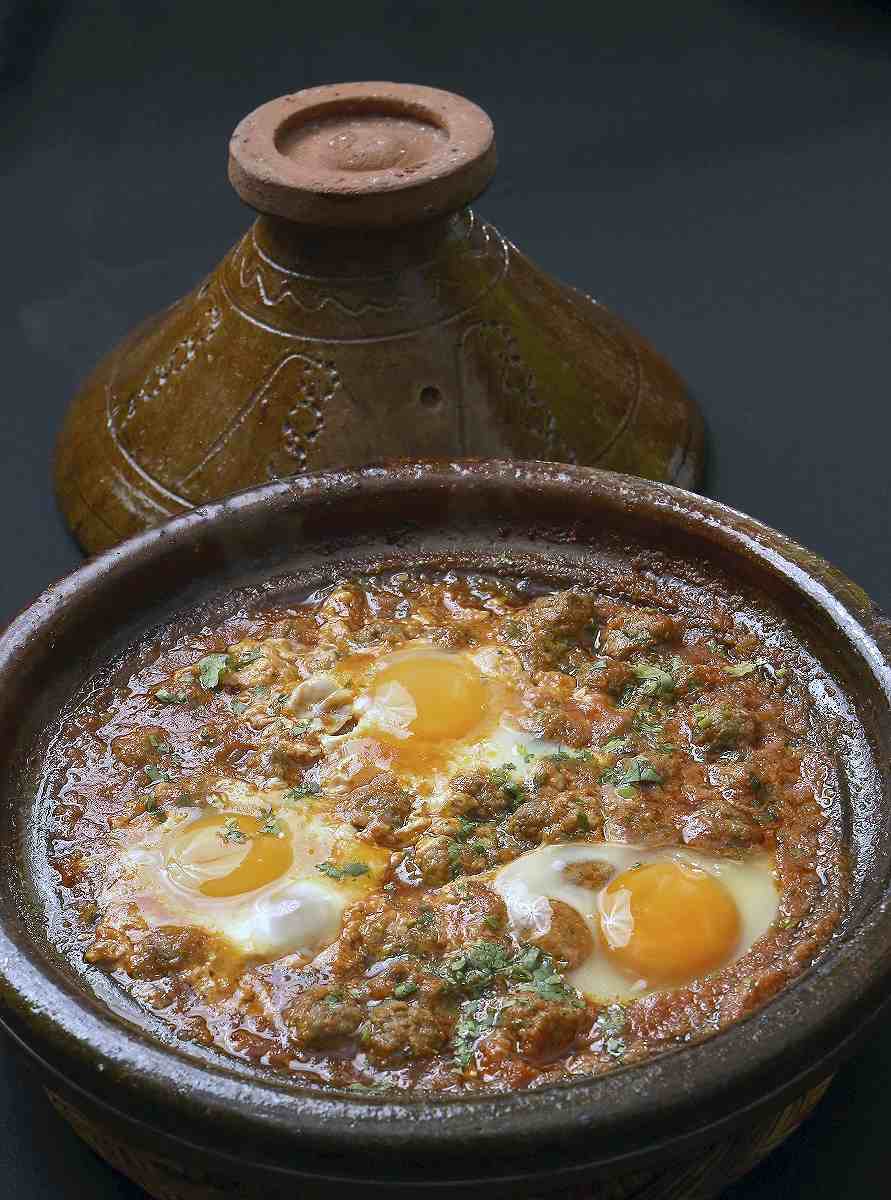 12:00 JST, February 4, 2023
When the weather is chilly and we want to feel warm and cozy, a hot pot dish is what we crave, and making one that is a little outside of what we're used to is always interesting.
Culinary researcher Asami Kuchio shares her recipe for meatball tagine, a traditional Moroccan dish.
When making a hot pot dish, Moroccans generally use a tagine pot, which has a conical lid. The pot's unique shape is the result of people in the region developing a cooking method to compensate for the scarcity of water.
As the steam rises from the food as it is being cooked, it cools and condenses on the inside of the lid and the water falls back into the food. The dish can be cooked using only the water that is already contained in the ingredients.
"The pot not only has a cute shape, but it is incredibly functional," Kuchio said.
This time, Kuchio has made kefta tagine, which is meatballs simmered in tomato sauce. If you don't have a tagine pot available, a pan or pot with a lid works just as well.
The first step is to make the meatballs. Choose lean ground beef with little fat to maximize the umami flavor. Mix in onion and coriander and make small balls that are about 2 centimeters in diameter. The meatballs will be easier to form if you drain the grated onions before adding them to the beef.
Next, make the sauce. Heat cooking oil in a pot, then add onions and cover it with a lid. When it is fragrant, add tomato, cumin powder and other ingredients. Let it simmer until it thickens to form a sauce texture.
The umami flavor of the ingredients will become concentrated by allowing them to simmer in the water released by the tomatoes, onions and other vegetables, without adding water.
"If there is too much liquid, place a spoon or something similar between the pot and lid so some of the steam can escape," Kuchio said.
When the sauce thickens, add the meatballs and cover the pot. Then add raw eggs, cover the pot and turn off the heat. Allow the eggs to heat up until they are partially cooked.
"Moroccans will eat tagine by dipping bread into the sauce and scooping it up," Kuchio said.
I did as she said, and it was delicious. The meatballs were small enough, so they can be eaten with bite-sized pieces of bread, and the spicy tomato sauce was rich and refreshing. All of it together was just the perfect combination. I would definitely like to make this dish at home on a cold day.
Refreshing appetizer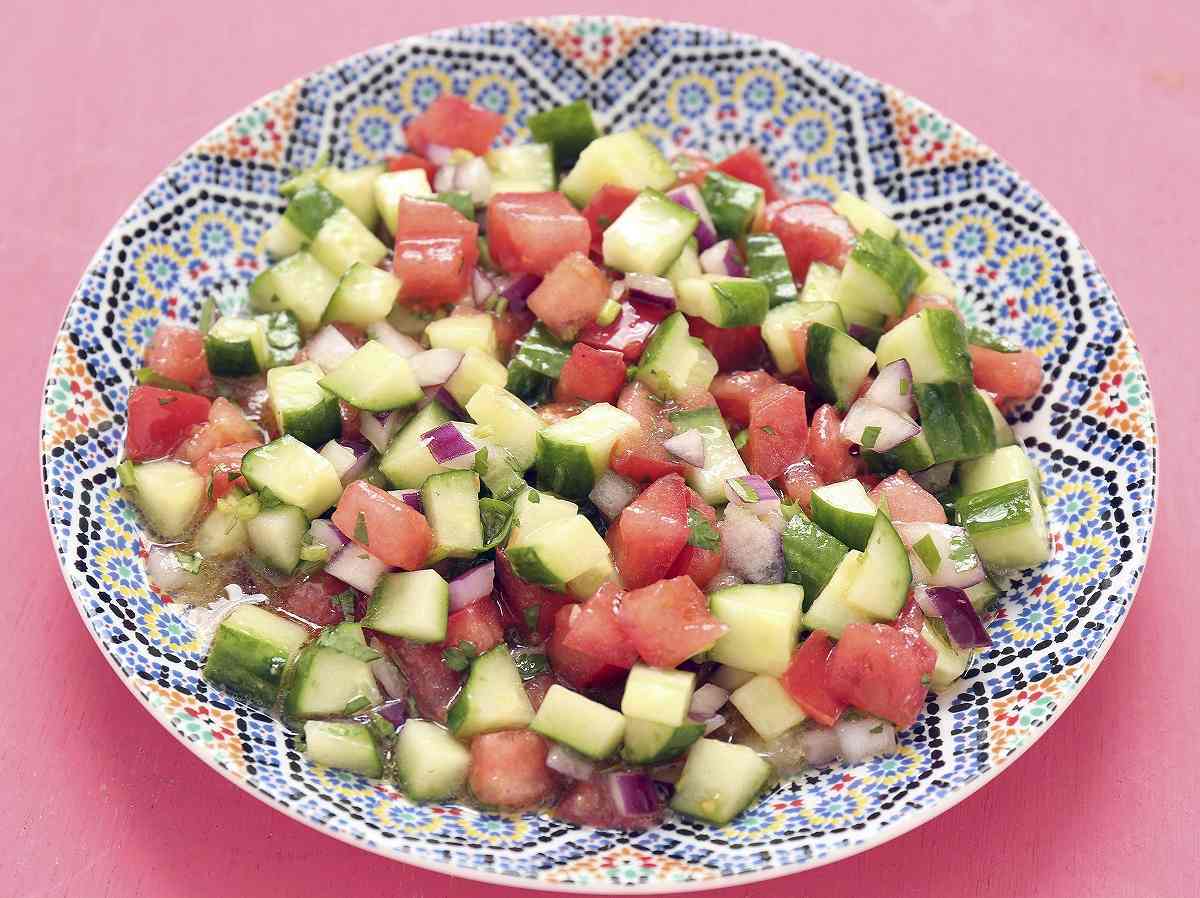 Kuchio also prepared Moroccan salad, which is often served as an appetizer in Morocco, as a side dish.
"Enjoy this refreshing salad with the tagine," she said.
The salad is pretty simple to make. Cut cucumbers, tomatoes and onions into 5-millimeter cubes and mix in chopped Italian parsley or coriander. Add salt, lemon juice and olive oil, and toss everything together.
"As the vegetables will release some water, toss the salad just prior to eating," she said.
Meatball tagine
Ingredients (serves 3 to 4)
250 grams lean ground beef
3-4 eggs
2 tomatoes
3/4 onion (grated)
1½ tsp garlic (grated)
1 tbsp each of chopped coriander and chopped Italian parsley
2 tsp cumin powder
1 tsp each of paprika powder and coriander powder
⅓ tsp black pepper
Directions:
1. Peel the tomatoes and cut them in half. Then grate them from the cross-section.
2. In a bowl, combine beef, ½ an onion (drained), ½ teaspoon of garlic, ½ tablespoon each of chopped coriander and Italian parsley, 1 teaspoon of cumin powder and ½ teaspoon of salt, as well as paprika powder and black pepper, mixing everything together. Make meatballs that are about 2 centimeters in diameter.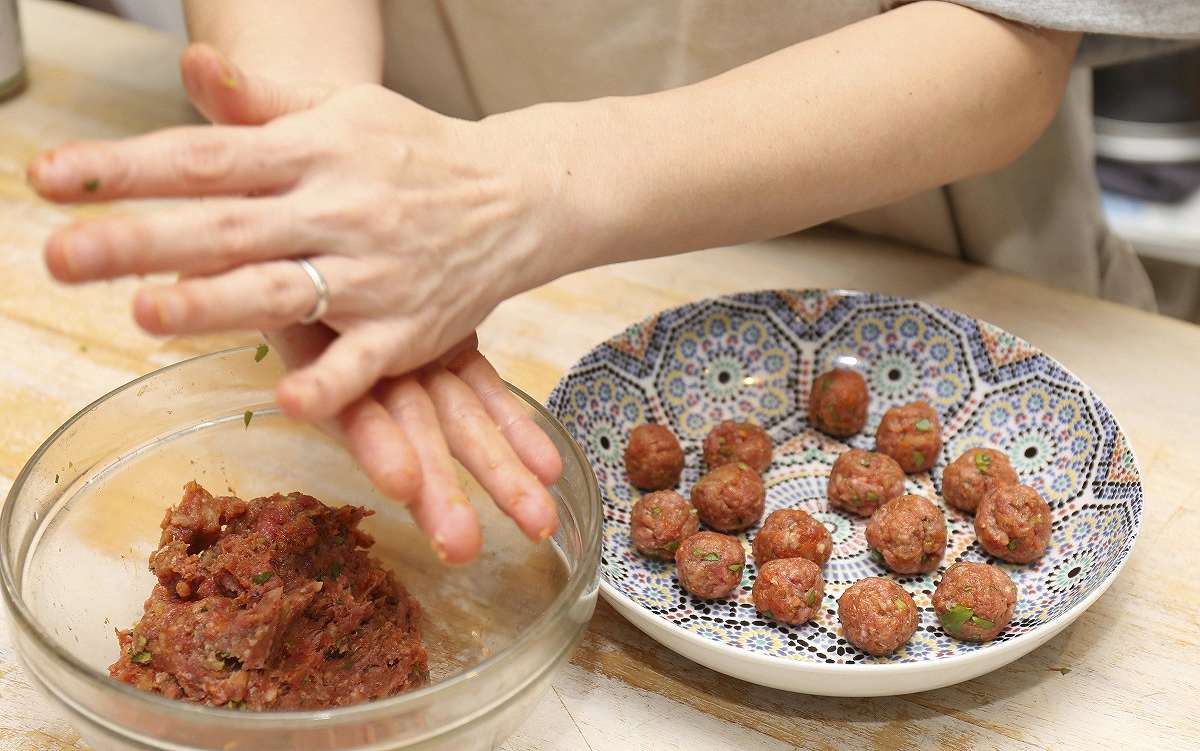 3. Heat 1 tablespoon of olive oil in a pan over low to medium heat. Add the remaining ¼ onion into the pan and cover with a lid. When fragrant, add 1 teaspoon each of garlic and cumin powder, ½ teaspoon of salt, coriander powder and tomatoes. Stir the mixture then cover it with a lid and let simmer. When the sauce thickens, add the meatballs and cover. Allow it to simmer for another 5 to 10 minutes.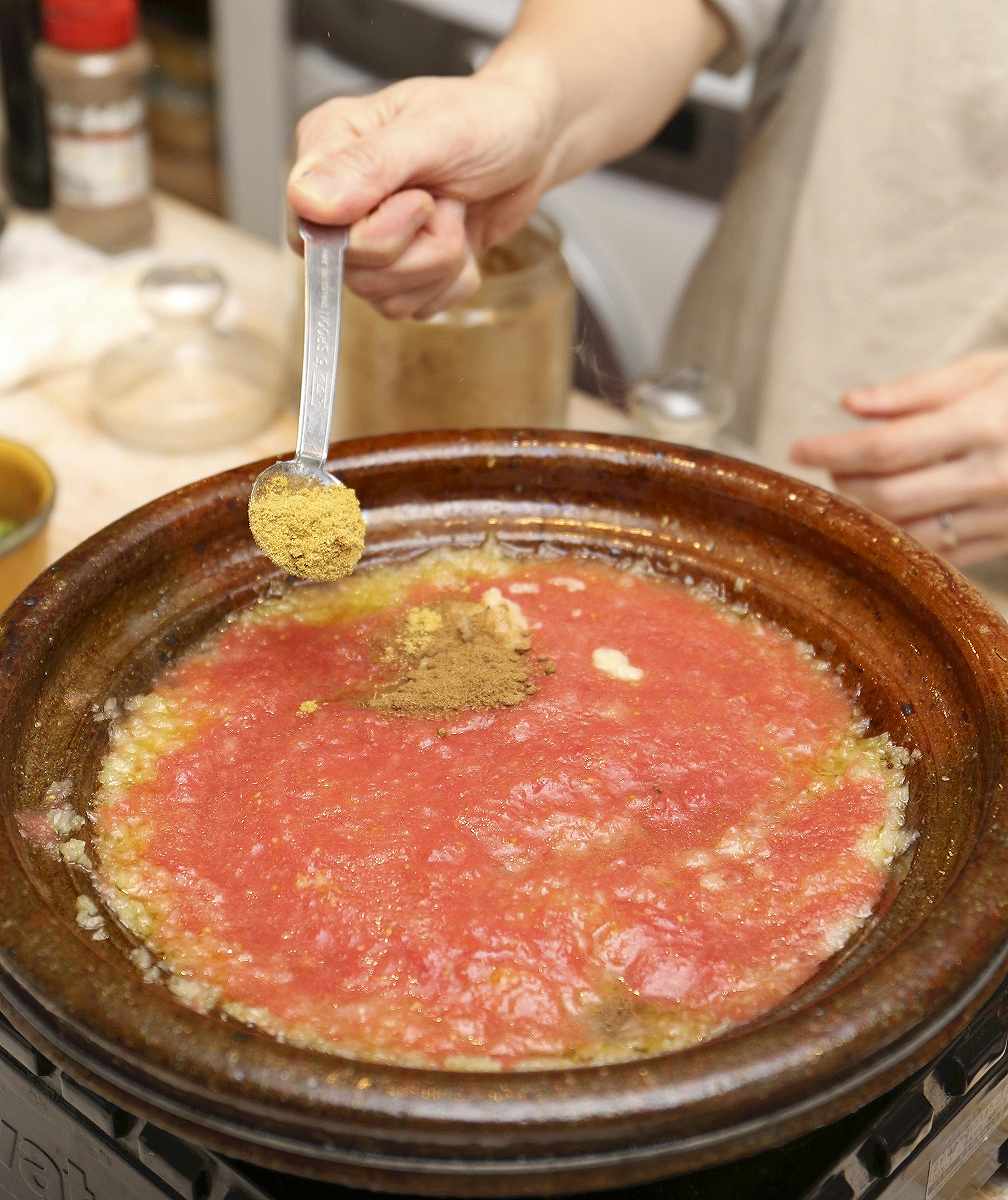 4. When the meatballs are cooked, add raw eggs and cover. Then turn off the heat. Finish by adding the remaining coriander and Italian parsley as a garnish.
Add TheJapanNews to your Google News feed.