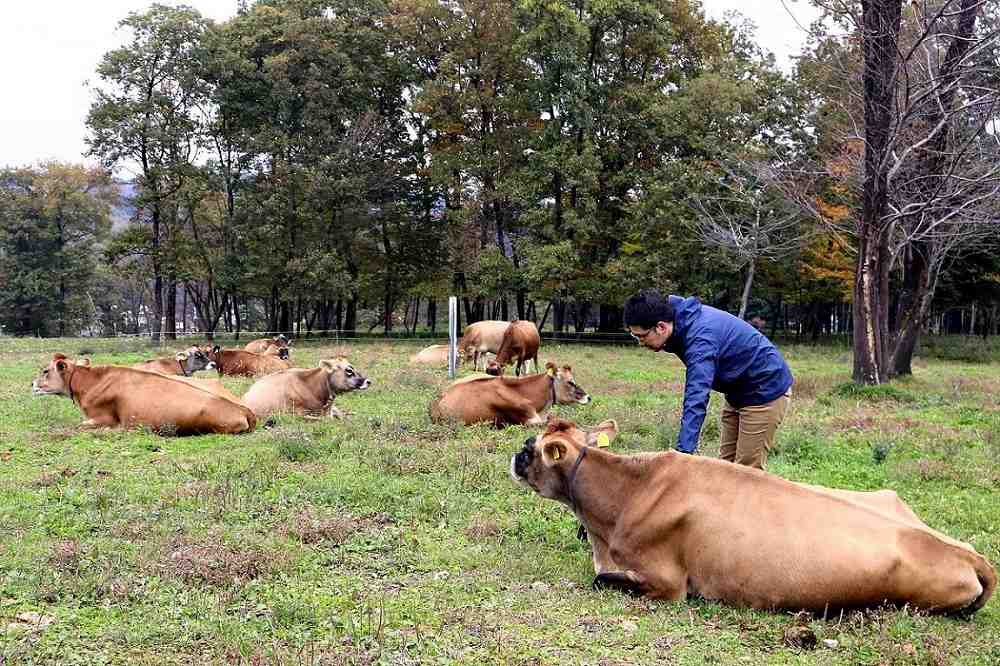 15:11 JST, February 23, 2021
Unique craft butter produced in limited quantities by local farms is attracting attention. Gourmet butter comes in various flavors, including those with local specialty ingredients mixed in, and its popularity seems to have increased as more people eat at home because of the coronavirus pandemic.
At Shinrinno Bokujo ranch in Nasu, Tochigi Prefecture, cows are languidly grazing in the pasture. Most dairy cows in Japan are Holsteins, which produce a lot of milk. However, this ranch raises Jerseys, which are known for the richness of their milk.
In Japan, non-fermented butter is common, but in Europe, most butter is made by adding lactic acid bacteria to ferment cream, creating a rich flavor. The ranch began producing fermented butter, or cultured butter, in 2016 and started selling it to the public in 2019. The butter is made using traditional methods and is stirred with a special mixer. The ranch's cultured butter is becoming popular because of its unique aroma and tangy flavor.
"Butter differs depending on the breed of cow, how the cows are raised and how the butter is made," said Masahiro Yamakawa, president of the ranch. "I wanted to make delicious cultured butter, like the kind in Europe."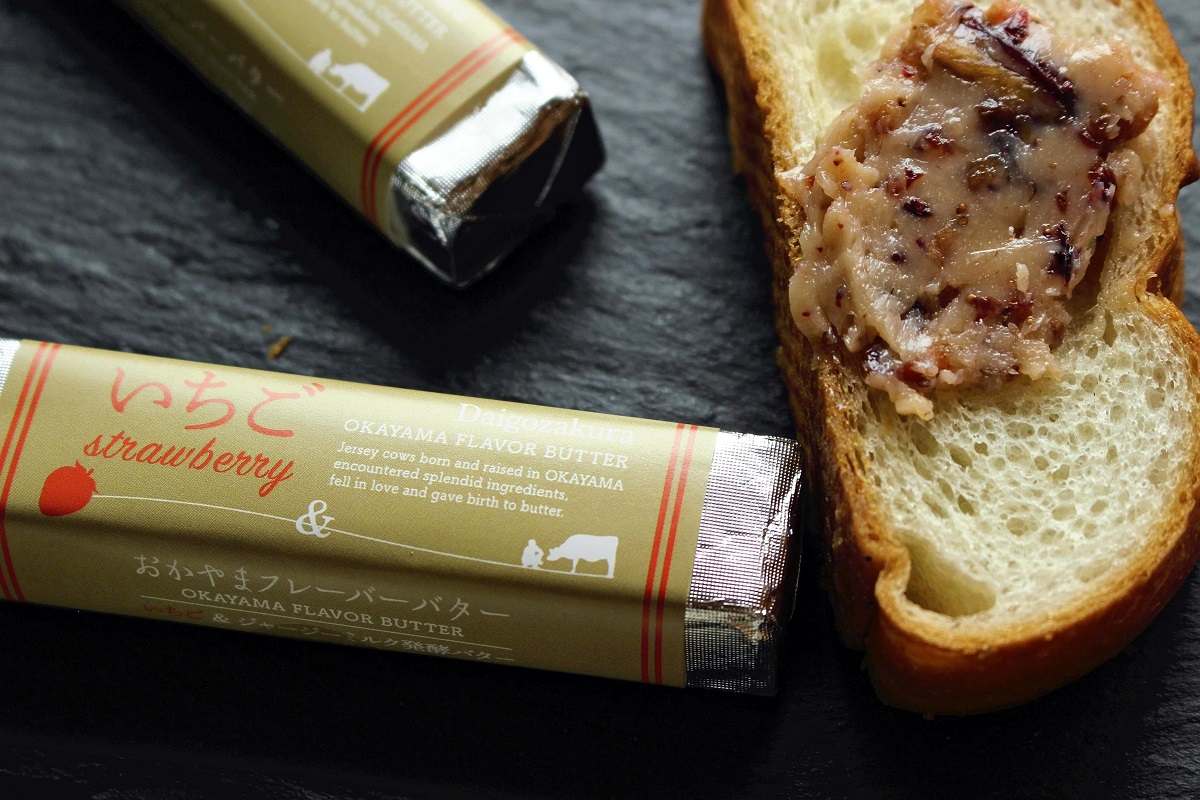 Nakahora Bokujo ranch in Iwaizumi, Iwate Prefecture, sells butter named Grass-fed Butter produced from the ranch's Jersey cows. As there is no barn on the ranch, the cows graze all over the mountains, day and night, throughout the year. The cows are not fed grains, eating only wild grasses, kumazasa bamboo grass and tree leaves that grow naturally on the mountains.
The ranch has been selling non-fermented butter since 2014 and cultured butter since 2017.
"Some customers are not only interested in the taste of butter, but also in how the cows are raised," said Ganji Okada, the representative of the company that operates the ranch. "Our cows are healthy and are being raised in a low-stress environment."
Gelato shop Daigozakura in Maniwa, Okayama Prefecture, sells gelato and other dairy products made from raw milk produced at its own dairy farm. Last year, the shop started selling Okayama Flavor Butter, which is cultured butter mixed with fruits from the prefecture. Strawberries, white peaches, pione grapes and other fruits are dried, crushed and mixed with the freshly made butter, and the butter retains the fruits' strong flavors.
"Flavored butter can be eaten on its own, so we hope people will enjoy it as a nice treat or with a little alcohol," said Hidenobu Yamamoto, who is in charge of product development.
Craft butter is made in limited quantities, and it takes a lot of time and effort. As a result, it is a bit more expensive than butter from major dairy companies and is mainly sold online.
"The coronavirus crisis has forced people to eat at home more often," said Ayano Nagao of Tokyo confectionery ingredient sales company Tomiz. "So, in addition to the recent trend of consumers buying high-end bread, more people are also buying slightly higher-end butter as well."
Craft butter can be enjoyed on crackers as well as on toast. It can also be used for cooking, including making sauteed vegetables and buttered rice, which is butter and soy sauce on top of steamed rice. Using rich cultured butter to bake treats such as cookies gives off a nice aroma.
Nagao recommends freezing butter because it tends to lose some of its aroma when left in the refrigerator. If it is thinly sliced before freezing, it is easy to put on toast. Before storing the sliced butter in the freezer, it is best to wrap the slices in plastic wrap and then put them in an airtight ziplock bag.
Add TheJapanNews to your Google News feed.