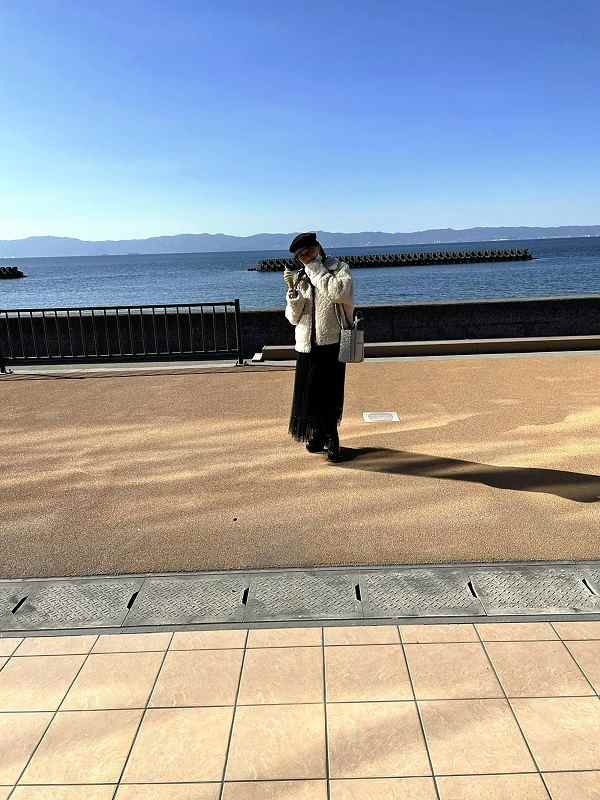 13:00 JST, March 25, 2021
As the days of refraining from going out have only continued because of the pandemic, I sometimes just want to bathe in a hot spring and get rid of some stress.
I love bathing so much and there are so many fabulous onsen resorts in Kagoshima Prefecture that I think are perfect for me.
First, I recommend Tarumizu Onsen resort in Tarumizu, a city near the foot of the Sakurajima volcanic peninsula. My family and I once visited there and told me it was a remarkably good onsen. I had wanted to go there for a while, and in January this year I finally went there with my grandma and my cousin. We went aboard a Tarumizu ferry.
Because the hot spring bath resort is close to the magnificent view of Sakurajima and the sea, you can see the beautiful Kinko Bay alongside the breath-taking setting sun.
I hope people outside the prefecture can someday see that scenery, which is particular to Kagoshima Prefecture.
And what I want to experience someday is a sunamushi onsen (hot sand-steam bathing) in Ibusuki City. I have not tried it because of my idea that sand is kind of heavy, but sand bathing using heat from hot springs emerging up along a nearby seashore is unique among other onsen nationwide. Experiencing sand-steam bathing could become an unforgettable memory for me.
Actually, Kagoshima Prefecture has a huge number of famous hot spring bath resorts. You know, there are many unique hot spring resorts like that in the Kirishima region.
As the representative of Kagoshima Prefecture, I'd love to introduce you to as many hot spring resorts as possible.
---
Rei Fujizono
AKB48 Team8's representative for Kagoshima Prefecture. Born on Jan. 18, 2005. Her favorite Kagoshima phrase is "Hittamagatta" (I was surprised!). Her hobby is listening to music.
---
Add TheJapanNews to your Google News feed.