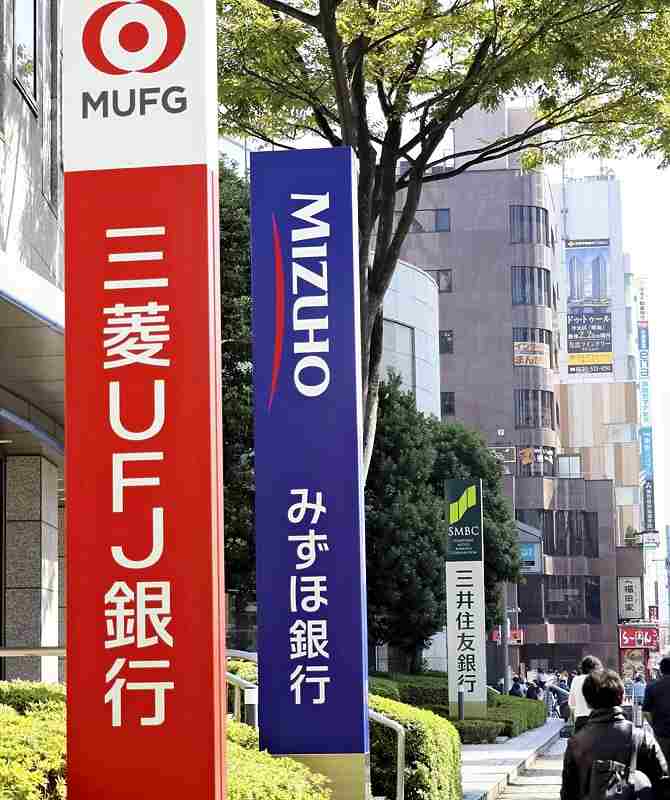 14:38 JST, May 22, 2021
Megabanks are accelerating their structural reforms, as the traditional business environment is becoming more severe due to low interest rates and the prolonged coronavirus crisis. To remain viable, banks are being forced to cut costs by streamlining their branches and reducing the number of employees.
¥1 trillion profit target
Mitsubishi UFJ Financial Group, Inc. said at an explanatory session for investors on Wednesday that functions will be streamlined or service counters will be eliminated at a majority of its branches.
"We will digitize most of our procedures. There is no future for us in a continuing the way things are," Mitsubishi UFJ Financial Group President Hironori Kamezawa said at the session.
By the end of fiscal 2023, the company plans to reduce its branches by about 40% nationwide compared with the end of fiscal 2017. The number of conventional branches with service counters will also be reduced by about 70%. As a result, more than half of its conventional branches will be closed. The remaining branches will be those with streamlined functions that use videophone systems or specialize in asset management.
Bank transfers and other daily transactions will be directed to online banking, mainly through smartphones.
The company also said at the meeting that it expects to cut costs by about ¥20 billion in total by restructuring branches and consolidating data centers, and that its plan to cut 6,000 jobs by the end of fiscal 2023 is progressing ahead of schedule.
Mitsubishi UFJ's consolidated net profit for the year ending March 2021, was about ¥780 billion, but the company aims to increase it to ¥1 trillion in the year ending March 2024, through these cost-cutting measures.
Retail banking
Sumitomo Mitsui Financial Group, Inc. on Tuesday said at its explanatory session for investors that it plans to cut about 7,000 jobs by the end of fiscal 2022, compared with fiscal 2019.
The company is also restructuring its branches. It plans to have 300 branches — more than 70% of its branches nationwide — specialize in personal services such as asset management by fiscal 2022. With an eye on "a 100-year life society," the company hopes to make consultations on asset management — a growing area of interest — a core part of its business at branches.
The company initially planned to cut costs by ¥100 billion by fiscal 2022, but with the progress of structural reforms, further cost reductions of ¥10 billion to ¥20 billion are expected.
Mizuho Financial Group, Inc. also converted about 170 of its 260 branches mainly in the Tokyo metropolitan area and the Kansai region, where many of its branches are located, into outlets specializing in retail banking. Amid an earnings' downturn in the retail sector due to a series of system failures, the company is set to speed up efforts to reduce costs associated mainly with branch operations.
Challenges
The three megabanks' combined net profits for the year ending March 2021, was ¥1.7608 trillion, down about 30% over seven years. The Bank of Japan's negative interest rate policy has lowered their profit margins. The increase in the allowance for uncollectible accounts to prepare for corporate bankruptcies due to fallout from the COVID-19 crisis has also weighed on the banks.
As structural reforms proceed, the challenge for the banks will be how to maintain contact with customers in areas where branches have been consolidated or closed.
At MUFG Bank, which is part of Mitsubishi UFJ, the number of customers visiting the branches has halved in the past five years, while the number of smartphone transactions has increased about 2.5 times. There is much work to be done, including improving the convenience of smartphone applications and developing attractive financial products.
Hayanari Uchino, a senior researcher at Daiwa Institute of Research, said: "The business model of banks based on generating revenues by lending to companies and individuals is fading. Many investors believe that the pace of structural reform at banks is inadequate. Banks need to further accelerate their efforts."
Add TheJapanNews to your Google News feed.