Businesses take different approaches to closure requests in Tokyo, Osaka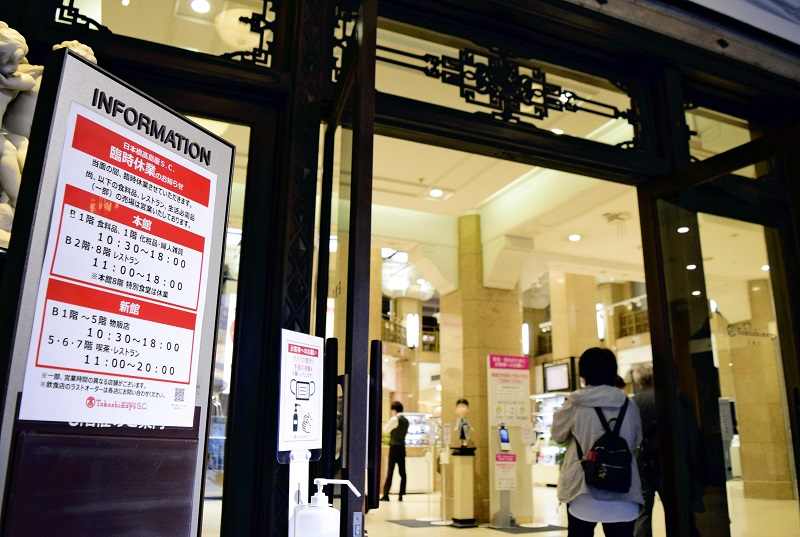 11:17 JST, May 15, 2021
Commercial facilities and restaurant chains in areas impacted by the government's emergency declaration are responding differently to measures during the extended period.
In the department store industry, Takashimaya Co. reopened most of the sales spaces in its Tokyo stores, while Isetan Mitsukoshi Holdings only opened some spaces. Even among the areas under the state of emergency, the requests being made by the governments of Tokyo and Osaka Prefecture differ, which has complicated the plans of businesses.
Takashimaya reopened sales spaces for clothing, shoes and other products at its four stores in Tokyo, though some departments remain closed, including those for toys, jewelry and golf equipment. Business hours were extended at most stores, bringing them closer to normal operating hours.
Since the state of emergency was declared on April 25, Takashimaya had limited sales to products such as food and cosmetics, but a company spokesperson said, "Many customers, such as people who need formal shirts for work, have asked us to open more sales spaces."
However, the company's Osaka stores sell only food and a limited number of other products in accordance with the prefectural government's request for such stores to remain closed, except those that sell daily necessities.
The Kyoto store is open fully but with shorter operating hours on weekdays and it will close all areas except the sections for food and other necessities on weekends and holidays.
Isetan Mitsukoshi reopened some of its sales spaces in its Tokyo stores, but only for products such as interior accessories, shoes, and handbags.
"We will consider how to reopen while keeping customer demands in mind," a company representative said.
Daimaru Matsuzakaya Department Stores Co. reopened the restaurants at its Daimaru Tokyo store. Operations continue at its stores in Aichi and Fukuoka prefectures, which are now under a state of emergency.
Prefectural governments are also issuing differing requests to amusement parks. The Tokyo metropolitan government said facilities could operate if they let in "no more than 5,000 people and no more than 50% of capacity."
The Yomiuri Land parks, which span over Inagi in Tokyo and Kawasaki in Kanagawa Prefecture, reopened Wednesday, allowing a maximum of 5,000 customers. However, Universal Studios Japan in Osaka remain closed in accordance with requests from the prefectural government for such businesses to suspend operations.
In all areas subject to the state of emergency, eateries are being asked not to serve alcohol and not to stay open past 8 p.m.
Pub chain Hub announced Tuesday that it would close about 110 outlets until the end of May. Operations had been suspended at most of the pubs because the company said it did not make financial sense to stay open under the restrictions.
"Customers won't come if we are not serving alcohol. So open stores just incur labor costs," a Hub official said.
Add TheJapanNews to your Google News feed.