Japan-sponsored bridge opens in South Sudan, raising hopes for peace and development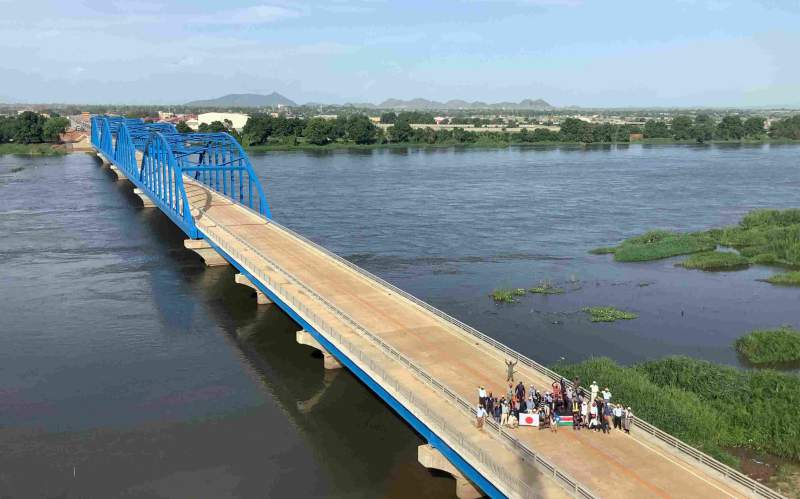 6:00 JST, June 11, 2022
After years of starts and stops in a volatile land, construction of the first permanent bridge over the Nile River in South Sudan was completed last month with Japan's development aid.
It is hoped that the 560-meter Freedom Bridge in Juba, capital of the world's newest country, will enhance development and solidify peace in a land long engulfed in conflict.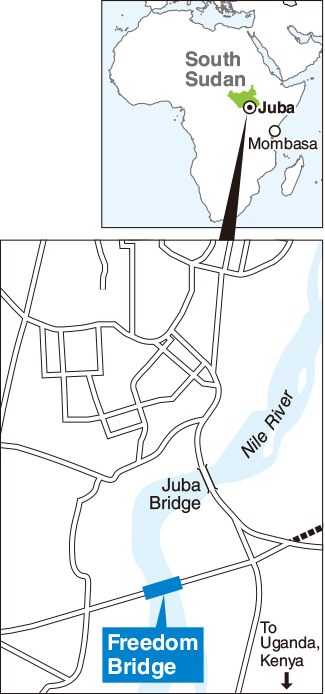 "This bridge will stand as a lasting evidence of our true friendship with the Japanese people and their government," South Sudanese President Salva Kiir said at the bridge's opening ceremony on May 19, which was broadcast live on local television. He urged citizens to "work hard to maintain peace" adding, "War holds off progress, and the time it took to complete this bridge is a living example."
South Sudan gained independence from Sudan on July 9, 2011, after decades of armed struggle against the Khartoum government. Planning for the bridge started just before independence, and construction commenced in August 2013 with a plan to finish in 2017. The work was disrupted, however, from December 2013 to January 2015, and again from July 2016, as conflict erupted between those loyal to Kiir, who has been president since independence, and those loyal to now First Vice President Riek Machar.
Construction resumed in May 2019 after the signing of a peace agreement in 2018, only to be halted again from April 2020 to February 2021 due to the coronavirus pandemic. With the delays, the construction cost swelled from the initially planned ¥9.065 billion to ¥12.16 billion, of which ¥11.36 billion was covered by Japanese grants-in-aid through the Japan International Cooperation Agency.
"The bridge is a symbol of peace and freedom," George Duku, Freedom Bridge Project Manager at South Sudan's Roads and Bridges Ministry, said in an online interview.
According to Duku, requesting Japan backing to construct the bridge was one of the first major decisions made by the newly established South Sudan government for its development plan, with the name Freedom Bridge decided upon by the nation's Cabinet.
"We were in a struggle to separate ourselves from the oppression of Sudan for over 50 years, so when we got our independence in 2011, we said, 'Now we can decide things on our own as an independent people," Duku recalled. "So we said, 'Let this bridge signify our freedom.'"
At the bridge's opening ceremony, Kiir and Machar stood side by side, which Duku said was "a sign that there is no more fighting."
South Sudan is one of the world's least developed countries. Of its estimated 17,000 kilometers of road, fewer than 200 kilometers are paved, according to a report by the United Nations Office for the Coordination of Humanitarian Affairs. Rural communities are often isolated during the rainy season due to flooding. In a country with a population of about 12 million, 2.34 million are in neighboring countries as refugees, while another 2 million were displaced within the country as of March, due to prolonged instability and flooding.
While the landlocked country is heavily dependent on imports from neighboring countries, the capital previously had only one bridge over the wide Nile. Named the Juba Bridge, it was of a temporary type called a Bailey bridge. Built in 1972, it is in need of constant repairs, seriously disrupting the flow of goods and traffic.
With the new bridge, Juba's city center gained direct access to major international highways that connect with the rest of East Africa, most significantly to the port of Mombasa in Kenya.
"We are excited to take part in delivering this modern bridge," said Duku. "Without roads, there is no development, and there are no roads without bridges. So we need to make sure that the country is connected by both roads and bridges."
'Gift' and 'lessons'
The opening of the Freedom Bridge has been a hot topic for South Sudan and its neighbors. There have been many posts about the bridge on social media, some drawing over 1,000 comments.
While many link the new bridge to hopes for peace and development and thank the Japanese people for the "gift," many also voice frustration toward their government. "It is an unforgettable lesson to us on what can be achieved with $91 million [the bridge's construction cost in dollars]," one resident commented critically. Another wrote, "Here our government is busy looting our billions of U.S. dollars."
The country's economy is heavily dependent on oil, and corruption has been widespread. South Sudan ranked at the bottom of 180 countries in the Corruption Perceptions Index 2021 compiled by Transparency International. With a weak economy, the payment of salaries to government employees including police and military personnel is chronically delayed, leading to further instability.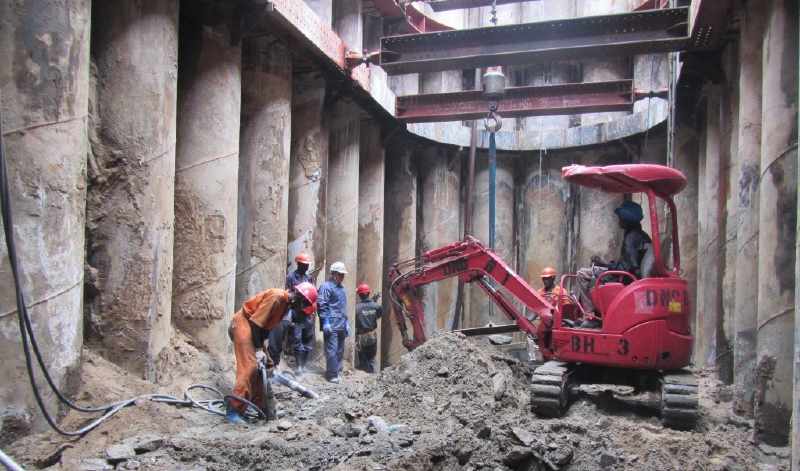 The Freedom Bridge project also aimed to provide local workers with much-needed construction skills. Construction was managed by Japanese engineering consulting firm CTI Engineering International Co. (CTII) and was carried out by Dai Nippon Construction, headquartered in Gifu. About 10 Japanese engineers and technicians were stationed in Juba to lead the project, and over 200 local workers were hired at its peak.
Norio Umeda, CTII's resident engineer for the project, said in an online interview from Juba, "South Sudanese workers were sincere and hardworking, and absorbed new knowledge like ink on blotting paper."
According to Umeda, the team aimed to instill a Japanese-style approach to work as well as concrete skills. There were daily morning meetings to set goals, as well as group exercises before starting the day's work. There was also an emphasis on keeping tools and the site clean and tidy.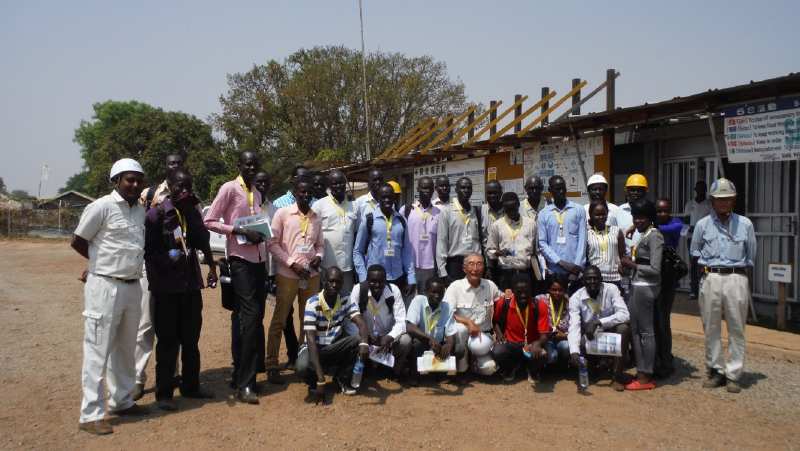 Umeda invited local university students studying civil engineering to the construction site every two to three months to have them observe the progress of the work. Some students went on to join government ministries.
Japanese staff had to leave South Sudan each time the construction was disrupted. Even so, Umeda said he communicated with the local staff on a daily basis and never doubted the bridge would be completed. Despite instability in Juba, the project site was never looted.
"Both sides [of the conflict] knew this bridge was important for South Sudan's future," Umeda said. Unlike expensive hotels springing up in Juba with foreign capital, which most local residents cannot afford to use, Umeda is proud that the bridge is "a project that will directly benefit the South Sudanese people."
"I want South Sudan to one day become developed like Japan," David Chol Deng, project coordinator at the Roads and Bridges Ministry, said in an online interview. Deng joined the ministry in 2014 after working for CTII. He also studied project management at Yokohama National University for two years. Deng said, "Over 200 South Sudanese were trained through the project, and now they will take part in developing South Sudan."
Add TheJapanNews to your Google News feed.