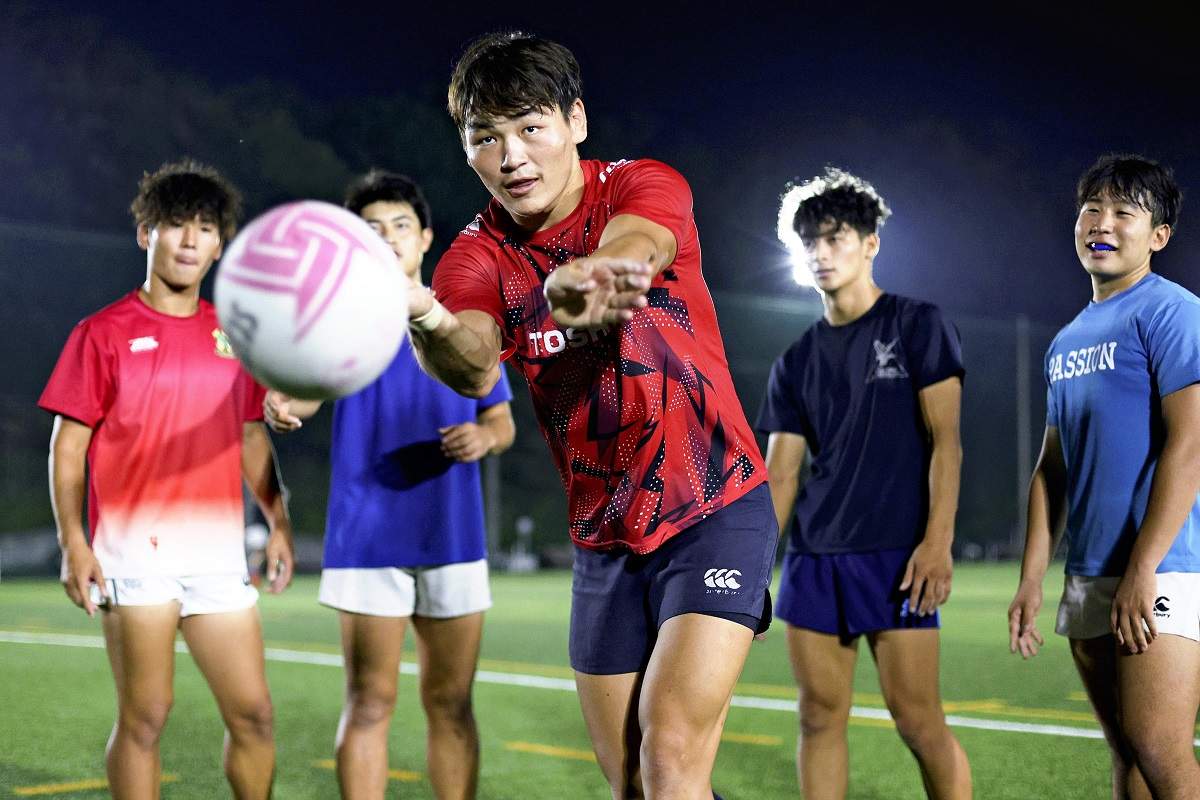 17:00 JST, September 30, 2023
Seasoned loose forward Michael Leitch is currently chasing World Cup glory with the Brave Blossoms in France, but he also has another rugby dream — to spread the sport's popularity in Asia.
Leitch's first step in making that goal a reality is to provide financial and other support to Norovsambuu Davaajav, a raw, promising youngster he unearthed in Mongolia and invited to play in Japan. Leitch himself came to Japan when he was in high school to study and play rugby, and now 20-year-old Norovsambuu is determined to follow in the footsteps of Leitch in another way — by one day playing for the Brave Blossoms.
On Thursday evening, about 50 members of the Kokushikan University rugby team were running tackling drills on their field in Tama, western Tokyo. With an imposing 1.88-meter, 94-kilogram frame, freshman Norovsambuu stands out among his teammates.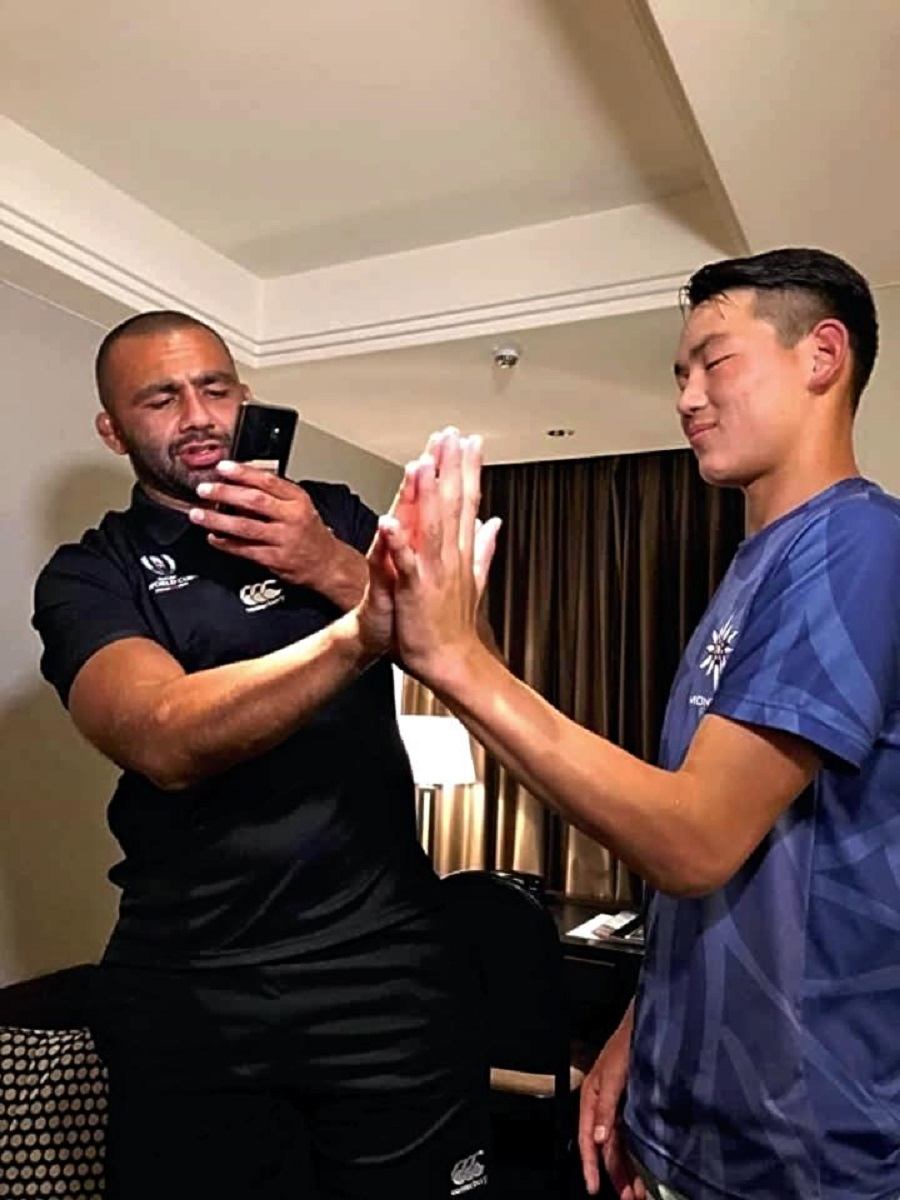 Nicknamed "Norvoo," Norovsambuu is the youngest of five siblings and comes from a nomadic family. Growing up, his passions were wrestling and volleyball. But in 2018, he heard that a player from Japan's national rugby team was looking for students interested in studying in Japan.
Norovsambuu had touched a rugby ball before but knew little about the sport. All he knew about Japan was that sumo was popular there. Even so, the prospect intrigued him. "If there's a chance to go to Japan, I'd like to take it," Norovsambuu recalled thinking. In the spring of 2019, Norovsambuu went through a screening process with dozens of other candidates that measured their running and jumping abilities, among other things. In the end, the field was whittled down to Norovsambuu.
Following Leitch's footsteps
Leitch, 34, himself helped conduct this selection process. He believed Japan, which has become established as Asia's top rugby power, should help spread the sport to other corners of the continent. To help achieve this, Leitch decided to support a young player by sending them to Japan. Leitch came to Japan from New Zealand on a scholarship when he was 15. Now he wanted to give another young player the chance to make a similar dream come true.
Leitch chose Mongolia because several athletes from that nation had come to Japan and risen to sumo's highest rank of yokozuna, and he believed people there were physically and mentally strong. He traveled to Mongolia to interview the applicants keen to study in Japan, and he pored over videos and other materials before making the final selection. Ultimately, Norovsambuu's impressive physique proved impossible to ignore.
Leitch invited Norovsambuu to visit Japan in September 2019, when the Rugby World Cup was taking place here. They met in person for the first time at a hotel in Tokyo. "Mr. Leitch was surprised that my hands were bigger than his," Norovsambuu said with a chuckle.
Tough times
In November 2020, Norovsambuu left Mongolia and traveled to Japan to begin his rugby career in earnest at Sapporo Yamanote High School — Leitch's alma mater in Sapporo. The only Japanese words Norovsambuu knew were "arigato" (thank you) and some greetings. He used a translation app on his smartphone to communicate with his fellow students.
His life in Japan took an unfortunate turn just two months after arriving, when bacteria entered his right arm and developed into a bone infection. After being told by a doctor that he might not be able to play rugby until after he graduated from school, Norovsambuu went back to his dormitory room and cried for three hours.
However, Norovsambuu would end up having surgery, and about three months later he returned to rugby. He trained hard, played in a national tournament and was even selected as a candidate for the Japanese national high school team.
"He didn't say much, but he trained diligently," said Mikio Sato, coach of the Yamanote rugby team. Sato compared Norovsambuu to a younger Leitch.
'My Japanese uncle'
Norovsambuu has lived in Tokyo since beginning his studies at Kokushikan University this spring. Since he came to Japan, Leitch has supported him by providing most of the money and items he needs for his daily life.
Whenever they talk on the phone, Leitch always asks Norovsambuu, "Have you found a girlfriend yet?" When Norovsambuu replies that he is still looking, Leitch sounds a little disappointed. "He tells me when I find a girlfriend, I must introduce her to him," Norovsambuu said. "He's my Japanese uncle who takes care of everything for me."
Norovsambuu respects Leitch's relentless drive to improve his performance. "Many people are stronger than me," Leitch often says, and whenever Norovsambuu hears this, he digs deep and finds some extra bit of energy, no matter how exhausted he might be.
But the most inspiring words Norovsambuu heard came while he was having coffee with Leitch at the former Japan captain's home. "One day, I want to play in a match with you," Leitch told his protege.
Aiming high
Almost three years have passed since Norovsambuu came to Japan. He has settled in so well that sometimes he struggles to even find words in Mongolian when talking to his parents on the phone. His rugby skills have improved, and he has been a regular member of the Kokushikan forward pack since soon after joining the university.
A Japanese national team jersey worn by Leitch hangs on the wall of Norovsambuu's room. When asked about his future aspirations, he said, "Coming to Japan has changed my life. I'll do everything I can to one day play for Japan, just like Mr. Leitch."
Leitch, for his part, is still cheering on Norovsambuu.
"Having Norvoo around has made me excited again like in my early days," Leitch said, "and he has motivated me to keep playing rugby. I like his attitude to learning. I want him to experience all kinds of things, not just in rugby, but also in his studies and day-to-day life."
Add TheJapanNews to your Google News feed.