Slipper's Versatility and Resilience Gets Him to Fourth Rugby World Cup for Australia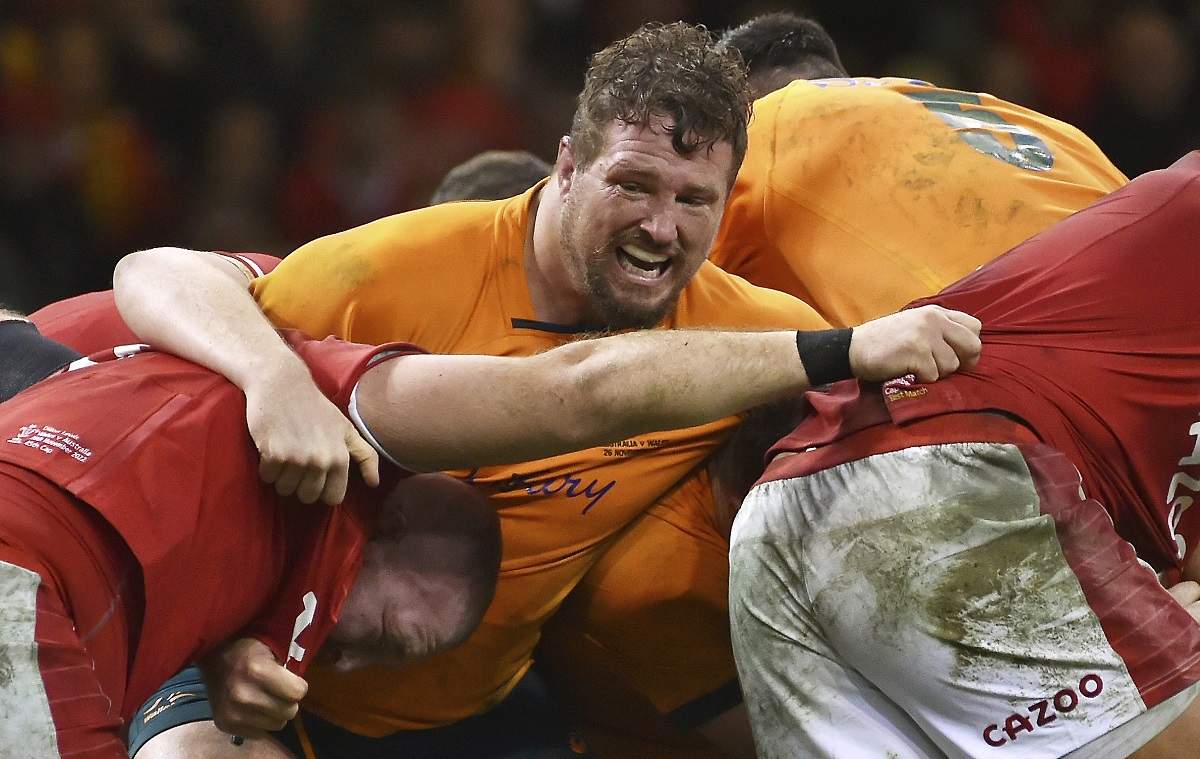 16:55 JST, September 17, 2023
SAINT-ETIENNE, France (AP) — James Slipper wanted to retire from rugby at age 30.
He's 34 and set to anchor Australia's front row in the Rugby World Cup on Sunday.
"I've gone a bit over time," he said.
What's happened is he's maximizing a second chance he received in his 30th year, 2019.
Back then, Slipper had suffered depression for a year while coming to grips with his mother's terminal cancer. He tested positive for cocaine twice but Rugby Australia took them in context and was lenient with the punishment while giving him specialist mental health help. He didn't play for the Wallabies in 2017 and 2018 and left the Queensland Reds in 2019 to try and restart his career with the ACT Brumbies.
He helped the Brumbies reach the Super Rugby semifinals, and Wallabies coach Michael Cheika picked him to resume his test career against South Africa at Ellis Park just two months before the World Cup in Japan. Slipper was a mainstay in the front row again.
The former captain is on 131 caps, second only to George Gregan's record 139 for Australia.
"(Gregan) is a Wallaby iconic player, a legend of Australian rugby. A little bit inside me doesn't want to break his record, just for that fact — I've got that much respect for him.
"I didn't come over here to break records, I really wanted to come here and win the World Cup."
Slipper will equal one of Gregan's records, though, against Fiji on Sunday, by appearing in a fourth World Cup.
A foot tendon problem cleared up this week for Slipper to timely replace injured tighthead prop Taniela Tupou. Slipper's increasingly invaluable ability to prop on both sides has earned him a test start at tighthead for only the third time in 13 years. He's taking it in stride.
"When I first started playing test rugby (in 2010) there was one prop on the bench, so that prop on the bench had to cover (loosehead and tighthead). There was a bit of incentive there to be good at both, so you could at least land a bench spot.
"A lot of Super Rugby I played at tighthead, a lot of test rugby I played at loosehead, so I just naturally fell into that mould of being able to play both.
"A lot of the props are getting a lot bigger now and they're getting a lot craftier with their trade on one side and they pour all their time and effort into that one side. And they become really good at it."
Slipper's advice to props up-and-coming and established who were curious about playing both sides was just to give it a go. "It's like anything, really, you've got to get on the bike and give it a cycle."
He's often been asked why he didn't cycle off overseas and chase the money or new experience like many contemporaries.
"I've always wanted to squeeze the sponge with Australian rugby as best as I could and I can live with that," he said. "That's been the driver for me, to push on in the Wallabies jersey and try and keep making the squads and the teams.
"I always find training a bit harder than the games. If I can get through training, I can get through the game."
Test No. 132 awaits.
---
---
Add TheJapanNews to your Google News feed.